goKonrad's Buenos Aires travel blog
Few cities stir up the imagination like the exciting capital of Argentina, Buenos Aires. It's the cultural capital of Latin America and is often referred to as the "Paris of the Americas" because of its European feel. It's a proud city that's full of life, history, culture, and great food.
Buenos Aires Travel Blog – Things To Do
Eat lots of steak and drink lots of Malbec
As every Argentine will proudly tell you, this is the steak capital of the world. I remember saying "this is the best steak I've ever head" at least three separate times during my trip. The Argentine steak is beautifully paired with another local delicacy: Malbec wine. Produced nearby in Mendoza, Malbec is famous for its dark fruit flavors and smoky finish. The pours are typically extremely generous and it's perfect to enjoy alongside a hearty steak. It's also a huge bonus that top quality steak and Malbec can be found for shockingly low prices throughout the city. Eating steak every day was probably horrible for my cholesterol, but the red wine cancels that out, right? After going to over 10 different steakhouses, my favorite restaurants for steak were Don Julio's, Gran Parrilla del Plata, and El Obrero. If you can get reservations, Steaks by Luis is a full dinner experience with a small group, in Chef Luis's home, that's one of the best culinary experiences you can have in Buenos Aires. It's not a coincidence that this one topped the list on this Buenos Aires travel blog.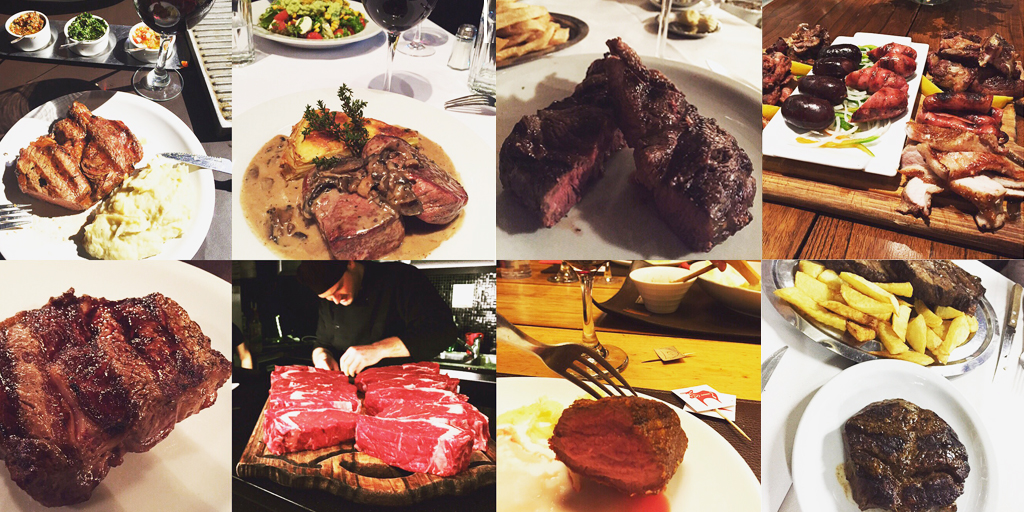 Cook, learn, eat, and drink at The Argentine Experience
This may have started out as a closed door restaurant in 2011, but today the secret is well and truly out – and for good reason. The Argentine Experience is an "interactive dining experience" where guests are invited to try their hand at cooking while they learn about Argentine culture. You'll have a blast with the hilarious and passionate staff as you make multiple courses alongside bottomless bottles of wine and cups of yerba matte.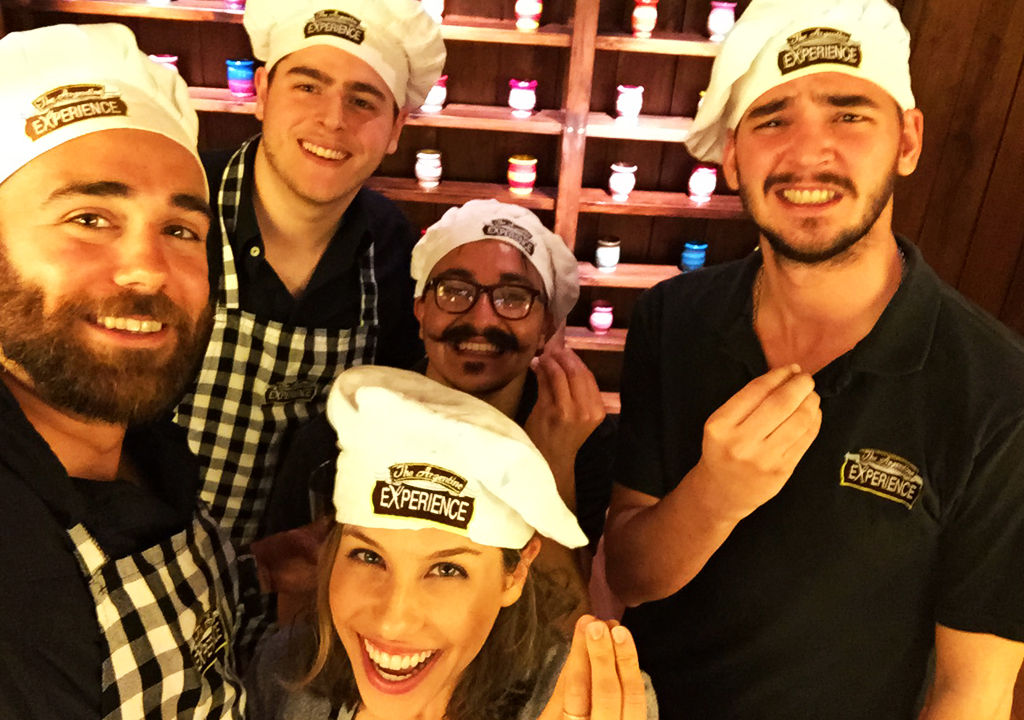 Experience Argentine tango at a show, lesson, or hall
Tango is the music and dance Argentina is known for, and in many ways, is like Buenos Aires itself: glamorous, sexy, and exciting. It's often described as "making love in a vertical position." Experiencing tango is one of the essential things to do in Buenos Aires. I explored a lot for this Buenos Aires travel blog, and here are the four ways to do so: go to a big dinner show to see Broadway-quality performers (I recommend Piazzolla Tango), watch dancers for free in plazas throughout the city (I recommend doing this in La Boca or San Telmo), take a tango lesson (I recommend Tango Piola), or at a Milonga, a tango dance club with open dancing (I recommend La Virtua).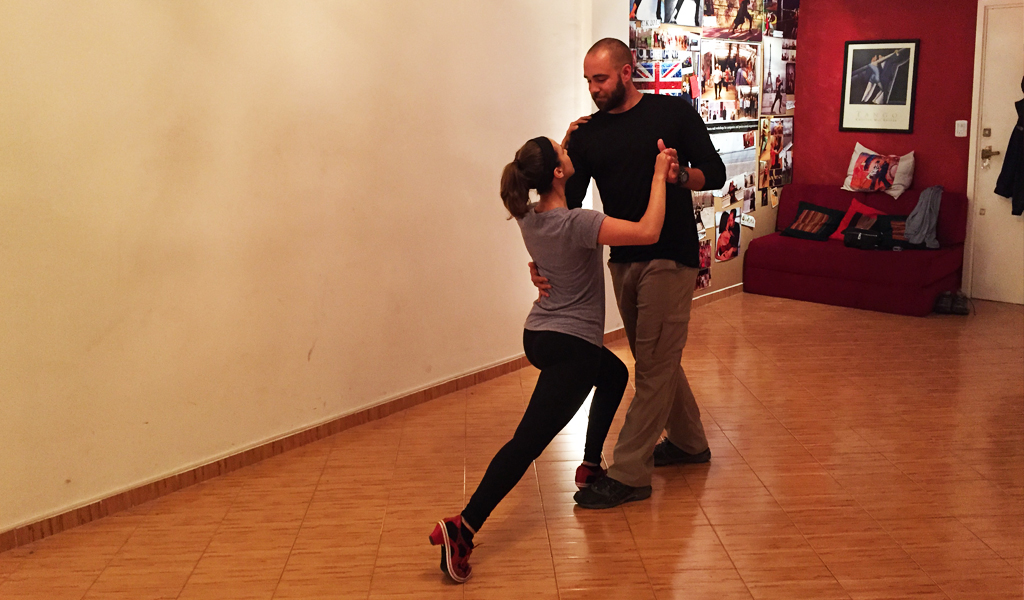 Explore Palermo's art galleries, parks, and streets
Palermo is the colloquial name for Buenos Aires's largest – and perhaps most beautiful – barrio (neighborhood). A delightful way to spend a few hours is wandering around its tree lined streets, and stepping into a few of the boutique art galleries. Start at the Plaza Serrano and wander on from there. I went to dozens for this Buenos Aires travel blog and I recommend the contemporary Galeria Mar Dulce and the alternative Hollywood in Cambodia. I found this Wanderati post with a comprehensive list of galleries particularly helpful. On the weekends particularly, experience the Argentinian lifestyle by enjoying Palermo's beautiful north side parks.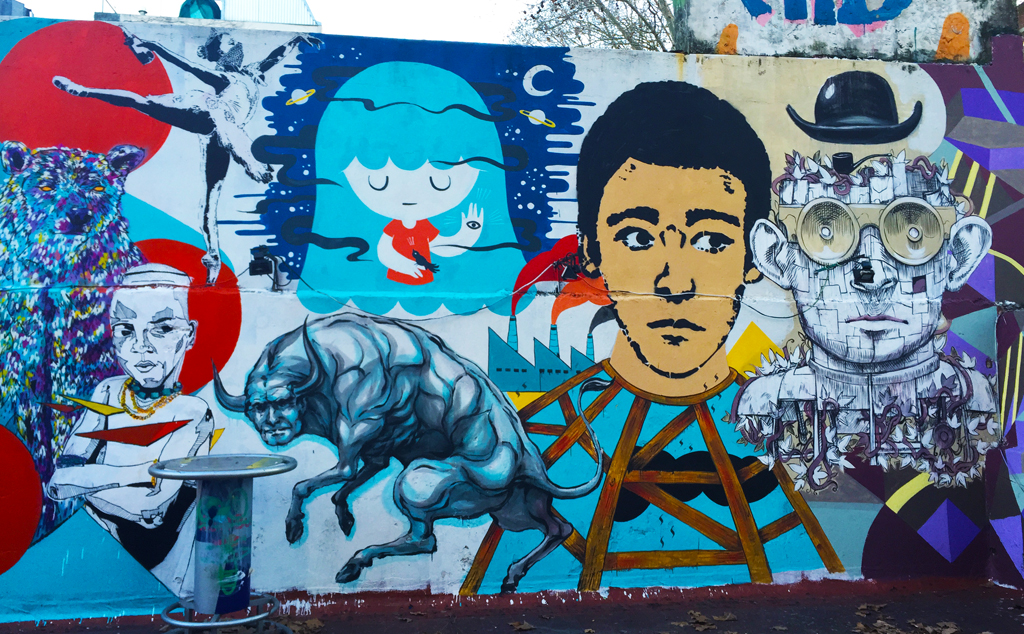 Visit Plaza de Mayo
This plaza is one of the most recognizable sites and historical sites in Buenos Aires. It's the center of many famous protests, such as the Mothers of the Plaza de Mayo (honored by the paintings of white scarves around the plaza), and continuous other demonstrations you will likely see as you explore. Along the square, you can also explore the Catedral Metropolitana de Buenos Aires, the beautiful home church of Pope Francis and where San Martin, the liberator of South America, is buried.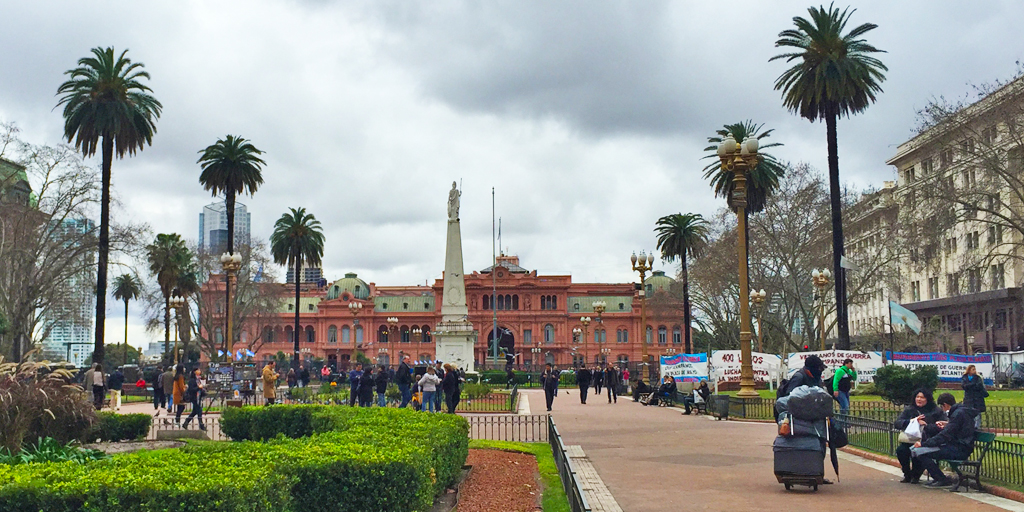 Take a Day Trip to Colonia, Uruguay
Once in Buenos Aires, you are incredibly close to Argentina's neighbor, Uruguay. It's easy to make a day trip across by ferry to see the quaint city of Colonia, Uruguay. There's not a ton to do there, but it's worth walking around, eating in a few restaurants, and exploring a few art galleries. Make sure to visit Eduardo at La Posadita de la Plaza and ask him to tell you the stories behind the photographs and decor that you're most drawn to. He's a passionate and friendly artist, and everything he does is incredibly intentional. As he puts it, "People from all continents have given me the joy of their visits. They came in curious, forgot the time and said goodbye like old friends." His "Soy Vagabundo" picture is framed and hanging in my home today. You can check ferry times and costs to Colonia with either of the two main companies, Buquebus or Colonia Express.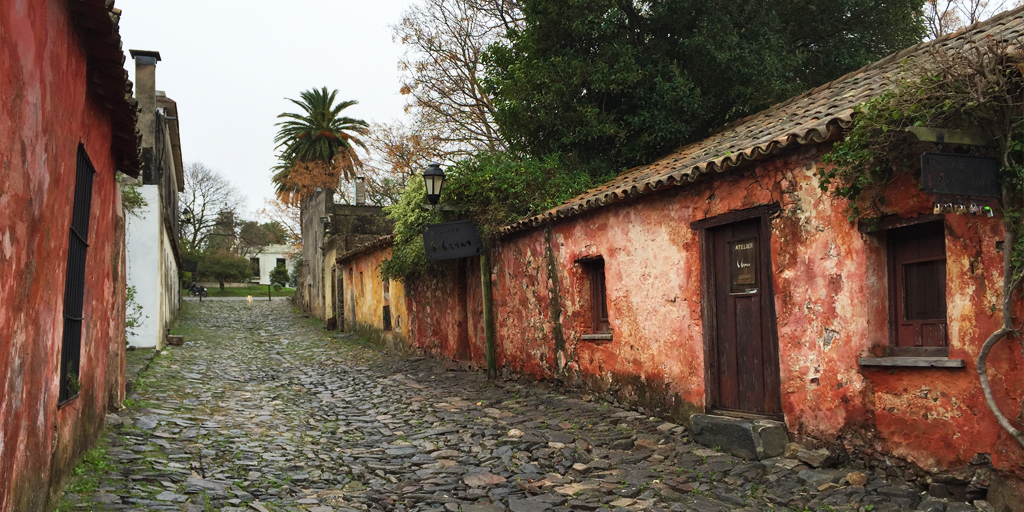 Sip cocktails at Buenos Aires speakeasies
One of the best nighttime things to do in Buenos Aires, in my opinion, is to enjoy the fashionable speakeasy bars. My pick is Florería Atlantico, one of the top rated bars in the world. It serves delicious food and specialty cocktails – hidden within a functioning flower shop! A couple other good ones include Frank's and Victoria Brown's.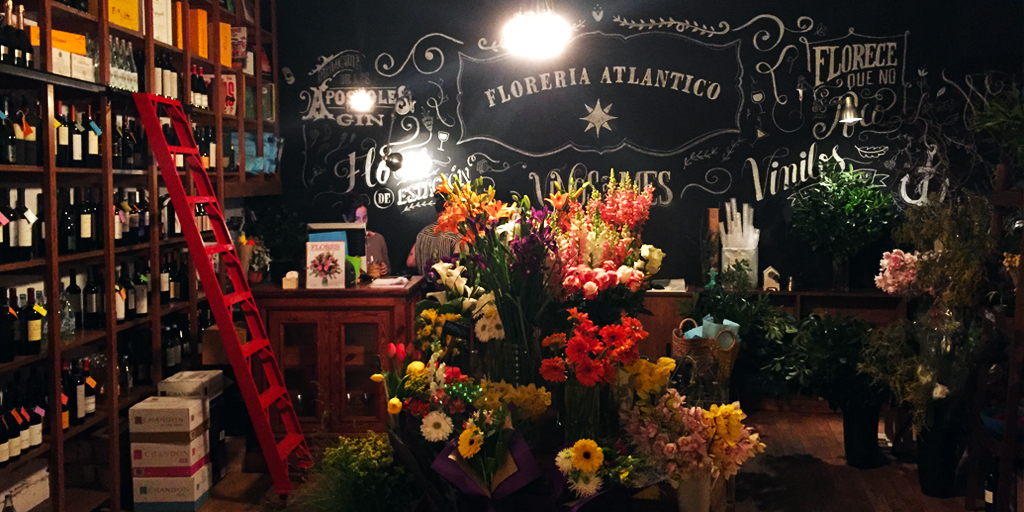 See a unique art collection at MALBA
Although I have already mentioned the excellent art galleries in Palermo, the Museum of Latin American Art of Buenos Aires (or MALBA) is home to an impressive collection of modern and contemporary art from throughout Latin America. Most of the exhibits are actually temporary and rotate often, but past exhibits have included works of art from Diego Rivera, Frida Kahlo, Antonio Berni, Jorge de la Vega, and dozens of other masters from throughout Central and South America.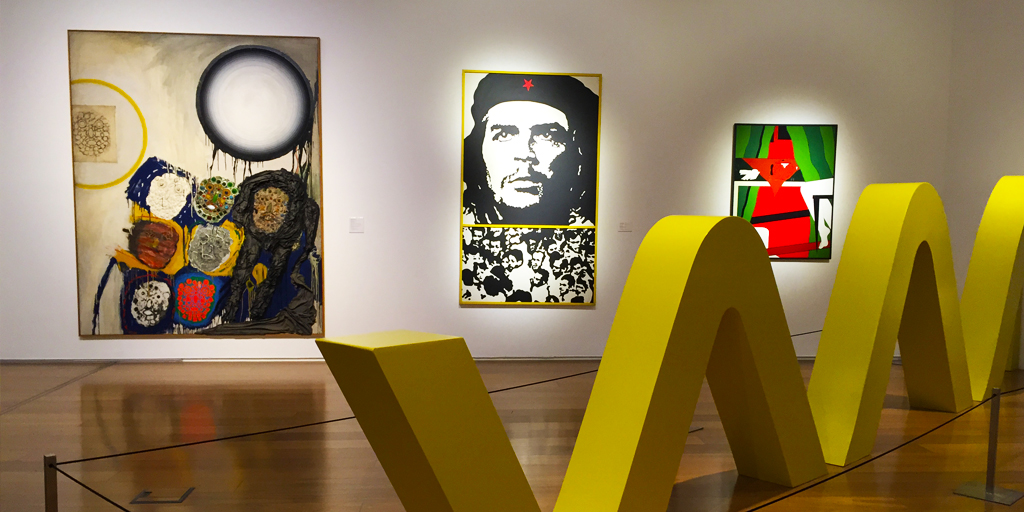 Learn about Buenos Aires
This Buenos Aires travel blog is an intro to get you started, but there is so much more life, culture, history, art, and food to explore. If touring Buenos Aires, download TripScout, my travel app, provides a self-guided audio tour with a curated list of even more of the top things to do in Buenos Aires on your phone. You can learn more about TripScout here. If you want a personal tour, I highly recommend Buenos Tours, our favorite tour operators and TripScout collaborators. Oliver, our TripScout and Buenos Tours guide, also hosts the Buenos Aries Minute and is the best in town. If biking is more of your thing, BA Bikes is the one to go with. You can learn more about the top sites here: City Tour Buenos Aires.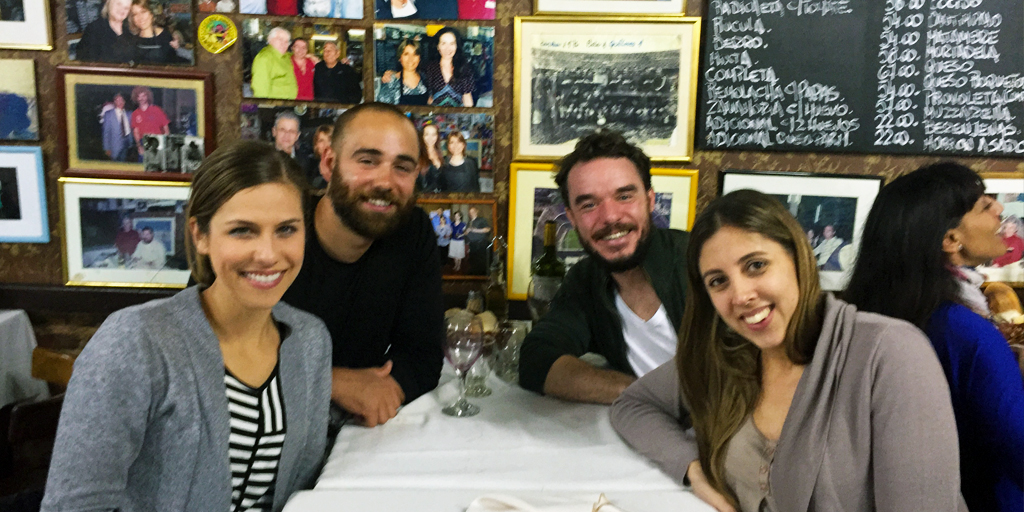 Where to Stay in Buenos Aires
Buenos Aires has many barrios, all offering something slightly different. As mentioned above, Palermo is a cosmopolitan and attractive barrio, with lots to see and do. Many of the top bars and restaurants are located there. In addition, Recoleta is less exciting, but within close walking distance of many major attractions.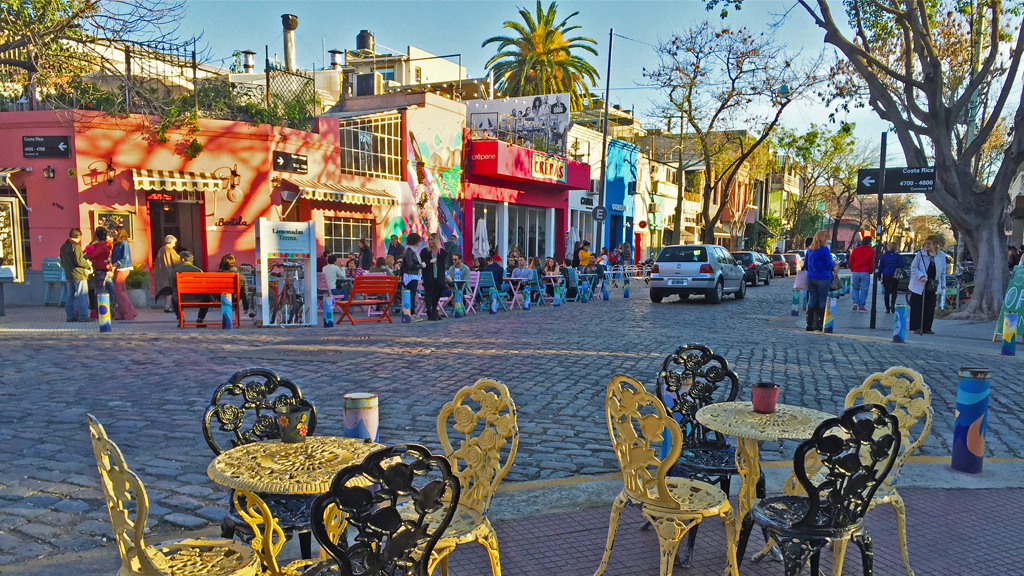 Before you Go to Buenos Aires
Buenos Aires has inspired a lot of pop culture, but in addition to reading this Buenos Aires travel blog, I highly recommended In My Own Words by Eva Perón (Evita), the beloved Argentinian first lady in the 1940's who used her position to fight for women's suffrage and improving the lives of the poor. There's an Evita Museum in Buenos Aires as well, but it's not very done well. I also recommend reading or watching Motorcycle Diaries, the story of Che Guevara, who began his famous continent-spanning motorcycle journey from his home in Argentina.
Buenos Aires Pro Tips 
Check the currency situation and bring cash in USD (preferably $50 and $100 bills) and exchange it at Florida St instead of using credit cards and ATMs. At the time I wrote this Buenos Aires travel blog, due to the Argentinian currency crisis, you could make your trip 50% cheaper with the "blue dollar" rate (13 – 15 pesos to the dollar instead of ~9 at the time of this post). 
I hope you enjoyed my Buenos Aires travel blog!
This error message is only visible to WordPress admins
Error: No feed found.
Please go to the Instagram Feed settings page to create a feed.
Buenos Aires travel blog