goKonrad's Somaliland travel blog (Somalia)
Welcome to Somaliland, the self-proclaimed independent, yet internationally unrecognized region of Somalia.
To the outside world, the region is considered part of the non-functioning state most known for its pirates, terrorists, kidnappers, bandits, clashing rival clans, and beloved I'm-the-captain-of-this-boat-now movie lines. While most of Somalia resembles a bad post-apocalyptic movie and is a no-go zone for travelers, Somaliland by contrast is reasonably stable and safe. While the cities are still decrepit, crumbling, and poor, the people are friendly and there is some law and order unlike most of Somalia.
I love visiting places like Somaliland because I have no idea what to expect. I cannot help but step out of the airport and wonder about the decisions I sometimes make. My pre-conceived perceptions quickly changed after I arrived and immediately had dozens of strangers warmly welcome me, curiously ask why I was there, invite me to chew qat or drink camel milk tea with them, remind me of their independence, and request that I tell the United Nations to recognize them (and not accepting my inability to do so). Being one of the few foreigners in a city does is not always the most comfortable, but it does ensure a memorable and eventful experience.
There are not a lot of traditional "top things to do" lists when it comes to Somaliland, but there are some incredible experiences available for seasoned travelers who really want to go off the beaten path.
Overview of Somaliland
For quick context, the country of Somalia is made up of three mostly autonomous and independent regions: Somalia (an ungoverned war zone and popular hangout for terrorists and pirates), Putland (slightly more stable, but still dangerous for travelers), and Somaliland (relatively safe). Somaliland declared its independence in 1991, but the international community has yet to recognize them as a country. Despite this, they are mostly self-governed and even require their own visa to enter. While the country fares much better than its Somali neighbors do, it is still extremely poor. I was told that youth unemployment is 70%, that the government has trouble getting foreign aid because they are not a recognized country, and that even the best ministry jobs pay only $100 USD per month.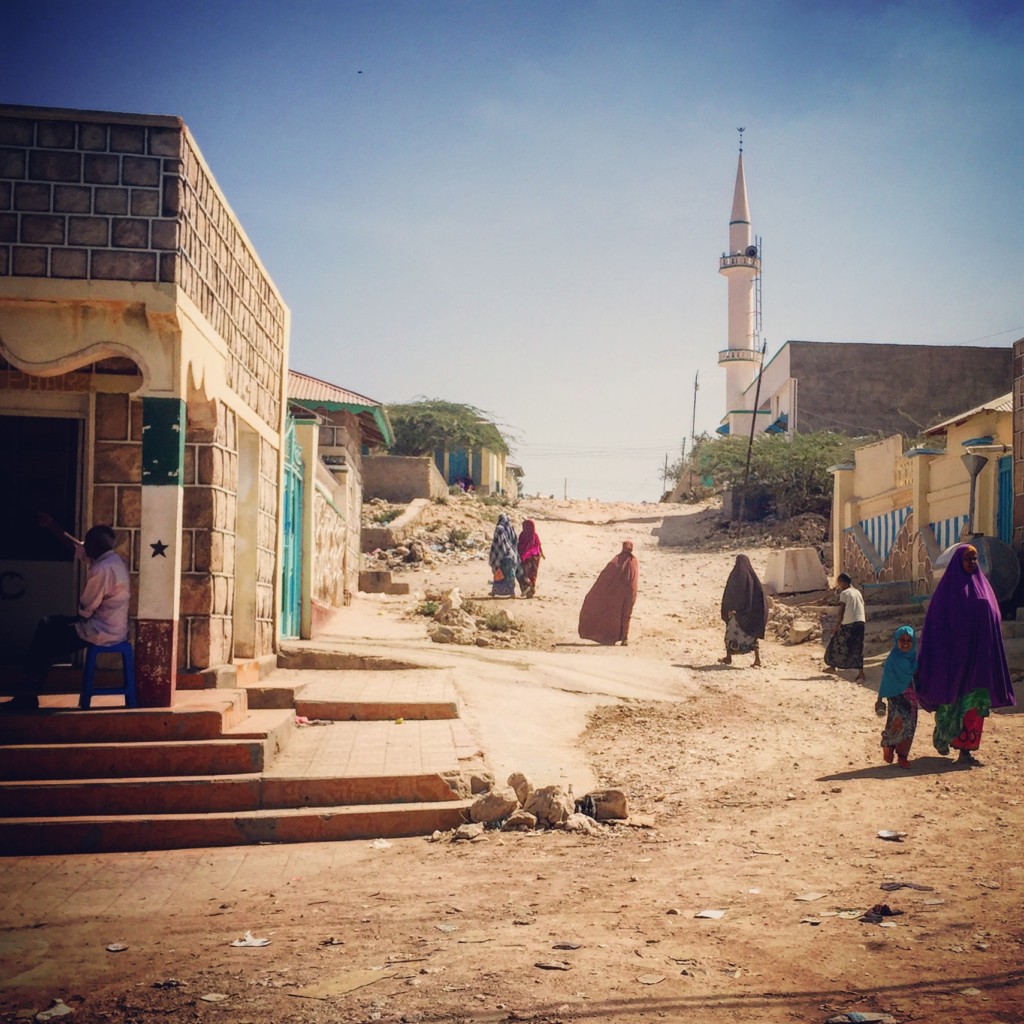 Wander Around Hargeisa
Somaliland is one of those rare places in the world where you can still feel like a real explorer. Everything there is built for locals, not to accommodate travelers. The best way to approach Hargeisa, the capital city, is to simply wander around the city. There is a lot of hustle and bustle and the street vendors primarily sell two products: qat (a narcotic) and currency (more details below).
The Central Market in Hargeisa, Somaliland
There is a large market in the city center where locals do much of their shopping. It mostly has clothes, household items, and food products. Like many cities, this market is a great place to catch a quick view of the cuisine and local economy.
Somali Currency Exchange: Get a Backpack Full of Money
If you ever wanted to feel like a kingpin in a bad gangster movie, go to Somaliland and exchange currency. When I was there, the rate was approximately 8,000 to 1 USD. I exchanged $20 and had to have a backpack to carry all my money. The surprising part is that the money exchangers line the main streets with large pallet-sized stacks of money. There was never any theft, people just hung out with their massive stacks of cash. It always shocked me when I would pay for a meal in dollars and be handed back a brick of cash with a rubber band around it.
Hire a Bodyguard & Somaliland Military Escort
For a foreigner to leave Hargeisa, the government requires an official military escort and bodyguard for protection. There are checkpoints throughout the country and you will be sent back without the proper escort and permits. When going from Hargeisa to Berbera, I easily hired my armed bodyguard, Mahmoud, for a few dollars a day. He was a chill guy and it was like having a travel buddy, but a buddy who happened to walk around with an AK-47. My permit was slightly more challenging since it was already after hours to obtain one.  However, the beauty about a place like Somaliland is that there is always a solution if you talk to the right people. I talked to the manager of my hotel, who had the owner to call his friend who was the Minister of Security (or maybe Tourism, I was never really sure), who then called ahead to the check points to have one waiting for me that I could pick up along the way.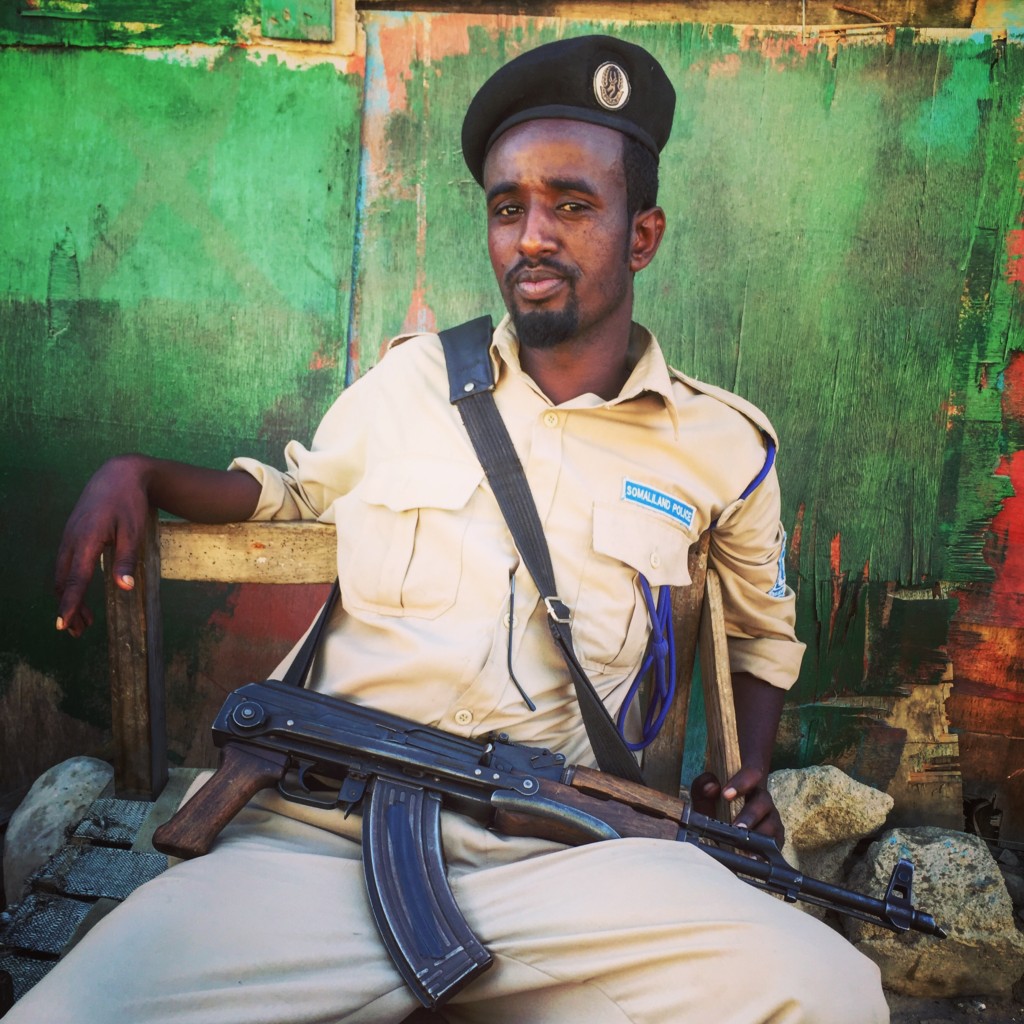 Visit the Somaliland Livestock Market
Somaliland's Livestock Market is a short taxi ride to the outskirts of the city. It is mostly filled with camels and goats for sale. Being outside of the city, I received a little more attention than I would like by being there and had five people approach me in the first five minutes to ask if I was Muslim or not. I recommend asking your taxi driver to wait for you, as there are not many return options.
Somaliland's 2 Monuments: War Memorial & Independence Monument
The Somali civil war is recent and the struggle for independence is a still ongoing, so these monuments represent periods of time that most Somaliland citizens know far too well. The Hargeisa War Memorial is located downtown at Freedom Square. The monument is an actual fighter jet that was shot down during the war and commemorates the nation's struggle for independence. Like everything I did in Somaliland, I was the only foreigner there looking at the monument. An older Somali man approached me, pointed at the monument and then looked me straight in the eye, and said with broken English and a serious face, "we shoot down him and he cry like baby!" and then erupted into a huge smile and laughter, patted me on the back, and walked away. My time here was full of random experiences like that.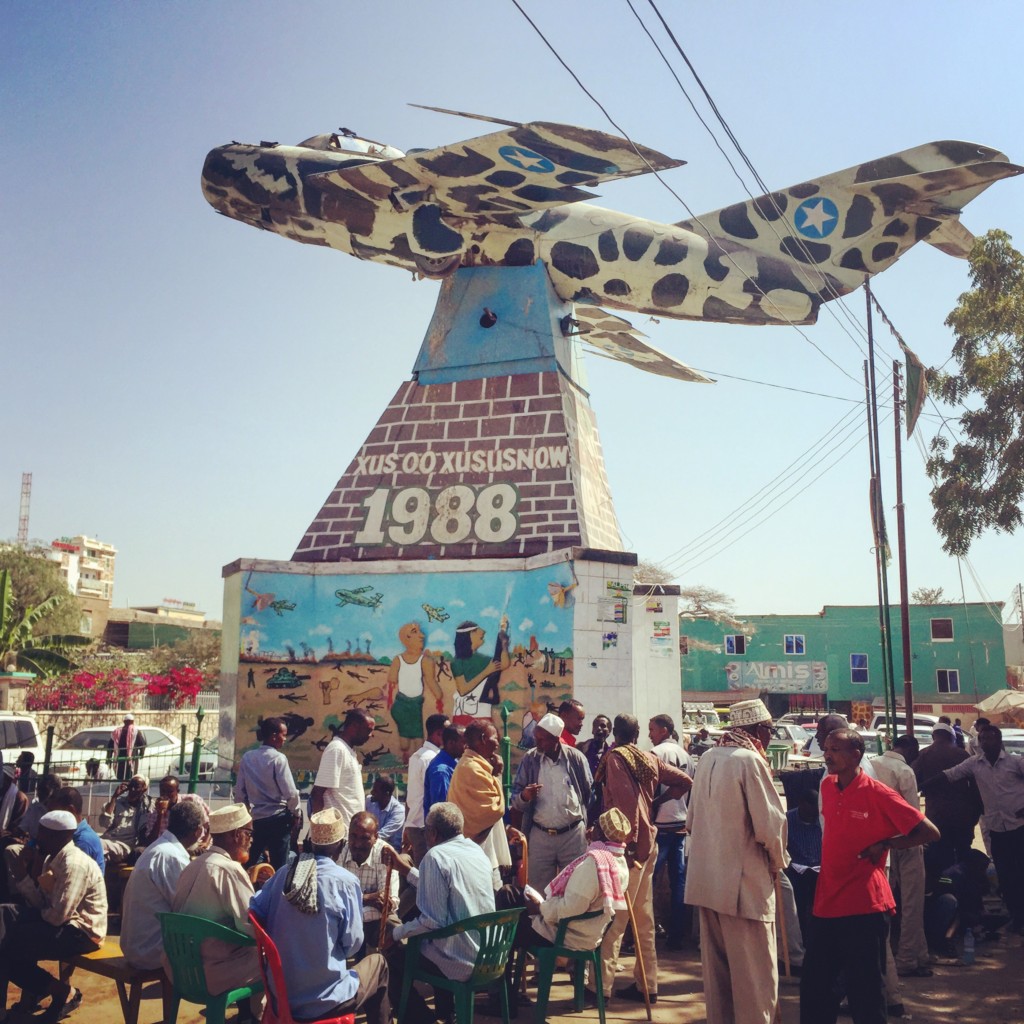 There is another memorial further away from downtown that memorializes Somaliland's yet-to-be-recognized declaration of independence from Somalia on May 18, 1991. I would not go out of your way to see this monument, but keep your eye out when on the way to or from the airport.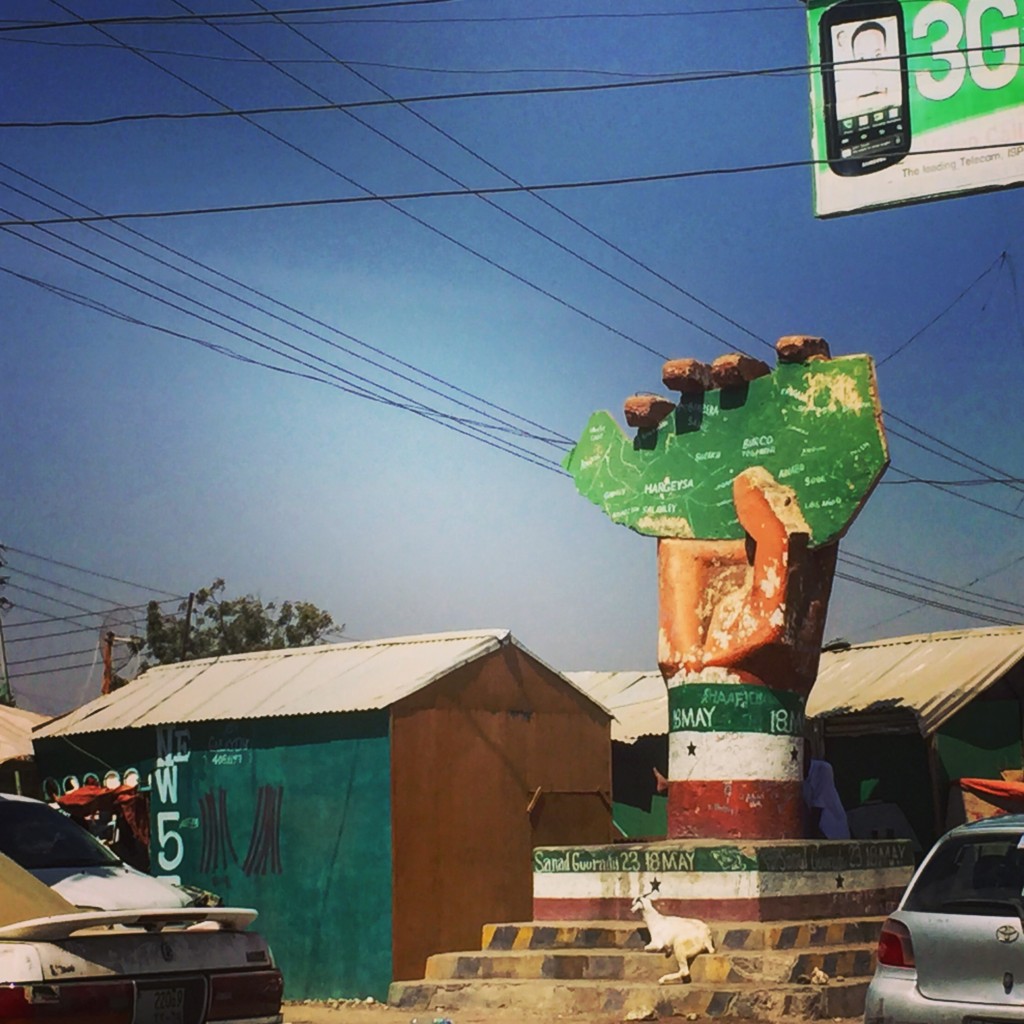 Drink Somali Tea
Made with black tea, camel milk, and lots of sugar, Somali tea is everywhere. Go to any little wooden stand on the side of the road, sit down, and share a tea in a communal atmosphere and watch the city pass by.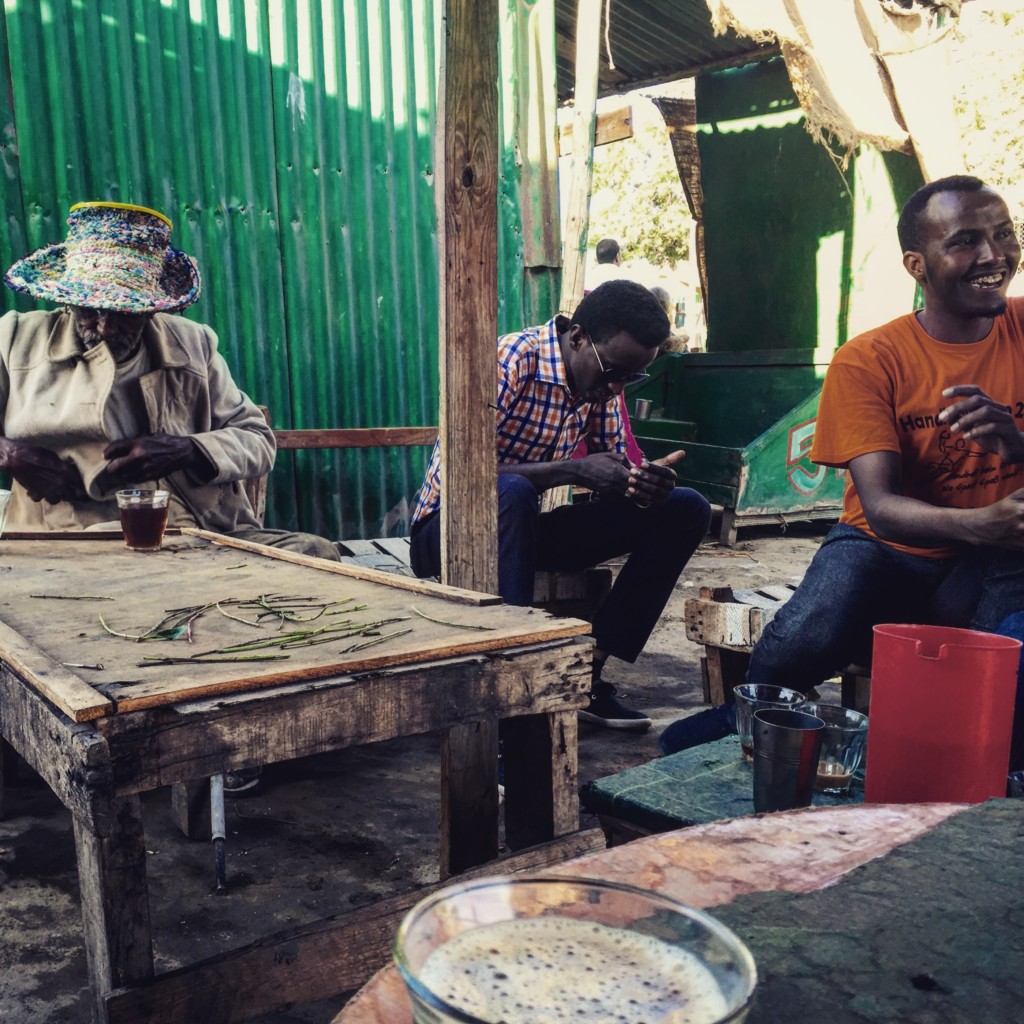 Eat Camel Steaks
Somali cuisine is interesting. On one hand, it is a delicious fusion of its rich trading history with East Africa, Ethiopia, the Middle East, Yemen, Persia, Turkey, India, and Italy. On the other hand, it is an extremely poor and hot country without many resources. They do miracles with what is available, but it is mainly a lot of camel steak in Hargeisa.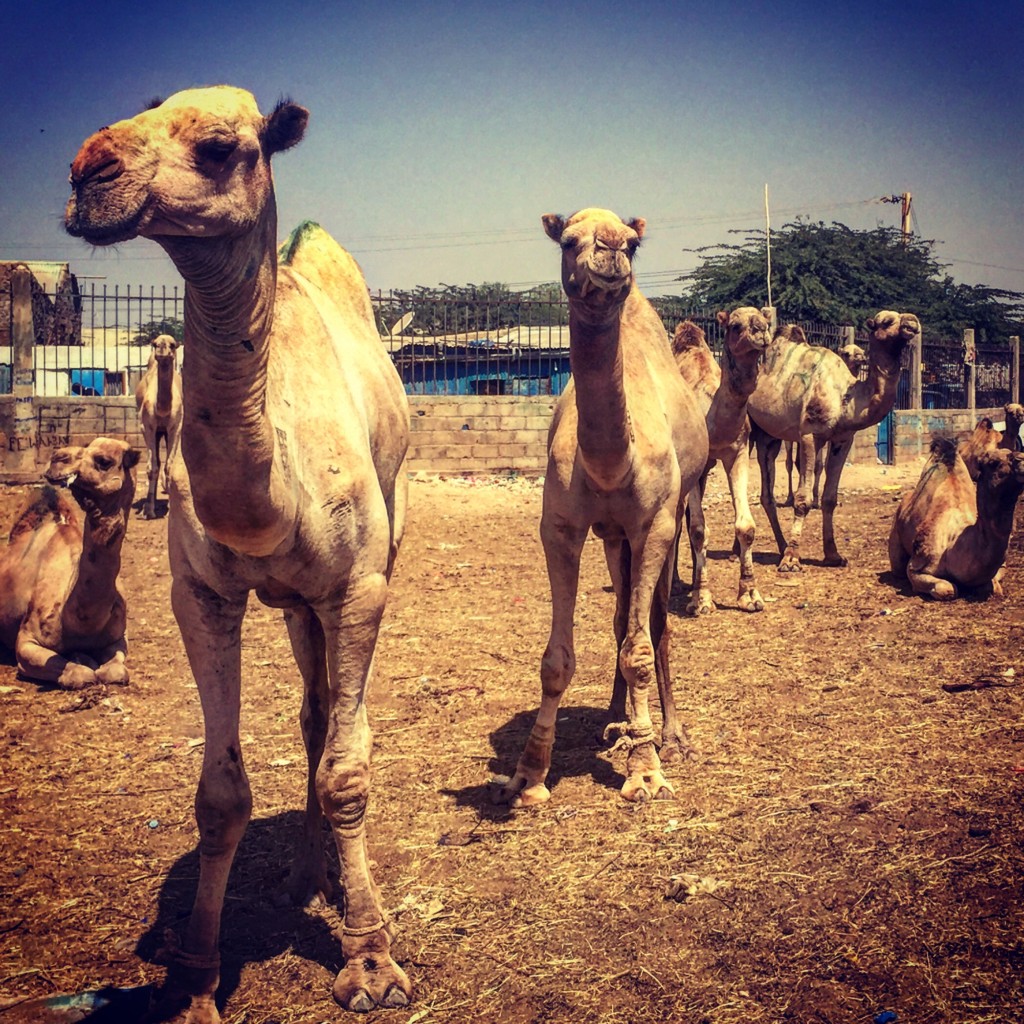 Visit Berbera
Somaliland has a stunning coastline and Berbera is the main city along the Gulf of Aden. It is a port town with beautiful remote beaches and incredible sunsets. There is not much to do, but it is cool to see and the drive alone was worth it.
Al Xayaat Restauraunt is the best (and one of the only) restaurants in town. It has a welcoming owner and delicious seafood. The first time we ate there, they were out of fish for the day, so we went down the road to the fish market. We were not allowed inside as foreigners, but Amal's shop, Amal Fishing, was across the street and he gave us some of today's catch and we brought it back to the restaurant. They were excited to accept it, cleaned it, cooked it, and tried to refuse to accept payment after we had a big feast and shared the leftovers.
You can arranging a scuba diving through the Maan-Soor Hotel, but do not have high expectations. When we tried to dive, it was clear they did not have a customer in a long time. The boat was out of use and they required us to arrange a "guardian of the sea" to go out in the ocean (which was a bummer because it was whale shark season!). They only had a couple sizes for equipment, so everything was either too big or too small. They drove us to a remote beach and let us walk off swim out from sure. There was not a lot to see under water, but the beach was beautiful and it was an experience that was both comical and unique to be swimming along off the Somali coast into the Gulf of Aden.
Visit Las Geel
There are rock formations between Hargeisa to Berbera that are some of the earliest known cave paintings in Africa. It is estimated that they date back from somewhere between 9,000–3,000 BC. It is located in a beautiful rural area with incredible views of almost nothing. If this where anywhere else in the world, it would be a major attraction, but there are no UNESCO World Heritage signs here and the mandatory guest book had only a handful of foreign signatures over the past month. This is an incredible attraction that you will have all to yourself. Make sure you have a larger vehicle as it requires some light off-roading to get there.
How to Get to Somaliland
The situations change quickly. I wanted to go by land from Ethiopia, but could not secure a multiple entry visa back to Ethiopia or guarantee entry by land into Somaliland. They have a foreign mission in Addis Ababa, Ethiopia (since you can only have an embassy if you are technically a country), where I was obtain my Somaliland visa. The place looks more like a house and the people are friendly. After waiting around for a couple hours for the head guy to return from a meeting, I was able to get my visa.
Where to Stay in Somaliland
There are not many options in downtown Hargeisa, but I recommend The Oriental. They are centrally located and helpful. Thanks to the owner's connections, almost anything can be arranged. It is also one of the nicer hotels in the city and should only cost approximately $15 per night. Despite being one of the most popular names, avoid the Ambassador Hotel if you want to experience Hargeisa. It is the nicest hotel in town, but it is also a guarded compound filled with foreign aid workers and is outside the main city area. I visited to have dinner with some new friends on a foreign aid misison and they had a relatively nice restaurant.
There are even less options in Berbera. I stayed at Man-Soor Hotel, which was across the street from the beach. It looked like a converted military barracks, but was surprisingly nice. There are a few basic options downtown that are cheaper. I stayed at one of them to experience a different area, and it was fine, but I cannot remember its name.
Somaliland Travel Tips
Make sure to bring plenty of cash for your trip. At the time I went, credit cards were not accepted and I was unable to find a working ATM. I am sure this will change soon, but when I was there, there were only two ATMs, but neither of them worked.
Why has the world not accepted Somaliland's independence?
I am not sure, but I speculate there are three reasons for not accepting Somaliland as a new country within the international community:
It could cause a domino effect inspiring dozens of more new independence claims in Africa, since so many countries have different tribes and regional associations within their borders.

Despite being mostly autonomous, it is the most hopeful and stable part of Somalia. Separation would theoretically put the rest of the country in an even worse condition.

To get recognition, Somaliland needs advocates within the international community and United Nations. As a small and poor region inside Somalia, it does not likely play a major role in any person or nation's self-interest.
The story behind my favorite picture from Somaliland
When I first arrived in Hargeisa and started to walk around the city. I found a nearby market that was full of life and color. Being careful not to offend anyone, as it is a strict Muslim country and there were many women around, I cautiously pulled out my phone to quickly and sneakily snap a photo from a distance. At that exact moment, a young boy walked past my camera and gave me an epic and impromptu pose. There was the smallest split-second window where this photo could have been possible and it aligned perfectly. The boy gave me a head nod and kept walking. It was one of my first photos of the trip and a great "Welcome to Somaliland" experience.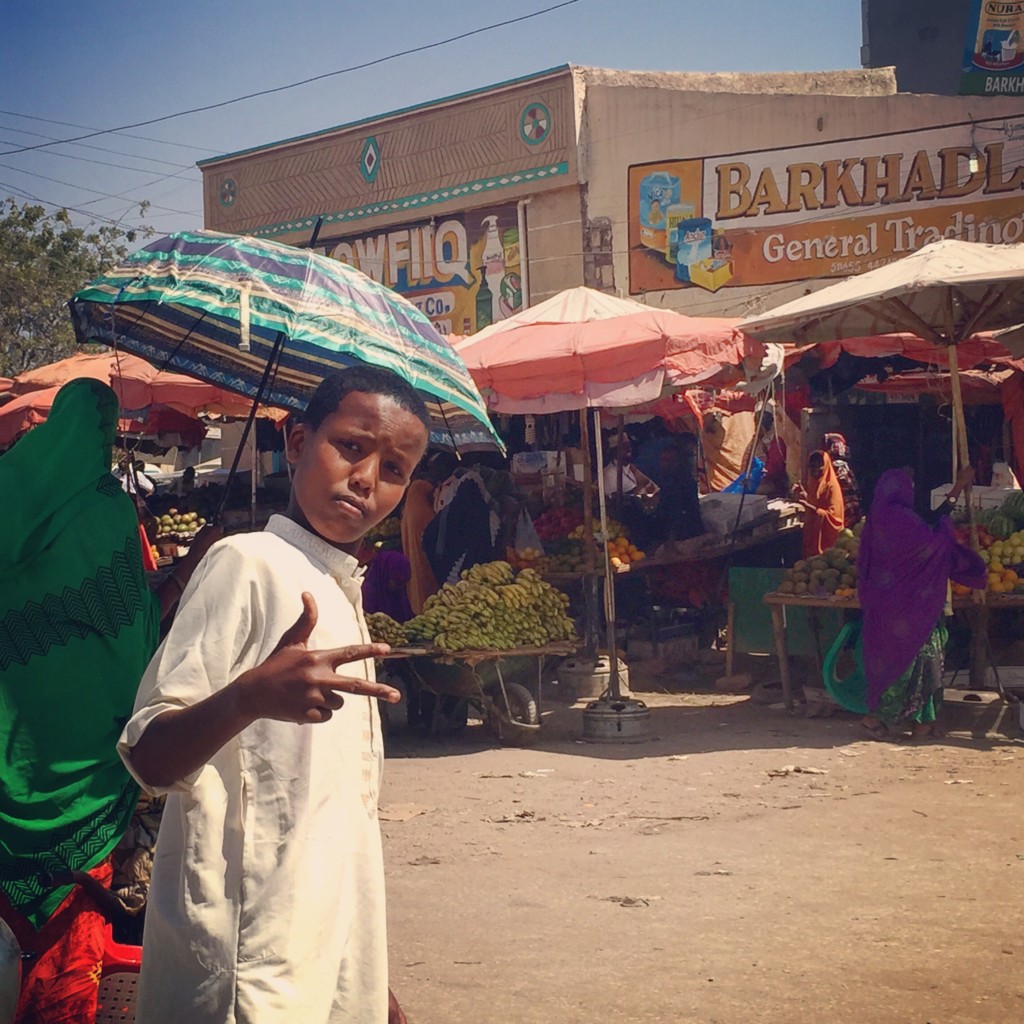 Also, huge thanks and props to my good friends Xavi and Eliza, founders of Go Addis, who decided last minute to fly out from Addis Ababa, Ethiopia to join me a couple days into my trip. There are not many people who would be so spontaneous and adventurous with a place like Somaliland – and they were some of the best travel companions I have ever had. If you are ever in Ethiopia or Rwanda, make sure to go on one of their food or city tours. They are also our TripScout guide for Addis Ababa!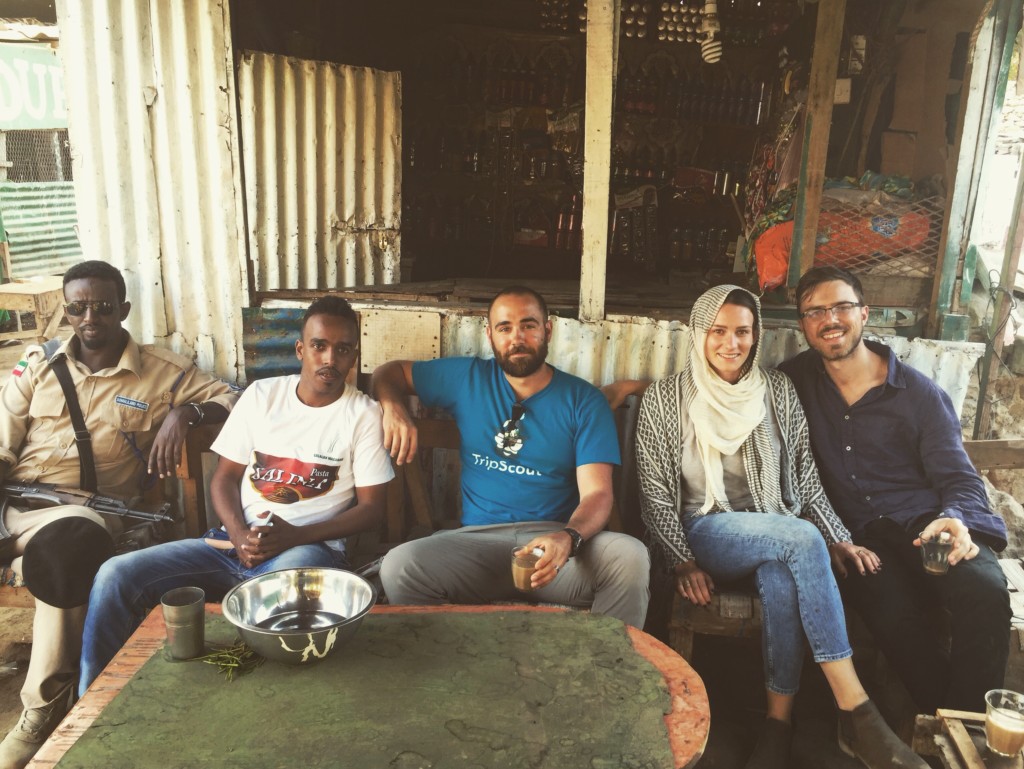 If you are traveling throughout Africa, check out some of my other travel blog posts: Addis Ababa, Maputo, Cape Town, Nairobi, Dar Es Salaam, Kigali, Kampala, and more.
I hope you enjoyed my Somaliland Travel Blog!
This error message is only visible to WordPress admins
Error: No feed found.
Please go to the Instagram Feed settings page to create a feed.
Somaliland travel blog (Somalia)