goKonrad's Maputo travel blog (Mozambique)
Mozambique is one of Africa's last frontiers. While it can be difficult and time consuming to make your way up the 1,500 miles of coastline, it is well worth it if one has the patience and the perseverance to travel through this long and undeveloped country.
I started in Maputo, the country's capital city, and headed north, spending several days in an old, 12-person mini-bus that was turned into a 22 passenger vehicle. Fellow passengers also included live chickens, bags of raw fish, suitcases and random household supplies. To add to the inconvenience, each bus's departure time was "when it's full" – which the drivers took to a much higher level than I thought was physically possible. I often had to wait 2-3 hours for the bus to "fill." After participating in multiple circus-like scenarios each time a bus unloaded and just before I admitted defeat to the transportation system, I was able to live "the dream." My office for the week became a hammock on a nearly abandoned, three mile stretch of picturesque beachfront equipped with crystal clear water, soft white sand and warm weather. If that doesn't sound amazing enough, most of my meals consisted of fresh barracuda and crab that I had watched be pulled out of the water just moments before by a local fisherman and I was able to partake in world class diving and boat trips to nearby islands throughout the week. And to top it off, this lifestyle cost next to nothing according to developed world standards.
After 10 years of fighting Portugal for independence, the Portuguese left Mozambique in 1975 – destroying as much as they could on their way out. This exodus left Mozambique's economy in disarray and the country quickly fell into a 15-year civil war. In order to combat the lack of resources, the country turned to the Soviet Union and established a one-party Socialist state and received substantial amounts of foreign aid from Cuba and other Eastern Bloc nations. Though Mozambique has been considered a democratic republic since its first elections in 1994, one can still see the remnants of the socialist era in the major streets named after Karl Marx, Mao Tse Tung and Vladimir Lenin.
While the country remains one of the poorest in the world with average annual incomes of approximately $1,000 and most economic activity remains in the "informal economy" (e.g., selling oranges on the side of the street), 2011-2012 may be long remembered as the turning point for Mozambique. The country's first overseas export of coal was in 2011 and vast amounts of natural gas reserves were discovered in 2012. These developments have transitioned Mozambique into an export-based economy and energy hotspot, accelerated economic growth, inspired a construction boom and triggered an influx of foreign investment. Its currency, the metical, even became the world's best performing currency against the dollar. The country is tired of fighting and its people – at least in the larger cities – felt optimistic and excited to become a contributing member of the global economy.
And after 30 years of fighting, what does one do with all the guns? Well, besides putting an AK-47 on the nation's flag, there is an inspiring studio in Maputo that welds them into pieces of art.
This Maputo travel blog features some of my favorite things to do in Maputo:
Fish Market
Fish Markets are usually pretty lively places, and the one in Maputo is no exception. Not only can you buy delicious fresh seafood here, but you can also take it to one of the nearby stallholders who will cook it for you on the spot. 
Maputo's Nucleo di Arte
Nucleo di Arte has one of the coolest art exhibitions I have seen. Making beauty from death, Goncalo Mabunda makes sculptures with recovered weapons – such as landmines, AK-47s, and rockets – from Mozambique's 16-year civil war that ended in 1992 .
Walk Around
Maputo does not have a lot of typical tourist sites, but it is a fascinating to explore. Walk around and watch the hustle and bustle of African city. Many of the buildings are in bad shape, but as a former Portuguese colony, THEY they are beautiful. You will also see old relics of the Soviet Union's communism influence, such as streets named after Karl Marx, Stalin, and Lenin. Make sure to check out the Old Portuguese Fort and train station.
Visit Museums
As Mozambique's capital, Maputo has many cultural institutions including a number of museums where you can learn about Mozambique's history and culture. Some of these include the Natural History Museum, National Money Museum, and Geology Museum. The Natural History museum in particular houses an impressive number of exhibits inside a beautiful building.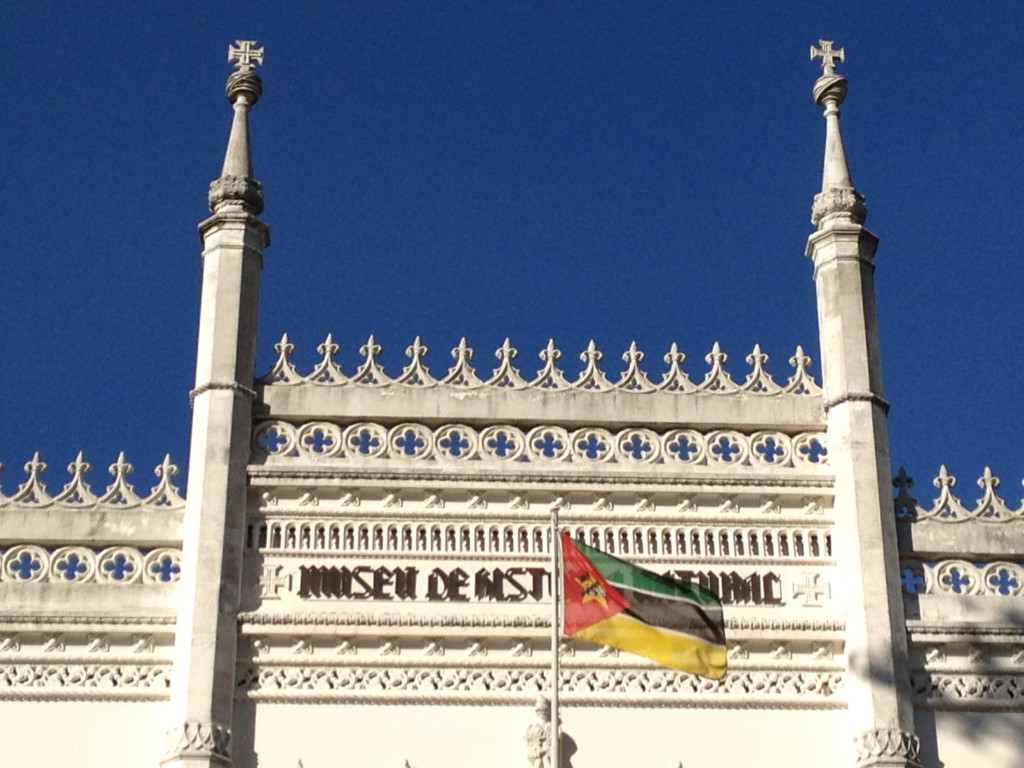 Dhow Cafe
Sip on cocktails or coffee with some of the best ocean views in the Maputo.
Saturday Morning Craft Market
The Saturday Morning Craft Market sells a range of traditional crafts such as woodcarving. It is a good place to pick some bargain souvenirs and haggle with locals.
If you are traveling throughout Africa, check out some of my other travel blog posts: Somaliland, Addis Ababa, Cape Town, Nairobi, Dar Es Salaam, Kigali, Kampala, and more.
I hope you enjoyed my Maputo travel blog album! (more pictures below)
This error message is only visible to WordPress admins
Error: No feed found.
Please go to the Instagram Feed settings page to create a feed.
Maputo travel blog (Mozambique)
Mozambique & Maputo Travel Blog Album