goKonrad's Luang Prabang travel blog
Luang Prabang is a special place. It is as untouched as a place can be these days. Along the infamous Mekong River, scenes of fisherman in old wooden boats, monks in orange robes walking in and out of Buddhist temples, a lush and green landscape, and a friendly and fun-spirited charm that has not yet realized to start trying to rip off tourists and hassle travelers.
Luang Prabang Travel Blog – Things To Do
Luang Prabang Night Market
The food court at the night market is one of the highlights of Luang Prabang. Walk down this narrow alley of vendors and communal tables, grab a bowl, and pile on as much food as possible for approximately $1 USD. Additional drinks and food, such as grilled fish, pork, beef, and chicken are available for an additional cost. The communal seating provides a great place to meet locals and fellow travelers. You will find this bustling food court under a covered alley at the western end of the Night Market. The rest of the Night Market is worth walking through, but is mainly home to the typical Southeast Asian clothing and souvenirs. It's one of the main attractions of Luang Prabang, but it is less of an authentic local market, like the Morning Market. If you do only one thing from this Luang Prabang travel blog, make sure a meal at the Night Market's food court is it.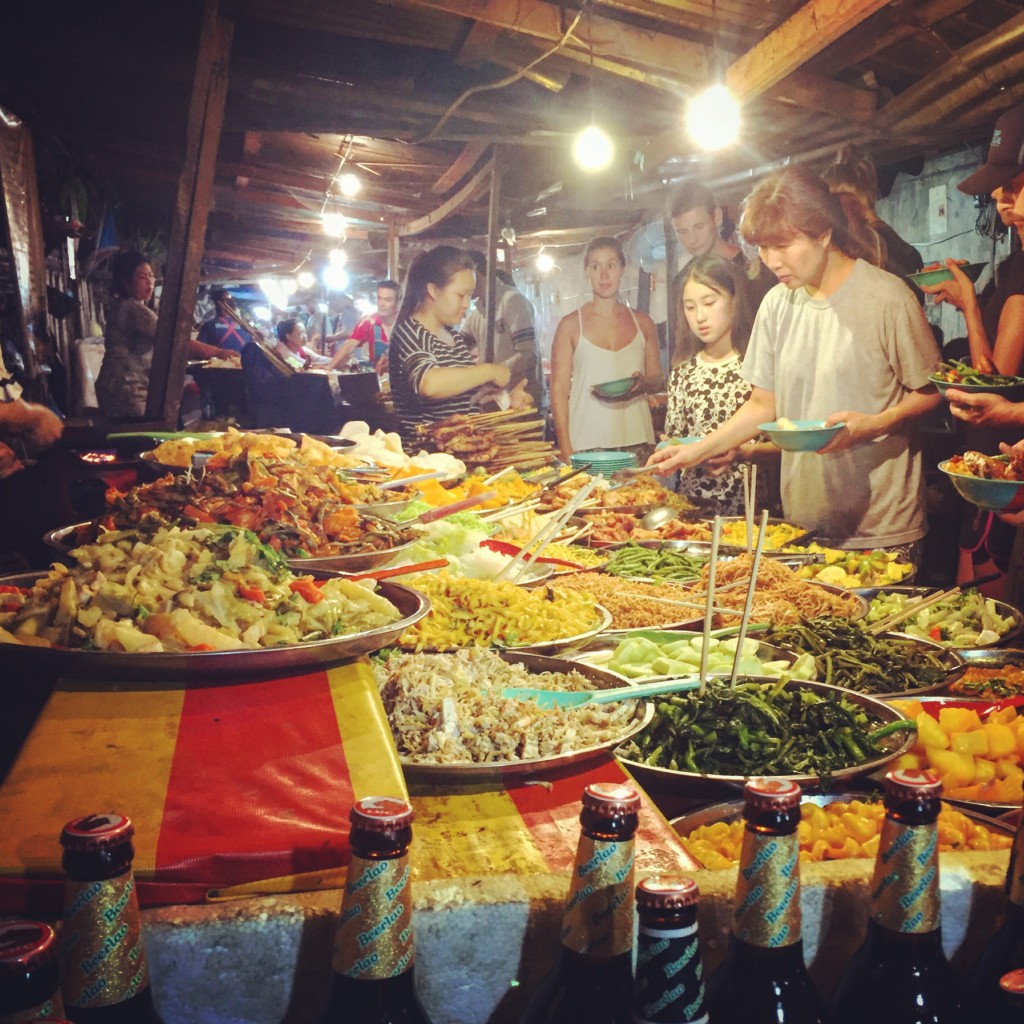 Mount Pho Si
Located in the center of town, the 300 steps to the summit of the large hill known as Phou Si, or Holy Mountain, rewards travelers with sweeping panoramic views of Luang Prabang and its two rivers. There is a small entry fee and it is a quick hike to the top. At the top, you will find the golden-spired Wat Chomsi. There are two trails to the top on opposite sides of the mountain. The entrance in front of the Royal Palace since is the more convenient and commonly used route. One this Luang Prabang travel blog's best recommendations is to do this hike in the late afternoon, so you can watch the breathtaking sunset over Luang Prabang and the Mekong River. They stop allowing people to enter at 5pm though, so make sure to start your climb before 5pm and wait at the top if you want to be there for sunset.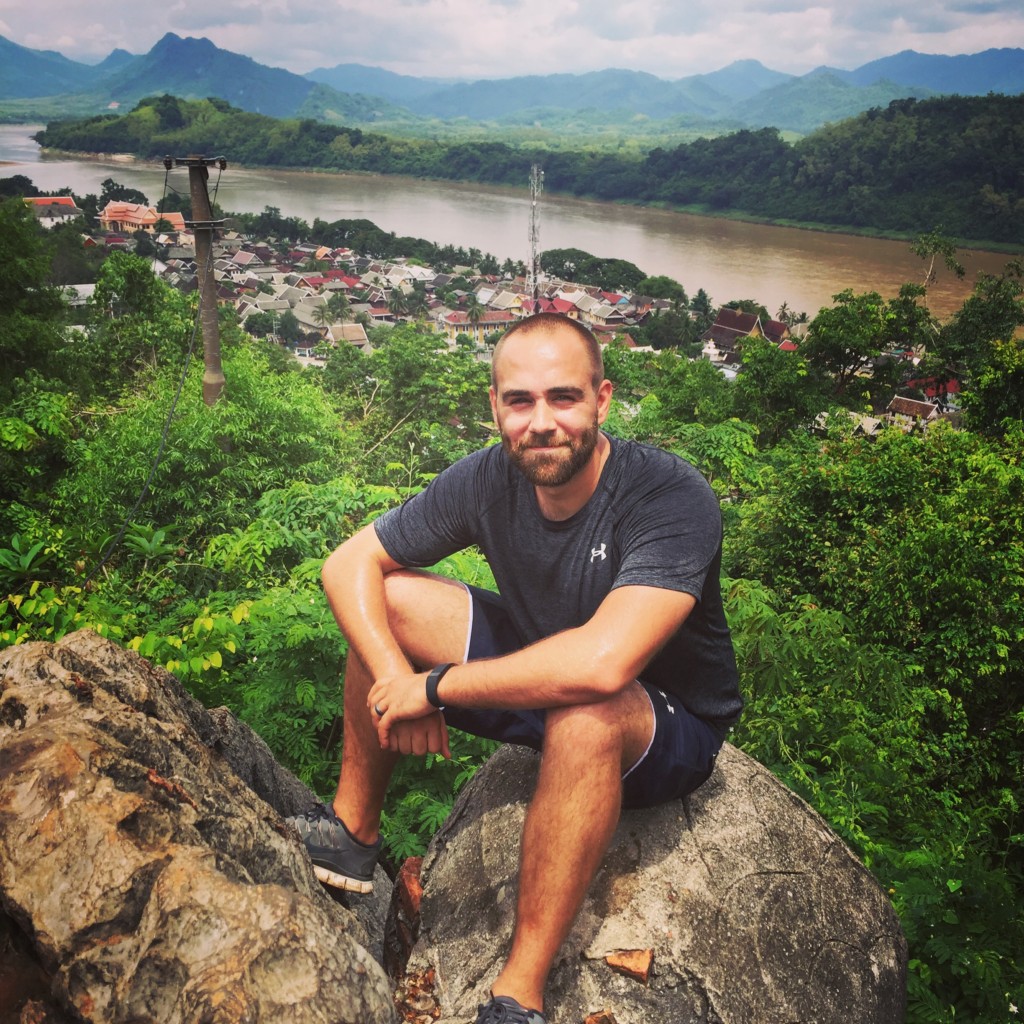 Kuang Si Falls
The Kuang Si Falls are one of the prime attractions of Luang Prabang. A large waterfall pours into a series of tiered swimming areas and smaller falls, which can be accessed by trail. Most of the natural pools are open to the public for swimming. The falls are an approximately 45 minute drive outside of the city, which is why a tuk tuk or motorbike rental is required. The drive there offers incredibly scenic, lush, and green landscapes and passes by the Elephant Village (another site mentioned in this Luang Prabang travel blog). There is only one main road leading in that direction, and it ends at the Kuang Si Falls entrance, so it is nearly impossible to get lost.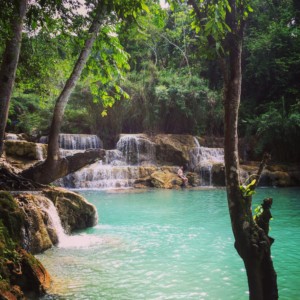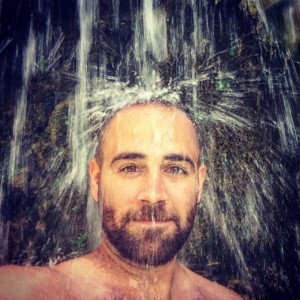 Morning Market
The Morning Market is where the locals do all their food shopping. Luang Prabang only has a few grocery and convenience stores, which are solely there for travelers and expats. Everyone else does most of their food shopping at this market. There are plenty of fruits, veggies, fish, cuts of meat, and some more exotic selections like insects, fried cicadas, and rodents. It is a great place to catch the pulse of the city and its cuisine.
Buddhist Temples
Most Laotians are Buddhist and there are over 30 temples in Luang Prabang. These picturesque and peaceful temples are great places to explore. Each offers something different, but they're almost all filled with large golden statues of Buddha, colorful mosaics, and a large group of young monks. My favorite temples to mention in this Luang Prabang travel blog include: Wat Xieng Thong or Golden City Temple (this is the most popular one), Wat Sen, Wat Aham & That Makmo (next to each other), Wat Mai Souvannaphummaham, Wat Phonxay Sanasongkham, and Wat Siphouthabath.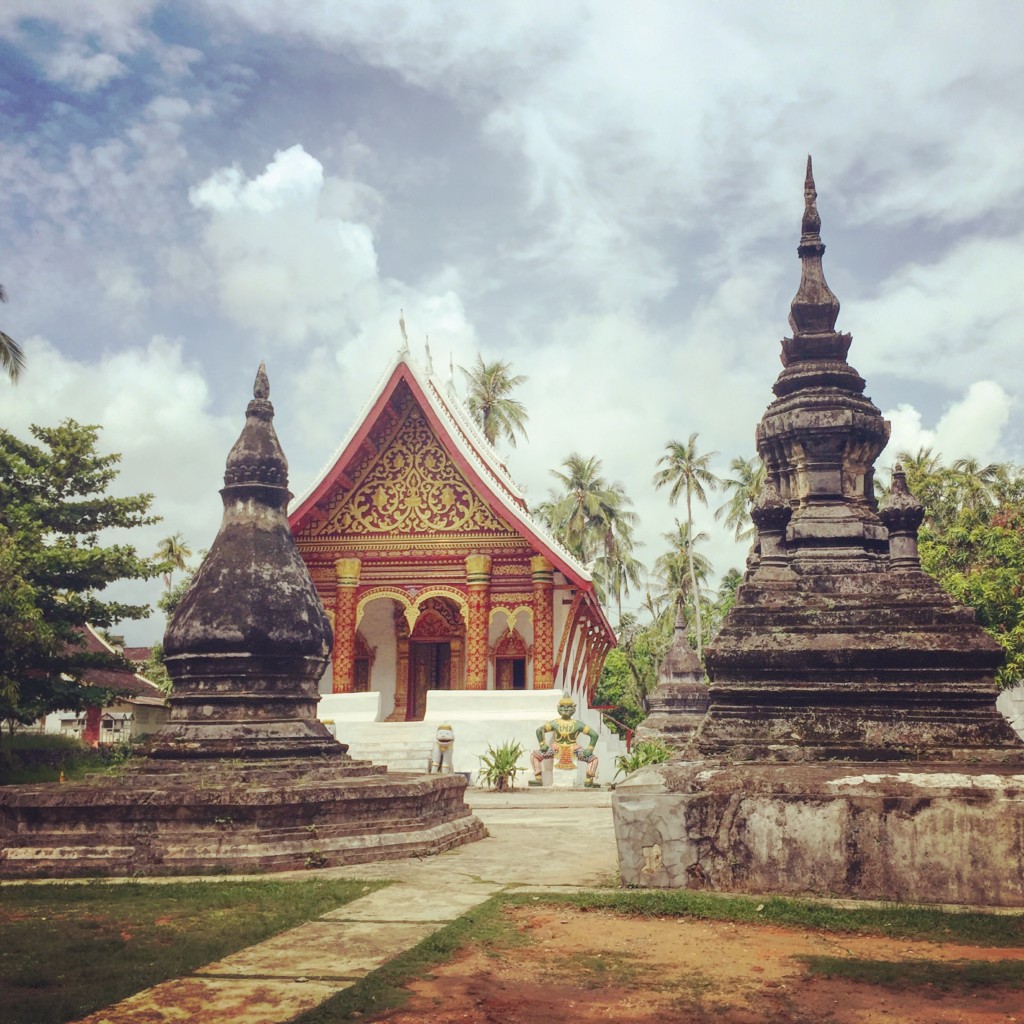 UXO Lao Visitor Centre
During the Vietnam War, the United States conducted 500,000 bombing runs over Laos and dropped 2 million tons of explosives – giving Laos the unfortunate distinction of being the most heavily bombed country in the world. Despite being considered a neutral country in the war, the North Vietnamese used Laos as a supply route, which made it a prime target of the United States. Many of the bombs never exploded and remain in Laos as a UXO (unexploded ordinance). Farmers and home builders at work, and even kids attracted to a shiny object, routinely detonate these bombs. On average, one person is killed or injured every day by a UXO, and many others live in constant fear. This is a harsh reminder of the impact war and bad foreign policy can have on innocent people for generations. The UXO museum and visitor center teaches you about the issue and what is being done to try and fix the issue. It is free to the public and is currently open Monday – Friday, 8am – 12am, and 1pm – 4pm. This is the most depressing and somber thing mentioned in this Luang Prabang travel blog.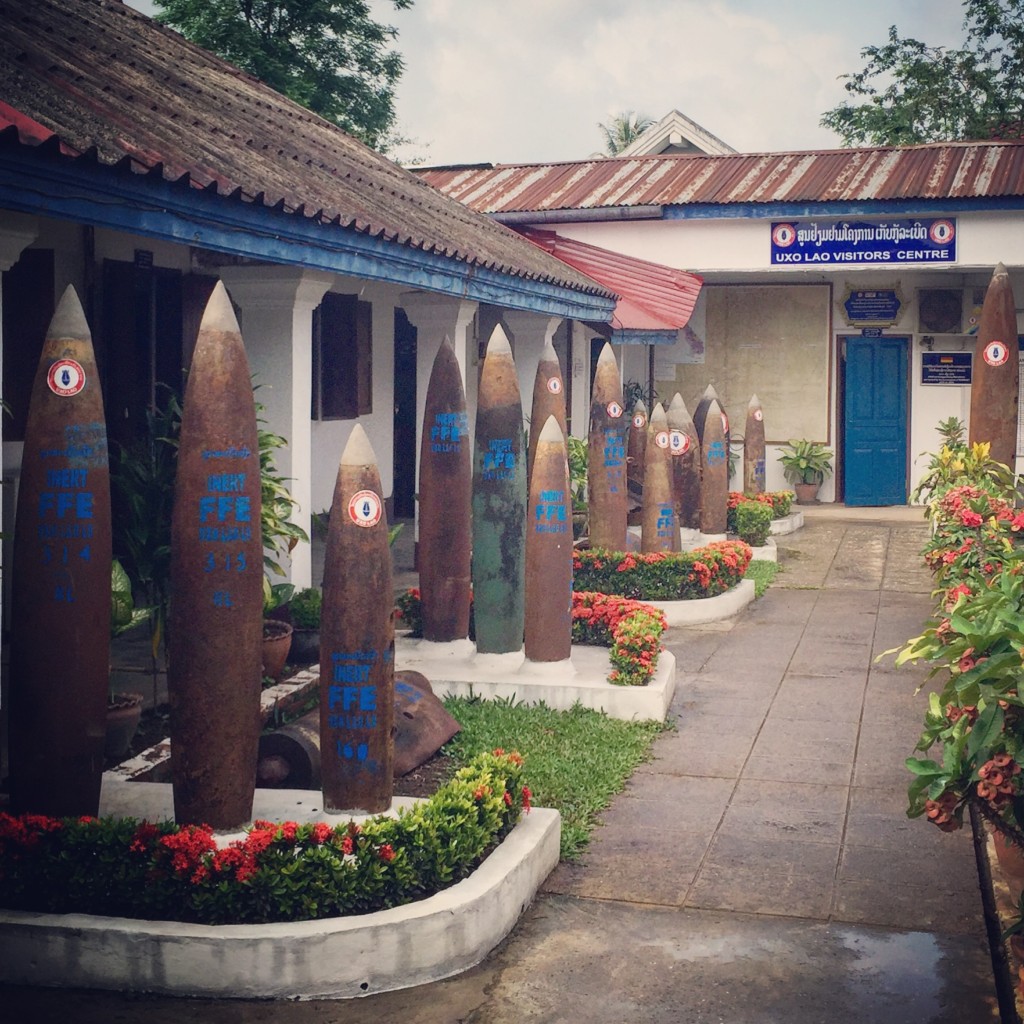 Elephant Village
The Elephant Village is a sanctuary for rescued elephants who had been previously forced to work in the logging industry in the jungles of Laos. The elephants are being rehabilitated here, and spend their time walking around the grounds, having photos snapped of them alongside tourists. The welfare of the elephants is a priority here. You can get very up close and personal with them for a memorable experience. The Elephant Village is another site mentioned in this Luang Prabang travel blog that is outside the city. It is on the way to Kuang Si Falls and requires a motorbike or tuk tuk to get there.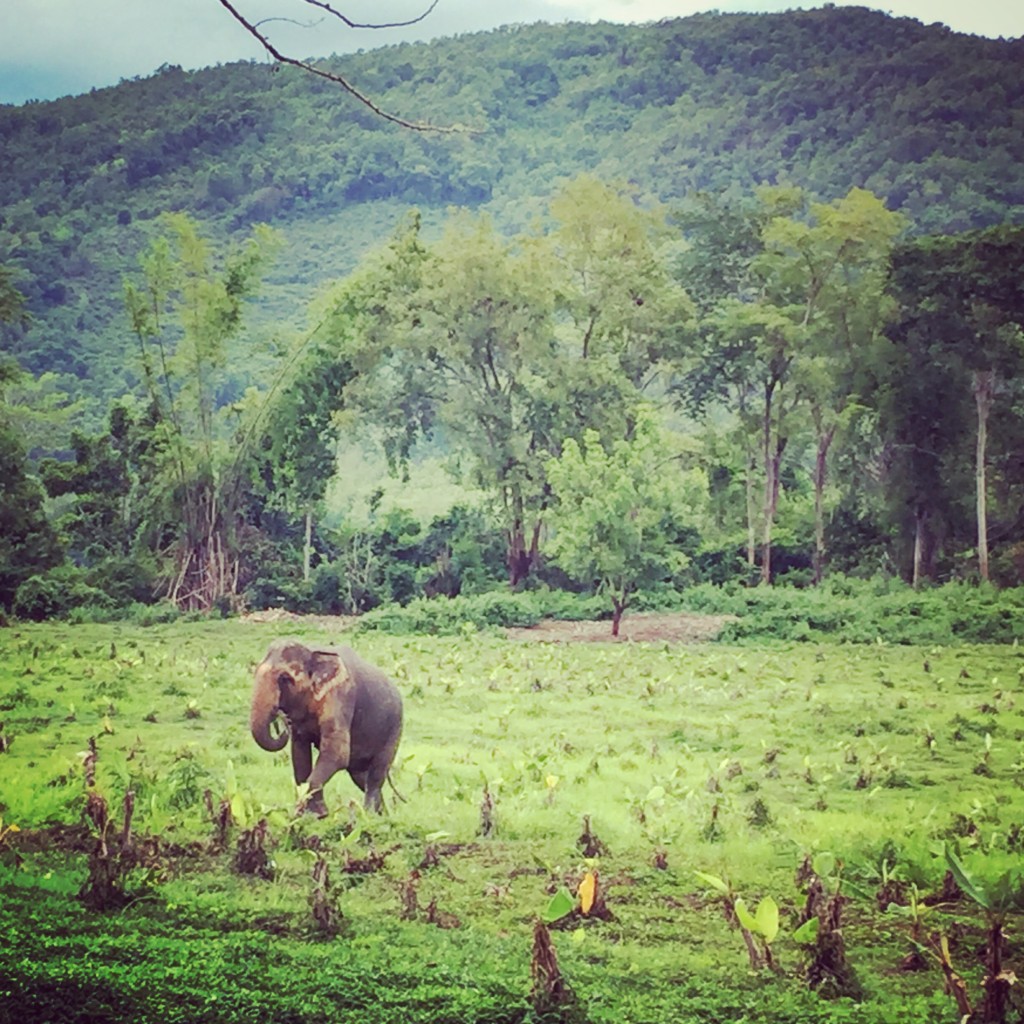 Sandwich & Juice Stalls
I am not sure know how this small town does it, but they make some of the best sandwiches you will ever have. Made with the freshest ingredients, including healthy portions of avocado and the softest yet crunchy baguette. They also blend fresh juices. The juice menu is long, but they are also happy to accommodate special requests. If you are worried about the local water, or just want to get more fruit, ask them to make it without ice. These stands are open most of the day and night.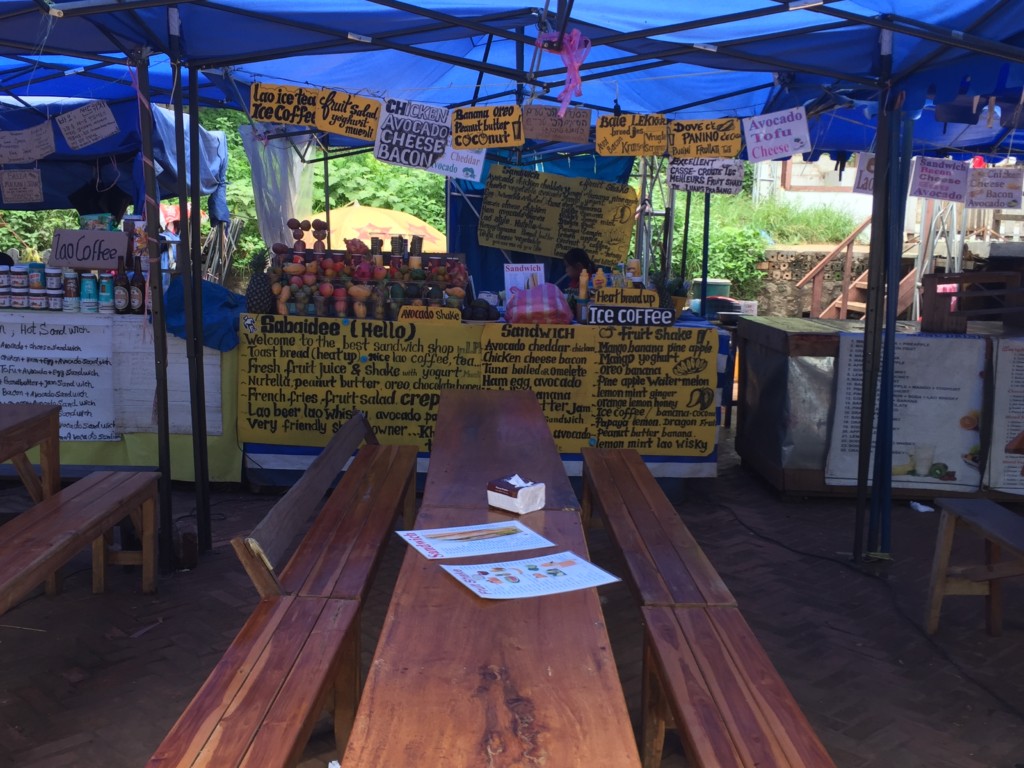 Utopia Restaurant & Yoga
Utopia is the most popular backpacker hangout in the city, and for good reason. They offer a yoga class every day with picturesque views of the Nam Khan river. It also has one of the best lounge areas you will ever find. Relax on floor mats and pillows on the bamboo patio and have great views of the river and surrounding lush landscape. They have a full menu and bar, but will be happy to allow you to simply lounge and enjoy the the views for free without pressuring you to order. At night, it turns into the biggest party in the town.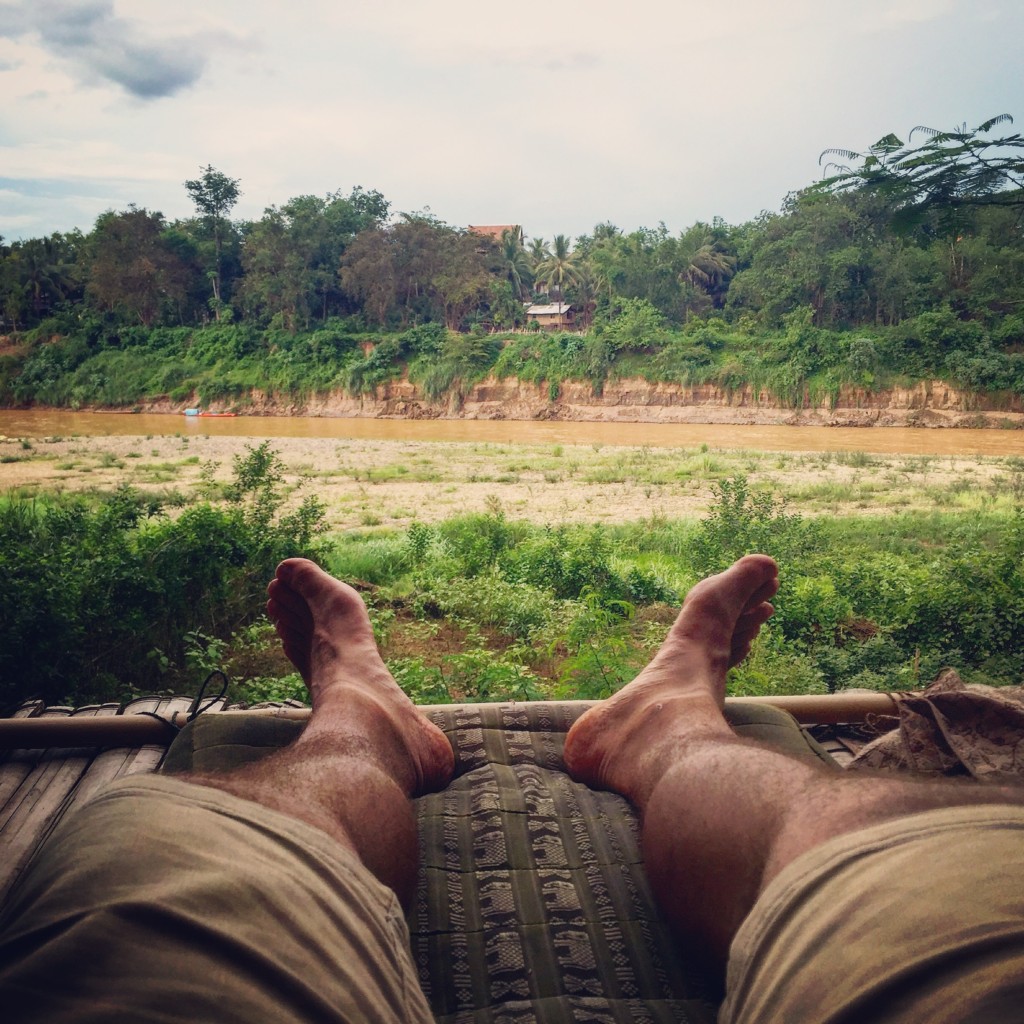 Alms Giving
The alms giving ceremony takes place every morning throughout the city, but you have be up early at dawn to see it. I recommend being out in the street by 6:00 AM. The giving of alms is a unique experience that is starting to get ruined by tourists. Since the monks do not earn money and cannot receive money, they are solely reliant on the generosity of the community for food. Each morning, they will all walk around the city in line with their temple. Locals, primarily the older women, will place food inside their bowl, which will serve as their only food for the day. It is a beautiful thing to observe or participate in, but be respectful and stand across the street. You will often see tourists with big cameras get up close to a monk's face or walk alongside them in order to get the perfect shot. Also, if you choose to participate, talk to a knowledgeable local about where to alms. Many of the vendors advertising food to give as alms (especially in the morning) are selling their old food and several monks have gotten sick from this. You can view the alms giving in front of nearly any street in the city, but in front of Wat Sen on Sakkaline Road, and behind it on Kounxoua Road are especially good because of the temple's scenic backdrop and the additional temples along the road.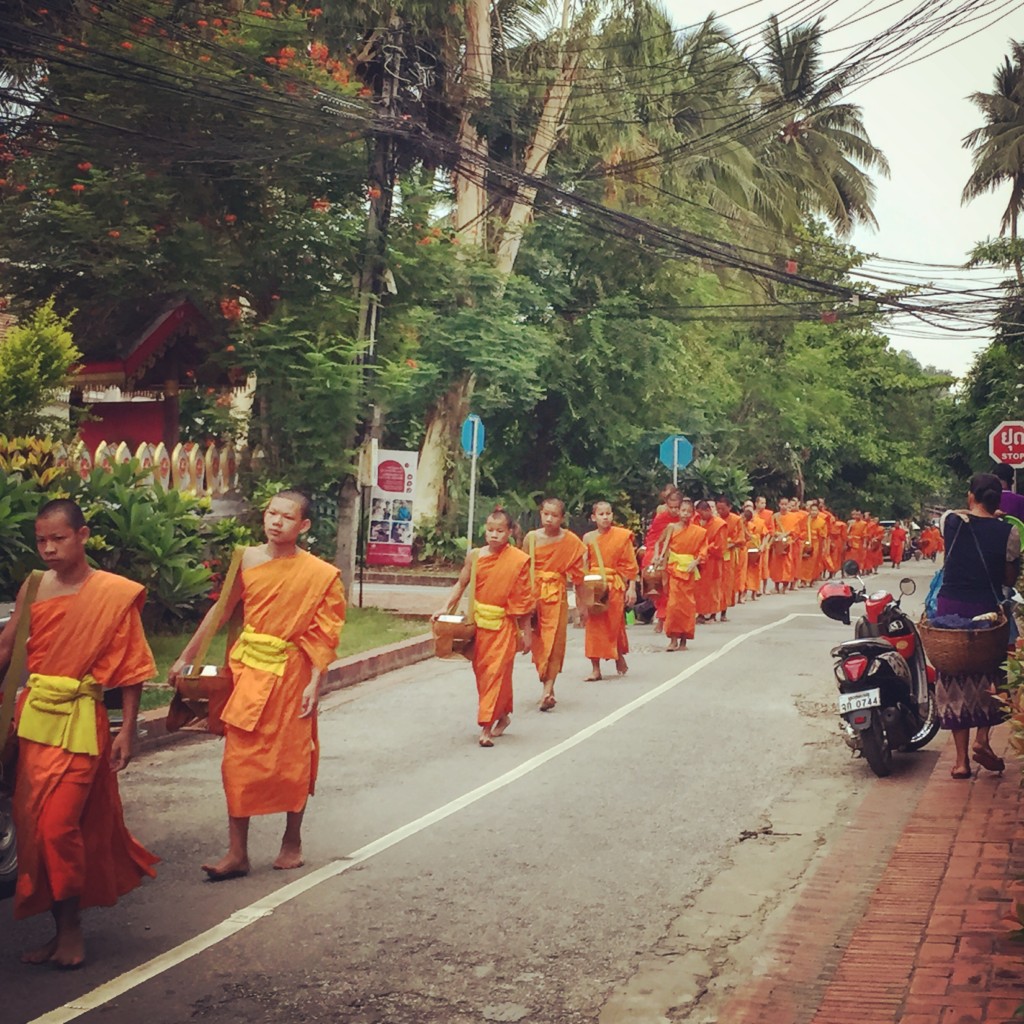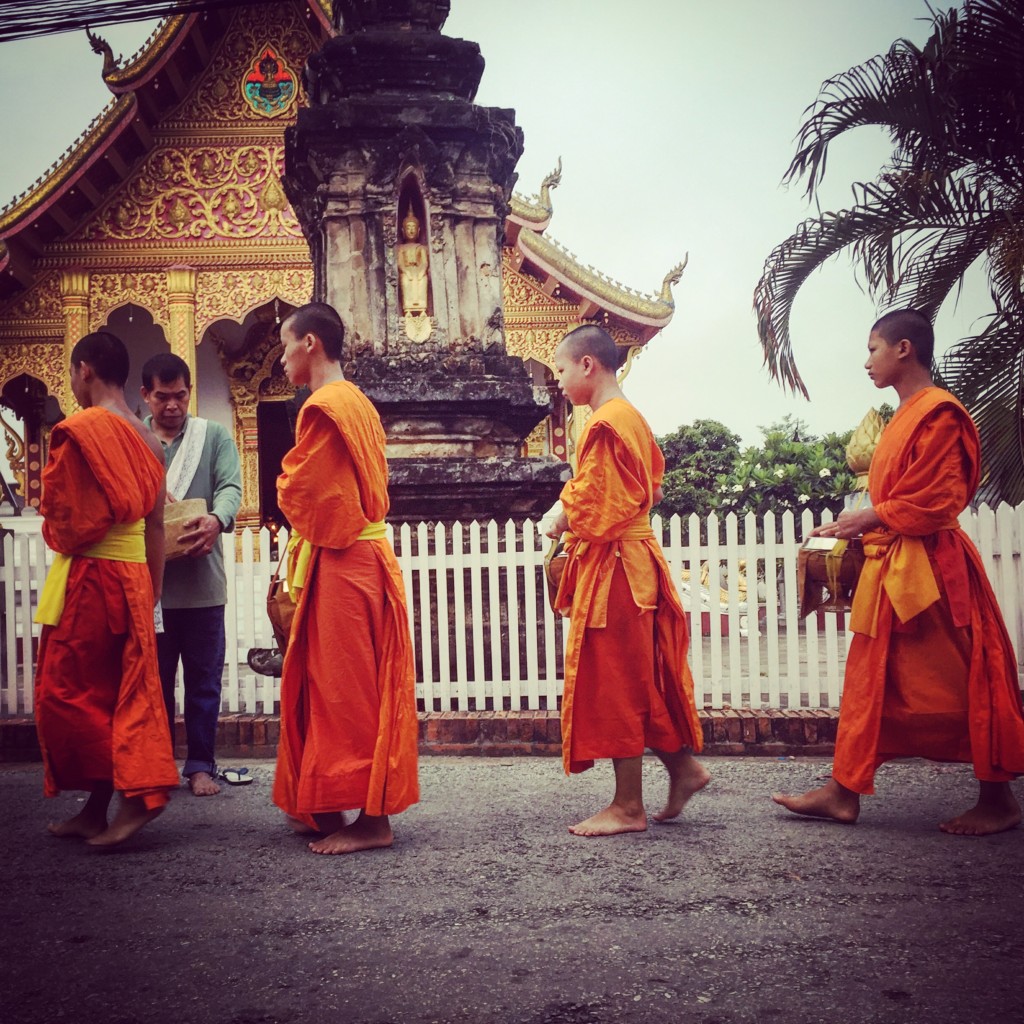 Royal Palace
This is a one Luang Prabang's most historical cultural sites, but it closes early so make sure to visit in the morning. There are a handful of exhibits and displays that showcase the royal family's past. Even if you skip the museum, it is definitely worth a visit given its central location, beautiful landscaped grounds, and iconic onsite temple of Haw Pha Bang.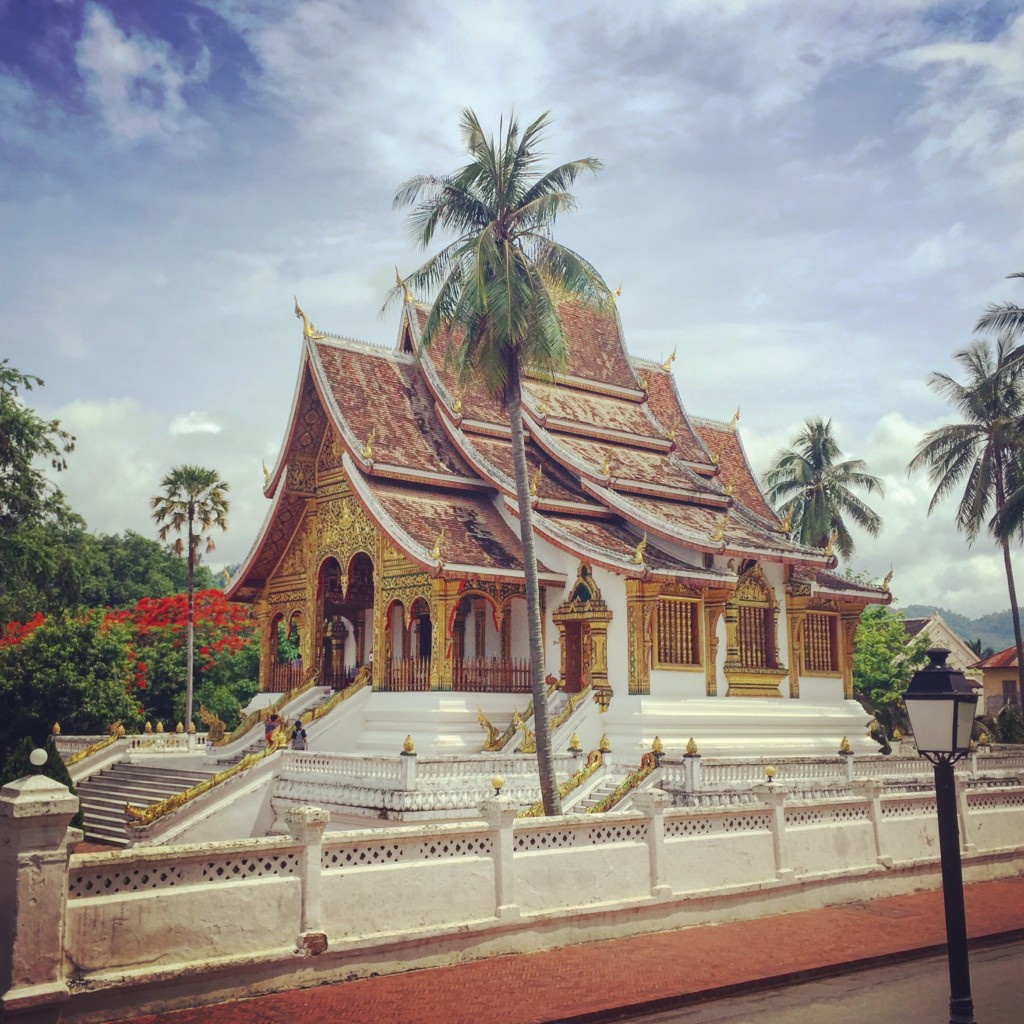 Bamboo Bridge
This bridge is a beautiful place to cross the Nam Khan River or take a scenic photo. The bridge is most often used by locals to commute to the other side, and you will often find picturesque scenes of monks in orange robes alone on the bridge. There is a small fee if you would like to cross the bridge. The bridge is dismantled when the water gets too high during peak rainy season during the year, so the money you pay goes to the rebuilding of the bridge that happens every year.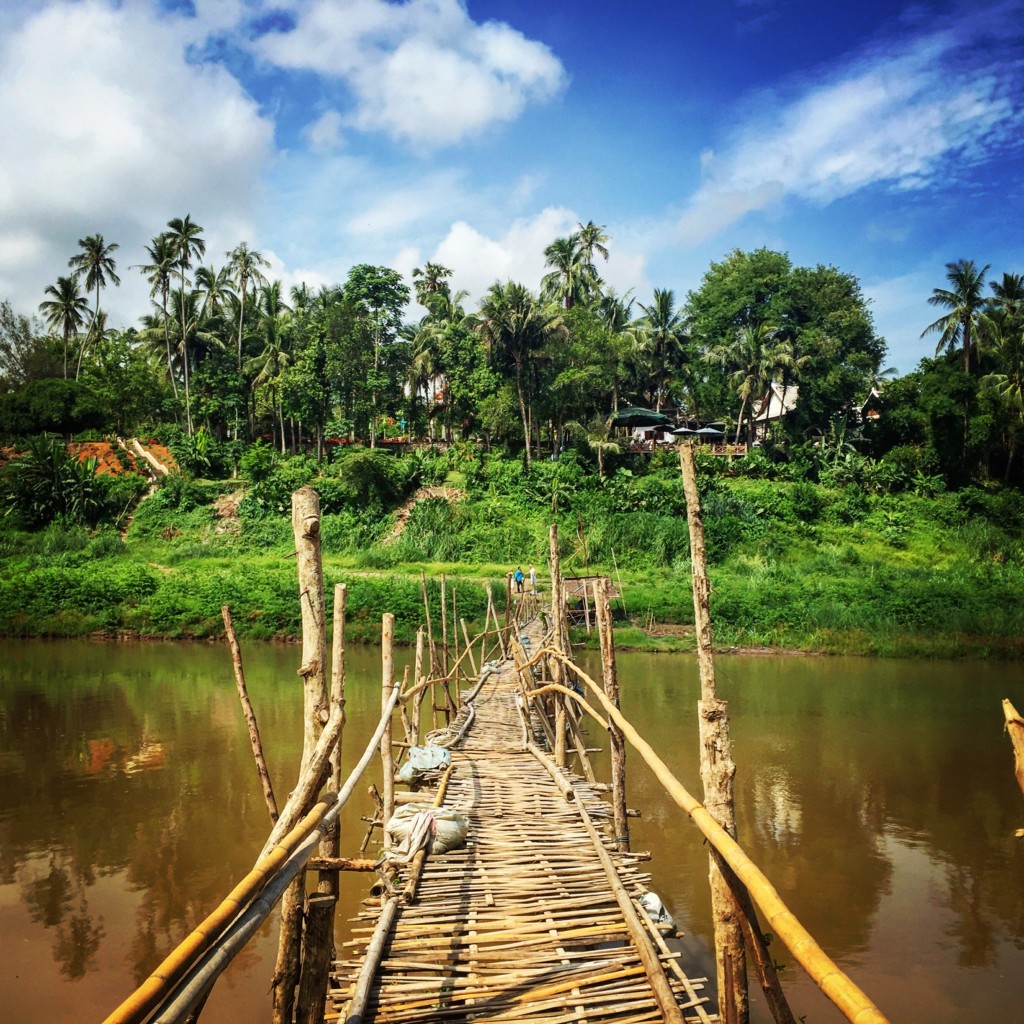 Boat Rides
The scenic and majestic Mekong River is the lifeline for Laos. Its shoreline and landscape is a beauty to experience. Along the river in Luang Prabang, you will find a handful of boats willing to take you out for a small fee. A popular thing to do is take the daily ferry up the river to the Whiskey Village and Pak Ou Caves. I simply paid ~$5 USD to have a boat drive me around on the river at sunset for an hour with a couple bottles of Beer Lao.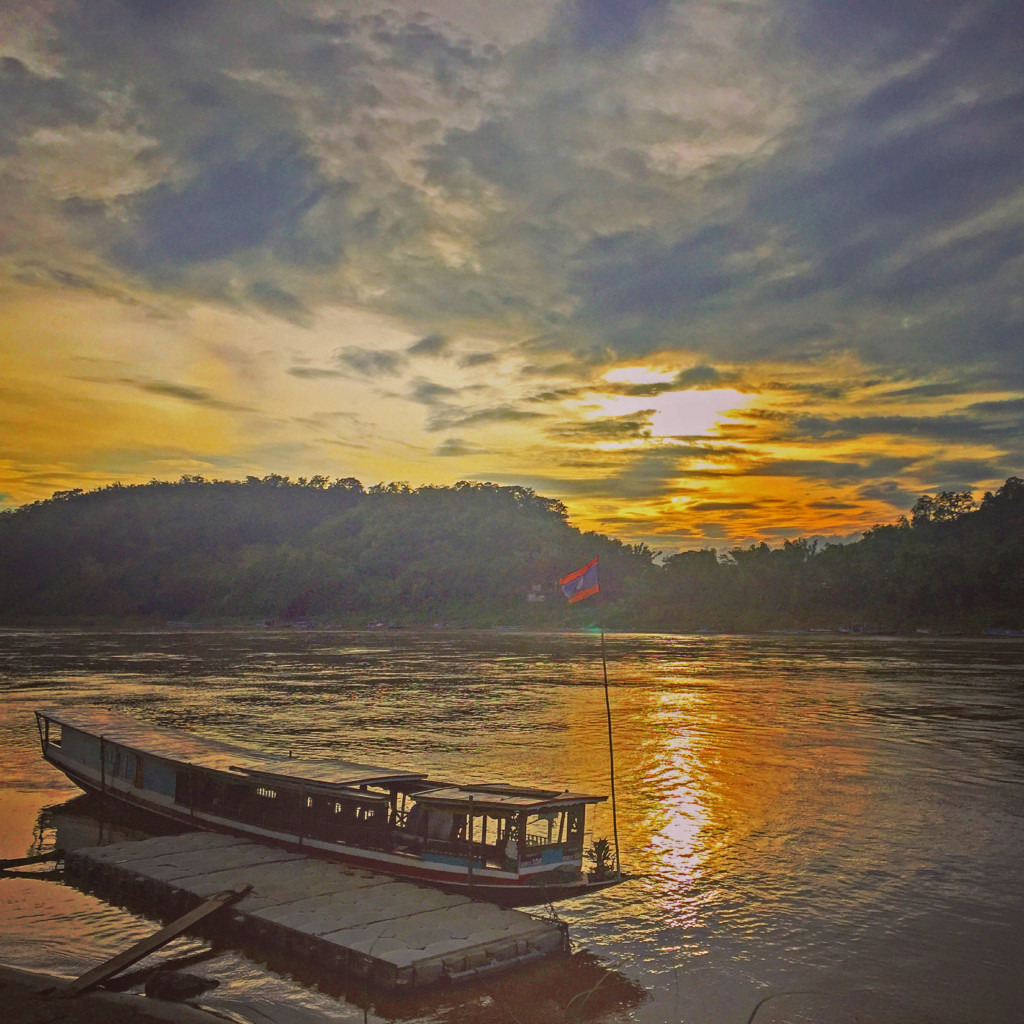 Lao Red Cross Sauna & Massage
Lao-style massages have the massage therapist rest on your body's pressure points with rhythmic repetition, using the massage therapist's body weight to add additional force. Lao spas typically provide a set of pajamas to wear and the person being massaged remains clothed. Lao Red Cross Sauna & Massage is one of the best massages in the city, is an absolute bargain, and the proceeds go to support Lao Red Cross projects in the poorest villages in Luang Prabang. This Luang Prabang travel blog and locals recommend the Red Cross for a good traditional Lao massage.
Viewpoint Cafe
The Mekong and Nam Khan rivers meet at one of the most beautiful spots of the city. It overlooks a bamboo bridge and a fishing spot for local fishermen. Overlooking it all is Viewpoint Café. You can find a better meal elsewhere, but I highly recommend coming here for a drink. It is one of the best spots to sit back, relax, and admire the beauty of this area. If you do not want a drink, there is also a lookout a few meters to the right of the bar.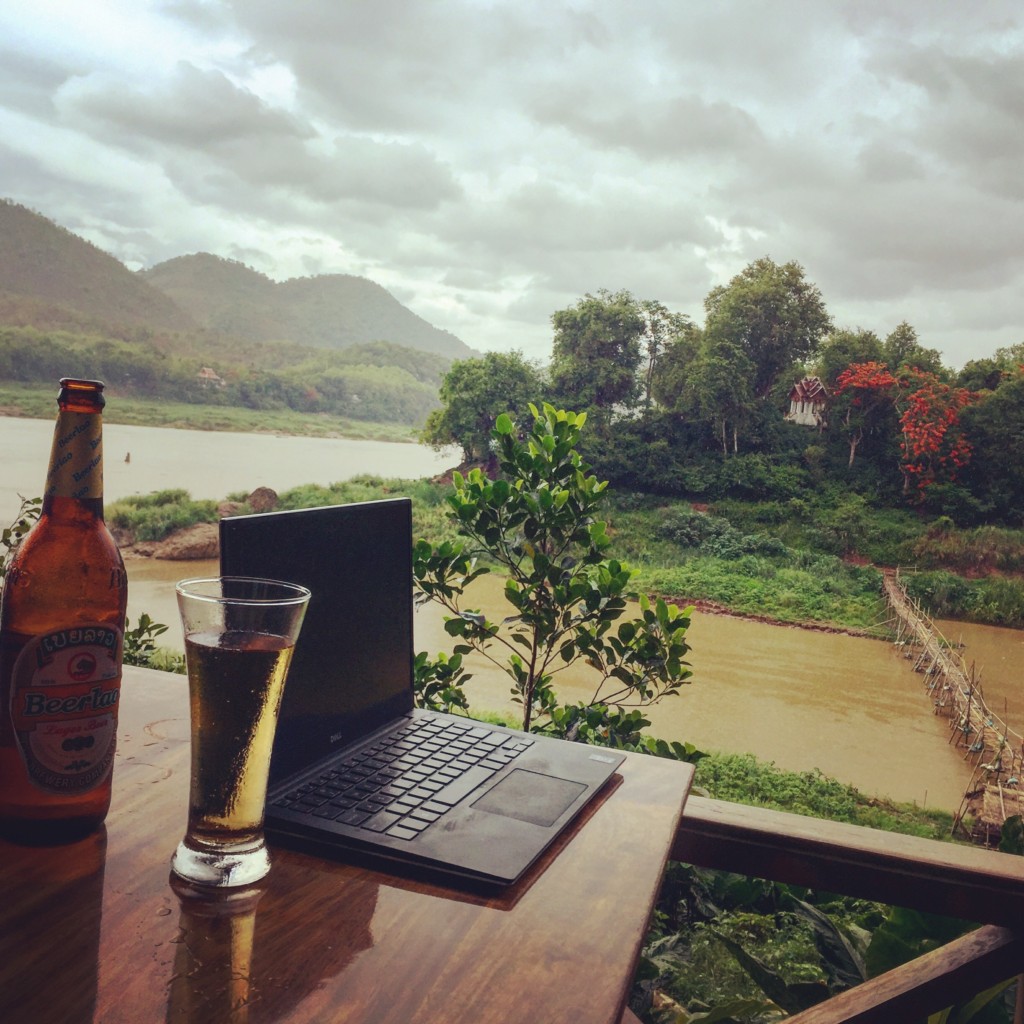 Rent a Motorbike
If you are comfortable driving a bike with Southeast Asia roads and disregard for traffic laws, a motorbike is a great way to visit the waterfalls, explore the countryside, and efficiently get around town. It will cost you around $15 for 24 hours. The best guy in town to rent from is the Chithanah shop. The owner is honest, friendly, and won't hassle you about price. The place may be a little hard to find, but is down a small dirt road off a main street across from the Traditional Arts and Ethnoloy Centre. However, you can just ask the people at the shops on Kitsalat Road and they will point you in the right direction. Do at your own risk, but the scenic drives were one of my favorite experiences mentioned in this Luang Prabang travel blog.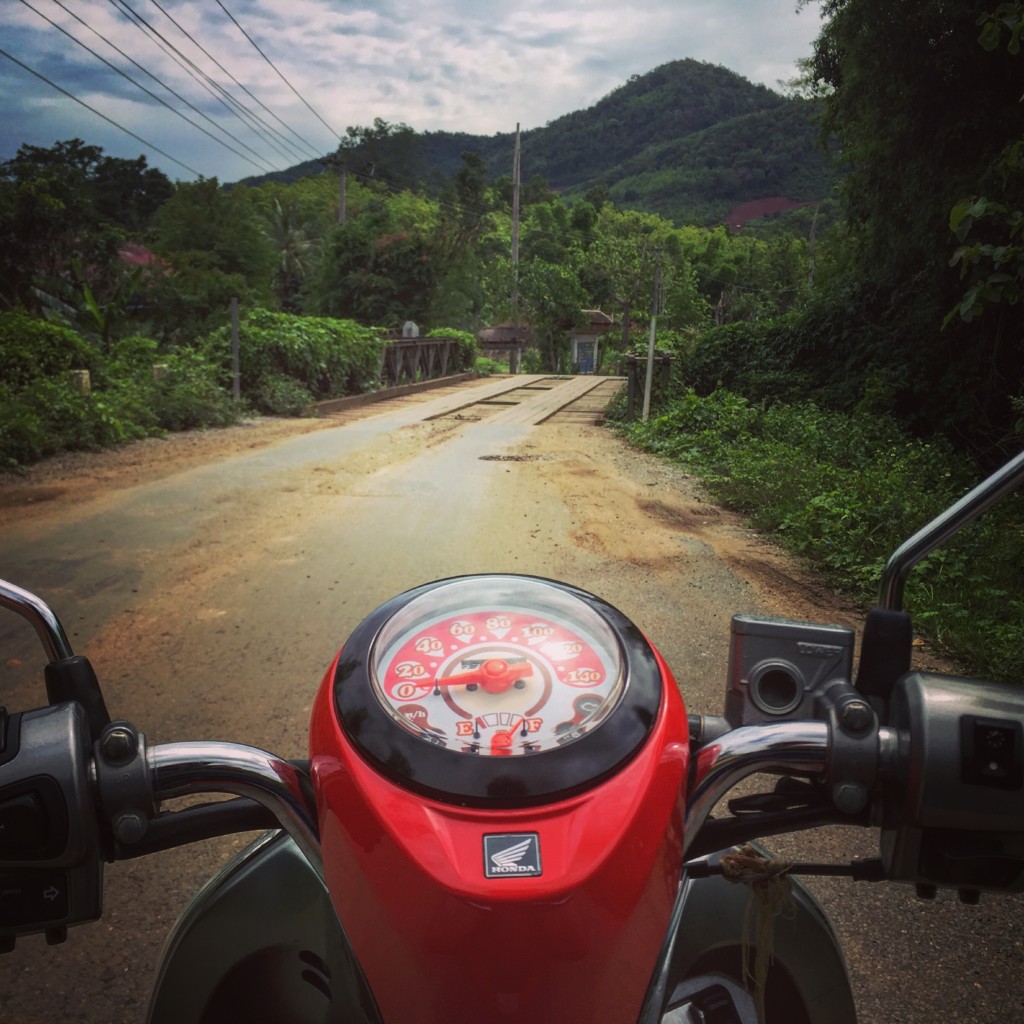 Luang Prabang Travel Blog Extras 
Here are a few additional ideas that deserve an "honorable mention" for this Luang Prabang travel blog if you have the time:
Pak Ou Caves: This trip requires a boat ride – which you can arrange with boats along the Mekong shore or via the daily ferry, which departs from this location. The caves can also be accessed by a long motorbike and tuk tuk ride. The Pak Ou Caves are one of the most respected holy sites in Lao and have a history dating back thousands of years. Packed with over 4,000 Buddha icons believed to be left by locals hundreds of years ago. The caves serve as a shrine to the river spirit and Lord Buddha. They are set in a dramatic limestone cliff at the point where the Mekong joins the Nam Ou River. There are two caves to visit, the lower cave called Tham Ting and the upper cave Tham Theung.
Ban Xieng Khong (Whiskey Village): Ban Xang Hai, commonly referred to as Whiskey Village, is a small village on way to Pak Ou Caves. The local whiskey, Lao Lao, is made with snakes and insects mixed with the whiskey and sold in various shaped bottles. You can also buy Lao silk and other crafts at the village. Most tours and ferries to Pak Ou will make a stop at Whiskey Village.
Traditional Arts & Ethnology Center: There are many tribal cultures converging in Laos, and this museum is a great place to start to get a grasp of all of the different peoples that surround you as you walk the streets of Luang Prabang and the greater Laos region. Most of the displays here have to do with apparel and textiles. You also can buy a variety of different fabrics in the gift shop, and the staff members there can help direct you to a good tailor in the area to create something beautiful with it.
Download the Luang Prabang Mobile App
I created the Luang Prabang travel guide on the TripScout mobile app, which includes these Luang Prabang travel blog recommendations plus many more recommendations, on an interactive offline map. You can download the app for iPhone here: TripScout Travel App.
Best Places to Eat in Luang Prabang
Lao cuisine is delicious. It is similar to its Vietnamese and Thai neighbors – with spicy soups, sticky rice, and a range of meat dishes. My recommendations for this Luang Prabang travel blog include:
$ Best budget resetauraunts (cheap, but amazing): Night Market, sandwich stalls
$$ Best restaurants (nice restaurants, but expensive to local standards): Tamarind (great for a wide sampling and also offers a cooking class), Tangor (great place to sit outside along the main street), Novelty Cafe, Roots and Leaves, Coconut Garden, and Lao Lao Garden.
$$$ Higher end restaurants: L'Elephante, Manda de Laos.
Where to Stay in Luang Prabang
There are a lot of great and inexpensive lodging options in Luang Prabang. My recommendations for this Luang Prabang travel blog include:
Hostel: Kounsavan Guest House provides the best hostel experience right in the center of the city for $6/night.
Guest House: Villa Merry 1 give you a nice room with river views and a friendly and helpful staff for ~$20/night.
Hotel: Hotel Luang Prabang provides a nice hotel room with a friendly and helpful staff for ~$20/night.
If you are traveling throughout Asia, check out some of my other travel blog posts in the region: Hanoi, Saigon, Beijing, Shanghai, Seoul, Tokyo, Kyoto, Ubud-Bali, Yangon, Taipei, Almaty, Bishkek, Hong Kong, Singapore, Manila, Kuala Lumpur, the Maldives, and more.
I hope you enjoyed my Luang Prabang Travel Blog!
This error message is only visible to WordPress admins
Error: No feed found.
Please go to the Instagram Feed settings page to create a feed.
Luang Prabang travel blog