goKonrad's Paris travel blog
What makes Paris special is not the Eiffel Tower and Notre Dame. It's the intimate neighborhoods. It's watching the city stroll by as you sip wine outside a bistro. It's the cheese you can smell from around the block. It's the vibrant art scene, from the classics to graffiti. It's the bakeries, bookstores, and cafés. It's the perfect city to wander around and get lost in.
Paris Travel Blog  
Paris has some of the world's best neighborhoods to get lost in, restaurants to experience, and sidewalk cafés to people watch. Mix in some its world-class museums and some of the most iconic sites in history, and you have a city that makes it hard not to love. I certainly fell in love with Paris and I curated a list of all my favorite experiences by neighborhoods, sites, museums, and restaurants in this Paris travel blog below.
A Few Favorite Thing to Do in Paris
To kick things off with this Paris travel blog, here are a couple of my personal favorites that I wanted to highlight first.
Shakespeare and Company
Shakespeare and Company is arguably the most famous independent bookstore in the world and can feel like "something of a literary utopia, where money takes a backseat and generations of writers—Allen Ginsberg, Henry Miller, Anaïs Nin, William Styron, Martin Amis, Zadie Smith, Dave Eggers, among others—have found a Paris home," said Vanity Fair. The original store was established in 1919 and was a gathering place for many then-aspiring young writers, including Ernest Hemingway. It closed in 1940 during the German occupation of Paris and never re-opened. A second store was opened in the current location in 1951 as a tribute to the original. The owner, George Whitman, designed it "like a man would write a novel," he said, "building each room like a chapter, and I like people to open the door the way they open a book, a book that leads into a magic world in their imaginations."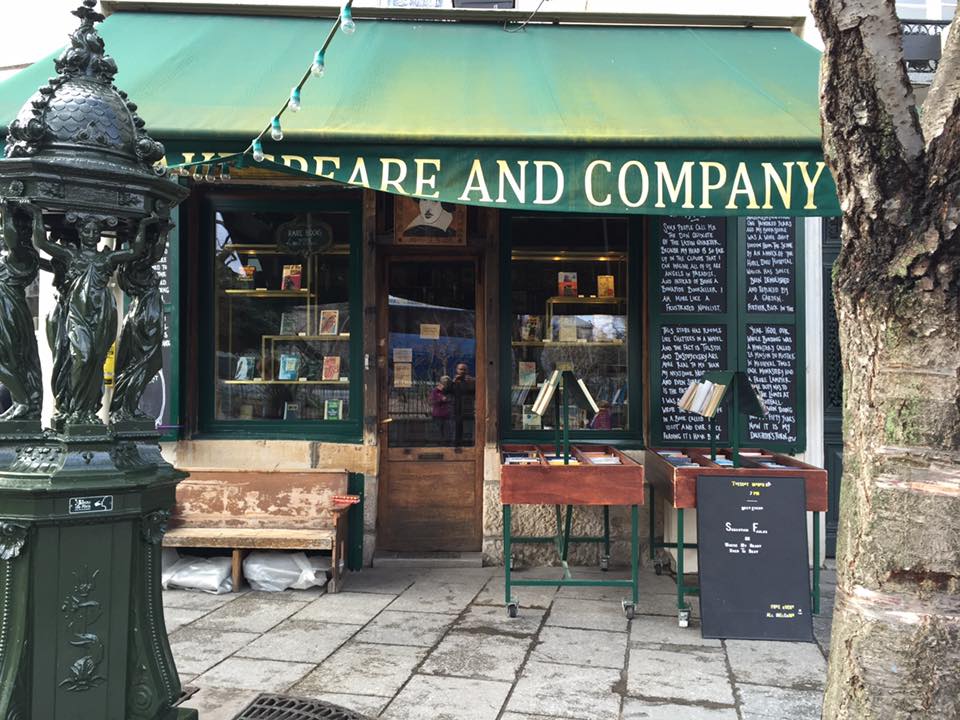 Rue Denoyez
Rue Denoyez is a small street in the heart of the Belleville neighborhood that has been completely taken over by graffiti and street artists. Once a rundown street filled with abandoned shops, it's now a vibrant cultural scene with a number of galleries and cafés nestled into the graffiti filled walls. It's one Paris's few legalized areas for graffiti and you will often see works of art in progress as you stroll down the walkway.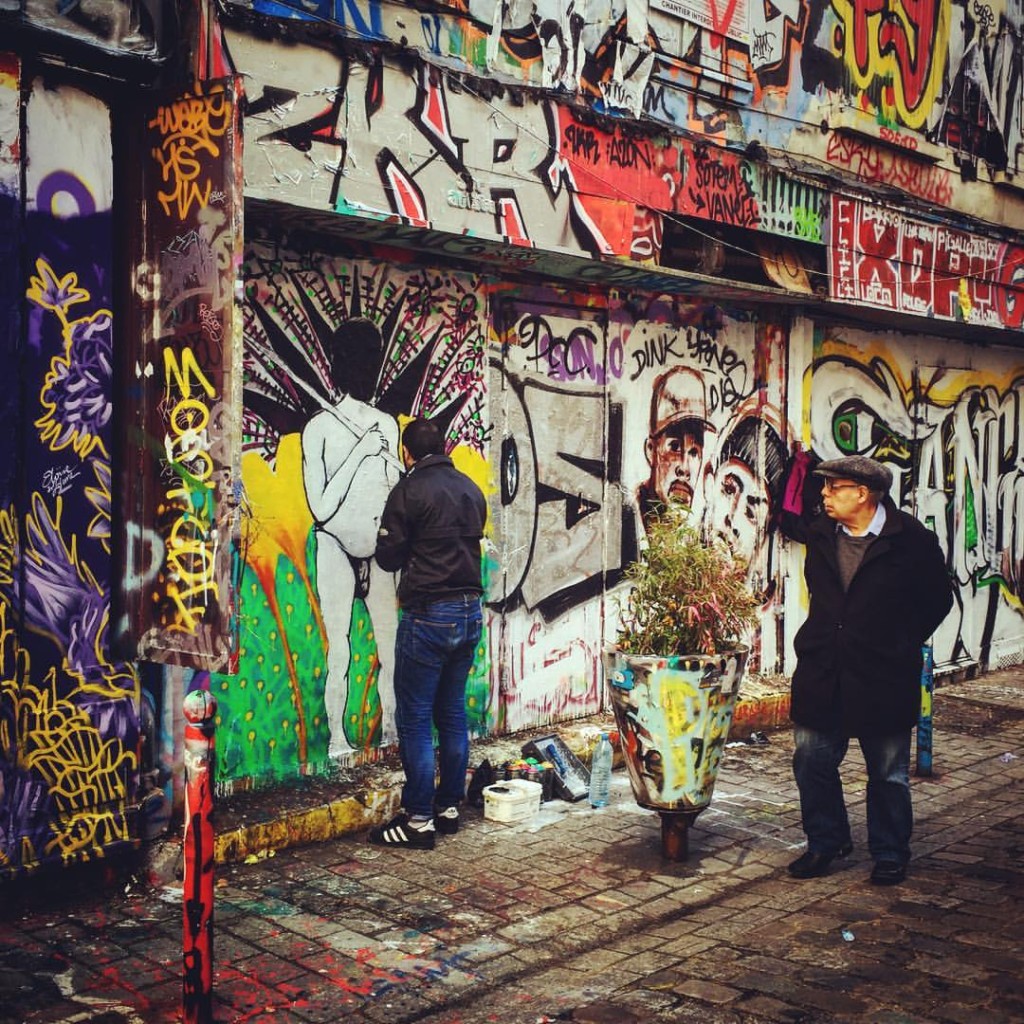 Rue Cler
Rue Cler is a pedestrian street that is a perfect example of French culture. Lined with shops that flow out into the street, Rue Cler has it all: cheese shops you can smell from across the street, produce stands with the freshest fresh fruits and vegetables, boutique wine shops, mouthwatering gelato and macaroon stands, and charming street-side bistros serving delicious French food and wine. If you want a great place to sit and watch the world go by, sit outside and Café Central and order some escargot and Bordeaux. It's also a great place to pick up wine, cheese, fruit, and baguettes, and then head a few blocks to the Champ de Mars to have a picnic under the Eiffel Tower's shadow.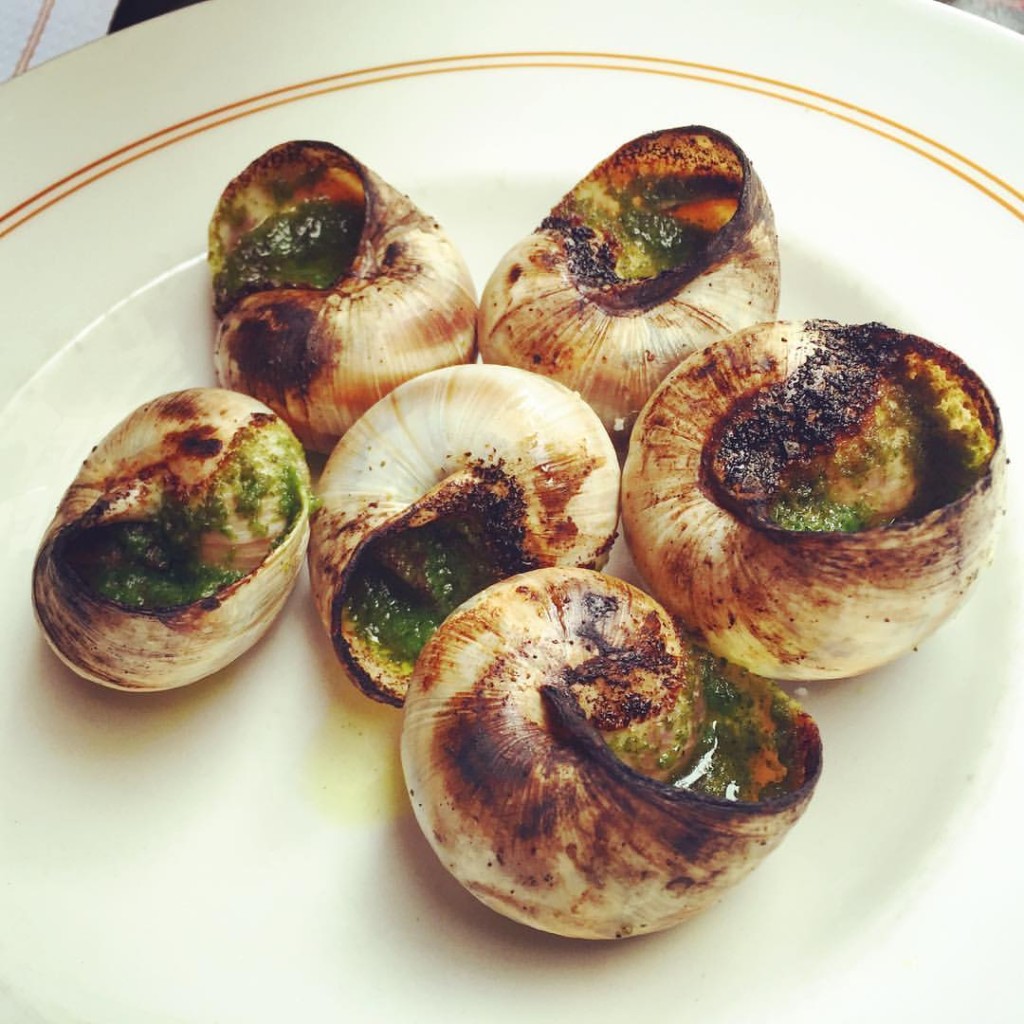 Best Neighborhoods in Paris 
Paris is best experienced in its neighborhoods. Pick nearly any neighborhood, wander around, get lost, browse boutique shops, and have coffee or wine at a bistro that draws you in. It is the most guaranteed way to have a memorable experience in Paris. For this Paris travel blog, here are a few of my favorite neighorhoods.
Belleville
The suburb of Belleville (Beautiful Town) is a trendy neighborhood spread over 4 arrondissements. Situated on a hill, the suburb challenges Montemarte for claim of the highest area in Paris. Belleville is home to 2 Chinatowns, an outdoor farmer's market, and stunning gardens. Visit Parc de Belleville, enjoy one of the best views across the city, sit outside at Moncoeur Belleville and eat with views of the Eiffel Tower, and browse the area's flea markets.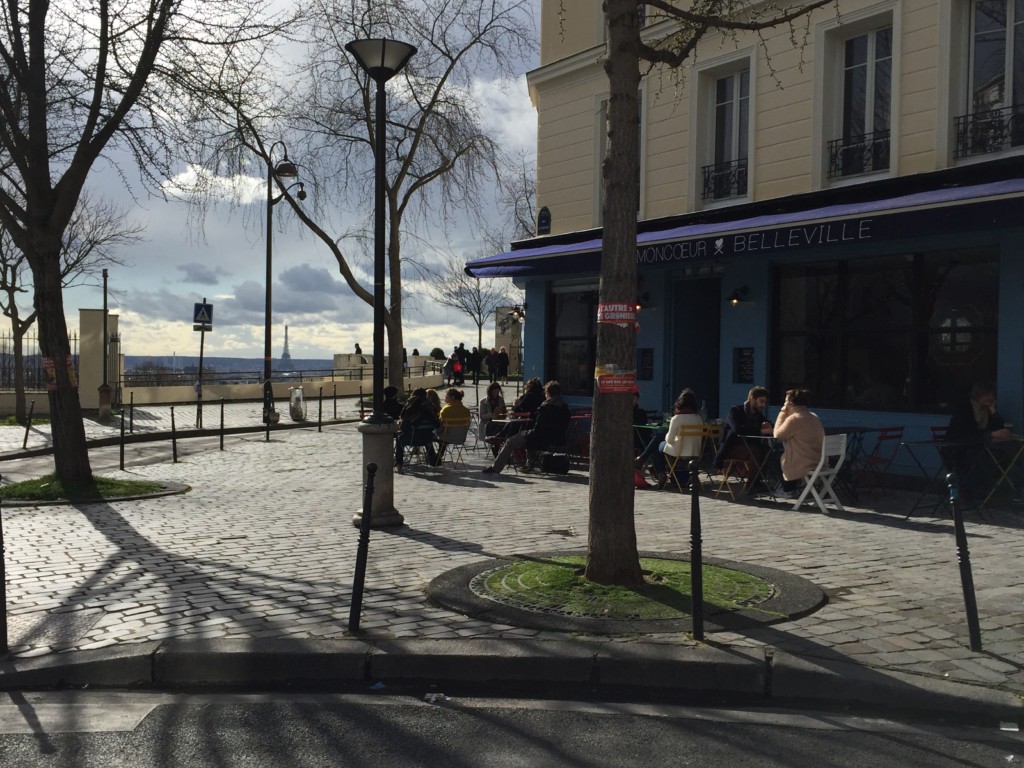 Montmartre
AirBnB describes this neighborhood well: "There's a reason why Montmartre is always bustling. This iconic hilltop neighborhood's striped awnings, cobblestone streets, and lively plazas rest at the foot of its pilgrimage-worthy basilica, Sacre Coeur. The neighborhood's sacred structure and artisanal shops encourage frequent foot traffic, but Montmartre's ceaseless activity invites more than pleasure strollers along its cinema-worthy streets—entrepreneurial misfits add a picaresque slant to Montmartre's picturesque street scenes."

Saint Germain des Prés Quarter
AirBnB describes this neighborhood well:"Whiling away the day at sidewalk cafes isn't considered unproductive in Saint-Germain-des-Prés – Odeon… it's considered the perfect afternoon. A former bohemian retreat, this central Paris neighborhood has since transformed into a destination for couture window-shopping and catered relaxation. Saint-Germain-des-Prés – Odeon's ivy-covered art galleries, corner patisseries, and centuries-old churches only add to the neighborhood's undeniable romance—the kind that requires quiet contemplation at a sidewalk café."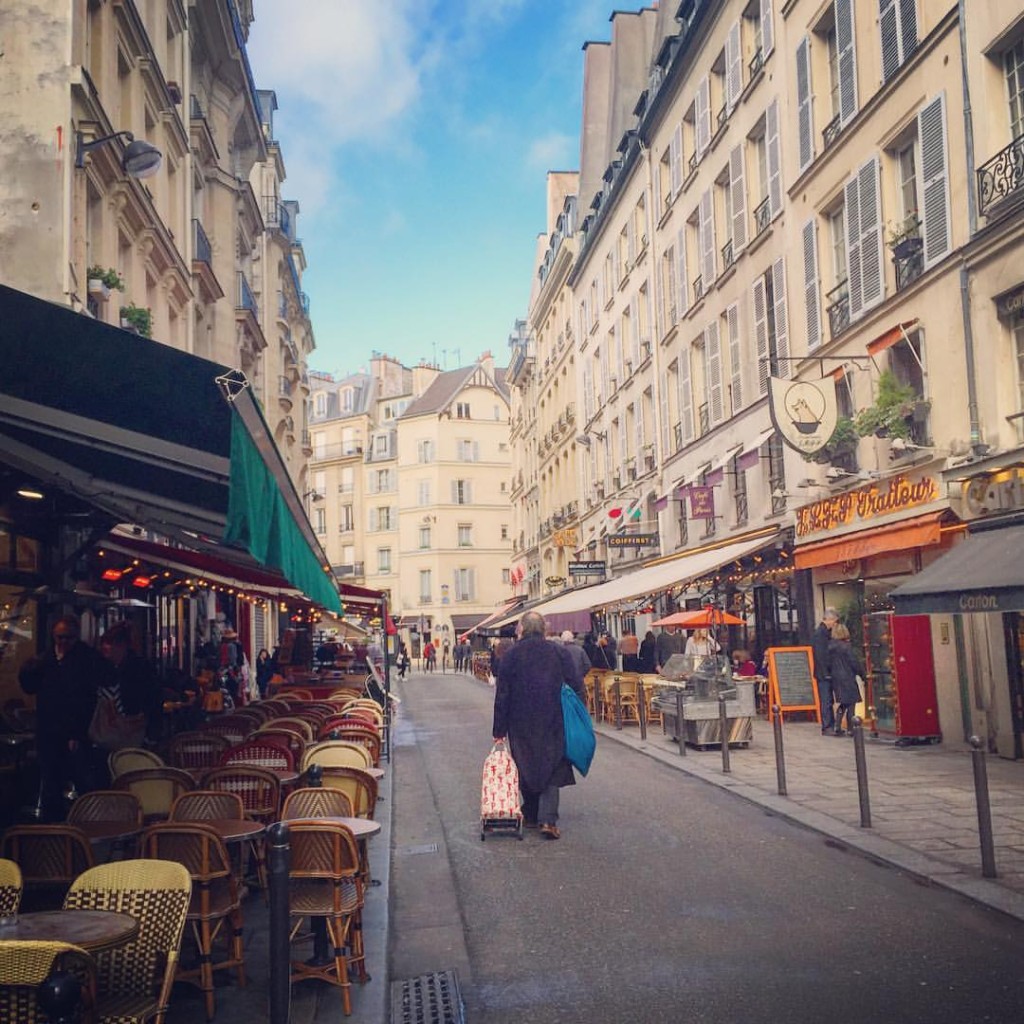 Le Marais
Le Marais is a historical district in Paris, loved for its curved streets, countless art galleries, and important medieval architecture. Highlights include the Gaite Lyrique, an ode to digital arts found in Offenbach's former theatre, and the Musee des Arts et Metier, a science museum in a 12th century chapel, which houses early flying machines.
Canal Saint-Martin
AirBnB describes this neighborhood well: "In this casually hip neighborhood, all you need to enjoy a long evening is a tall glass of wine…. Canal Saint-Martin attracts sundry crowds. Model-types pose along the canal's banks while unshaven philosophers ruminate waterside and demure couples dine at brightly colored boulangeries. Canal Saint-Martin's conspicuous lifestyle contrasts its residential attributes—simple rectangular windows scale the neighborhood's utilitarian apartment buildings. As a place to see and be seen, Canal Saint-Martin is especially popular with angst-ridden university students—it's the perfect setting for finding oneself while watching others."
Best Paris Museums
Paris has more world-class museums that you will likely have time for on any visit. My best advice is to not feel the pressure to see it all. Pick one or two and really take your time. For this Paris travel blog, here is my opinion for the best museums in Paris.
The Louvre
The Louvre is one of the largest museums in the world and one of Paris' most historic monuments. Receiving nearly 10 million visitors a year, it is also the most visited museum in the world. Easily recognizable by its massive glass and metal pyramids, the Louvre Museum houses over 35,000 paintings, including the famous Mona Lisa and sculptures by Michelangelo. There are as many as 15 restaurants located within the Louvre, as well as a museum gift and bookshop. Guided and audio tours are available.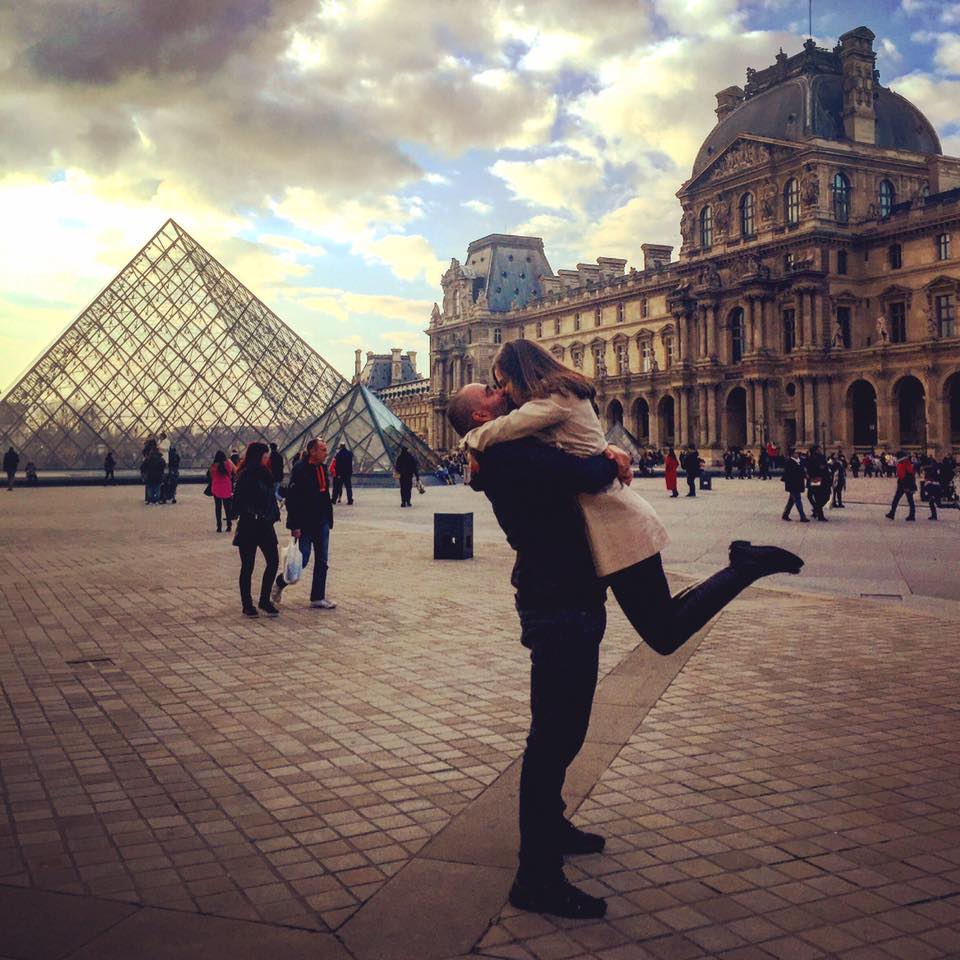 This is also where the famous Mona Lisa is, which is typically viewed these days through the lens of someone else's cell phone.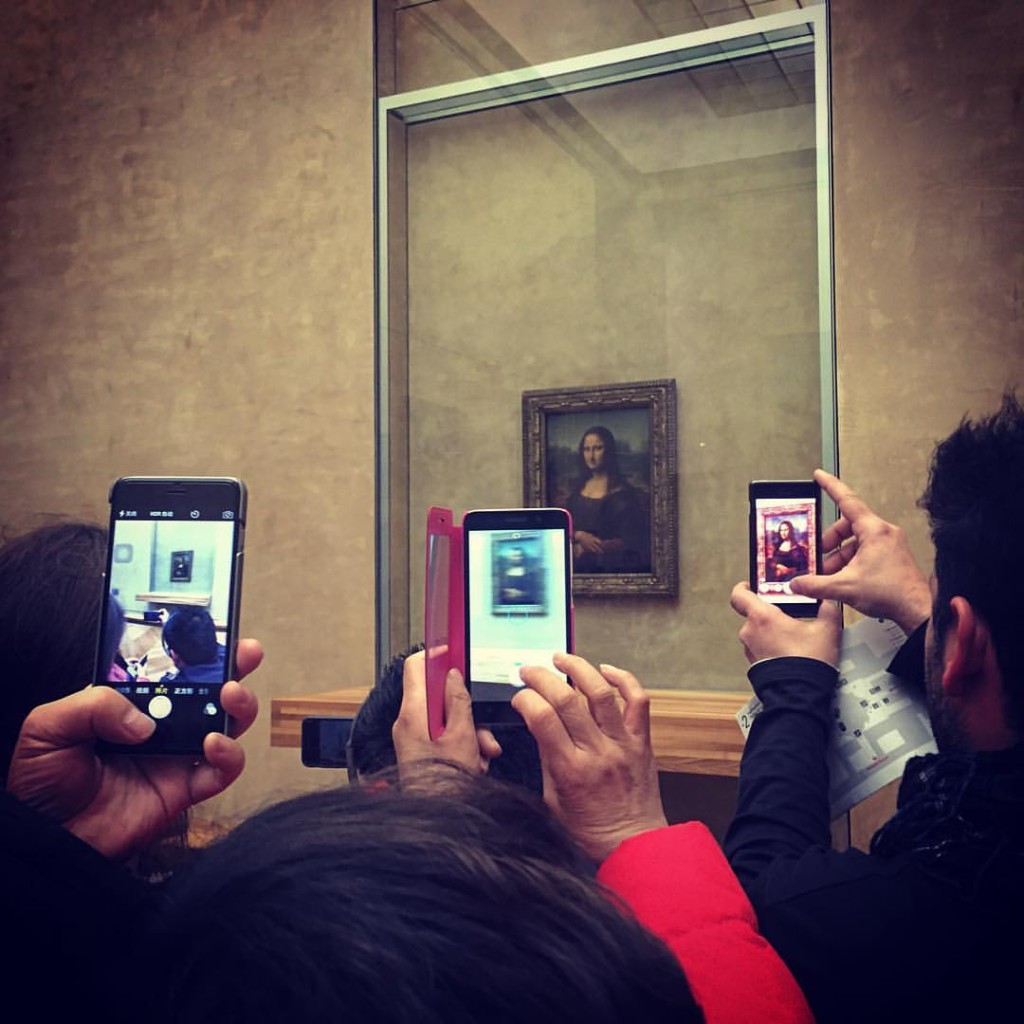 Musée de l'Orangerie
The Musée de l'Orangerie is a renowned art gallery filled with both impressionist and post-impressionist paintings. Situated in the west corner of the Tuileries Gardens next to the Place de la Concorde, the museum's highlights include Monet's  world famous Water Lillies (also known as Nympheas), two rooms and eight panels that show the elements – water, air, sky, earth – and the passing of time, from sunrise to sunset. It was designed to be a refuge from the city and offer Parisians "a haven of peace, inviting them to contemplate an image of nature evoking eternity." When contemplating the project in 1909, Monet wrote, "Nerves strained by work would relax in its presence, following the restful example of its stagnant waters, and for he who would live in it, this room would offer a refuge for peaceful meditation in the midst of a flowering aquarium."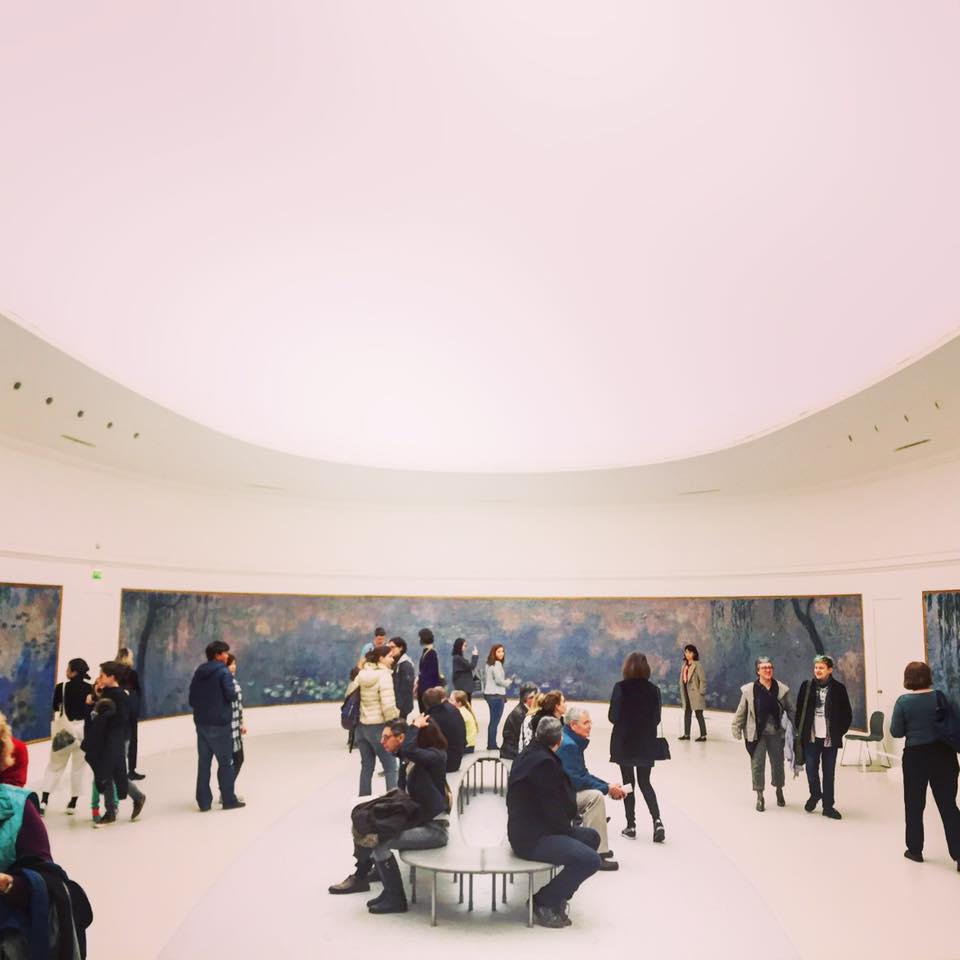 Musee d'Orsay
The Musée d'Orsay is a well-known museum on the left bank of the Seine. Housed in the former Gare d'Orsay, a Beaux-Arts railway station built between 1898 and 1900, the museum receives around 2 million visitors a year. Highlights include Edgar Degas' Small Dancer aged 4 and Van Gogh's Starry Night. Guided tours are available.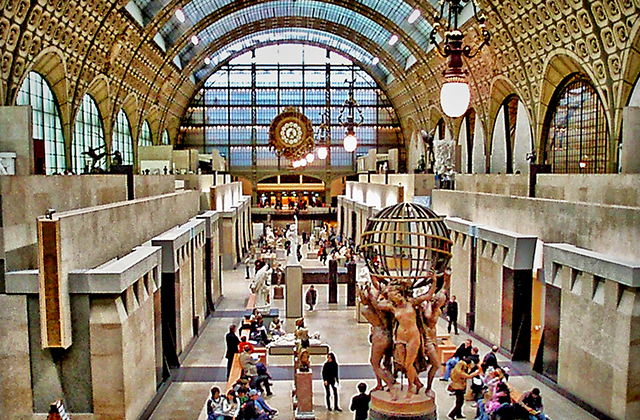 Musée Rodin
The Musee Rodin is a museum dedicated to the works of French sculptor, Auguste Rodin. It is made up of the Hotel Biron which houses the main art collection of unusual pieces of art, a chapel, bookstore, and the sculpture garden. Audio tours are available.
Les Invalides
Les Invalides, also known as the Hôtel national des Invalides (The National Residence of the Invalids), is a complex of buildings that contain museums and monuments relating to French military history. Located in the complex are Musée de l'Armée, the Musée des Plans-Reliefs, and the Musée d'Histoire Contemporaine. Located here is also the Dôme des Invalides, a large church that serves as the burial site of Napoleon Bonaparte and some of France's other most notable war heroes. The complex also serves as a hospital and retirement home for war veterans, which was the building's original purpose.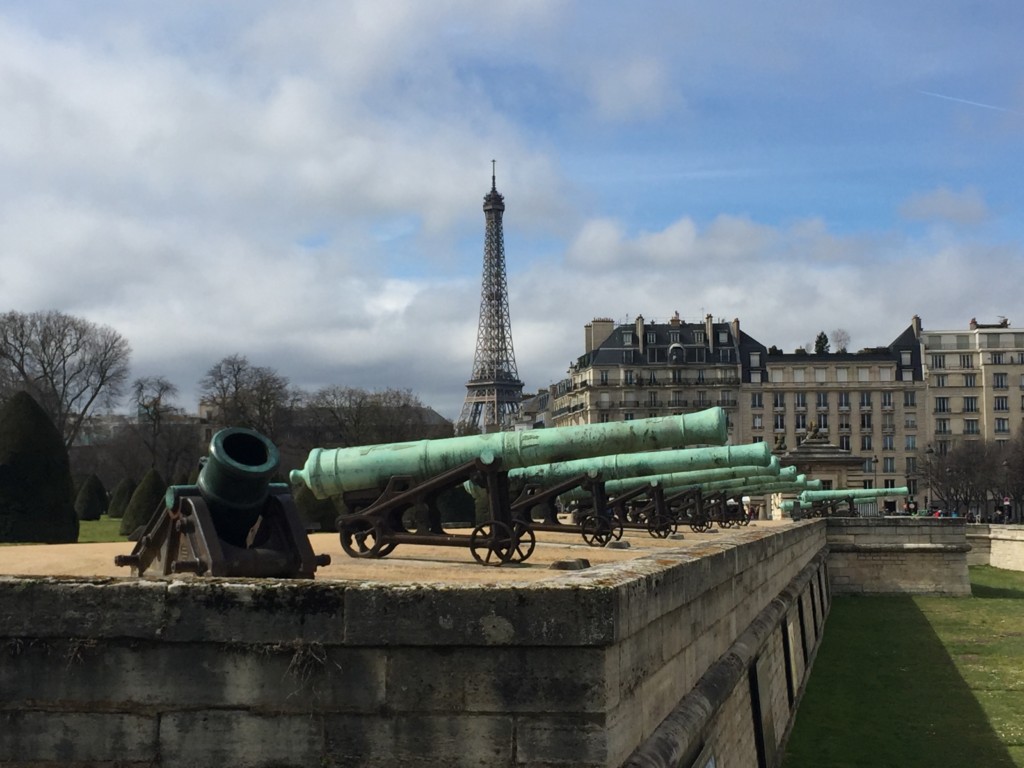 Best Paris Sites
Throughout its long history, Paris has built some of the world's most iconic sites and symbols of the modern world. While the city is so much more than these typical tourist stops, they are impressive and should be appreciated. I don't recommend a full day of seeing sites, but rather make them part of your journey. Pick one or two per day, and wander through neighborhoods to get there. Take your time at each. For example, skip the line to the top of the Eiffel Tower and have a picnic on its lawn instead. Here are my favorite sites for this Paris travel blog.
Eiffel Tower
The Eiffel Tower is one of the most famous Parisian landmarks and one of the most recognizable icons in the world. This 300 meter tall wrought iron lattice tower on the Champ de Mars in Paris can be visited day and night. Take the lifts to the top or brave the stairs for one of the most incredible views of the city. Various bars, shops, and restaurants are located within the tower. If you prefer to admire it from the ground, pick up a bottle of wine and some cheese from a nearby store and enjoy a picnic on the lawns at the foot of the tower.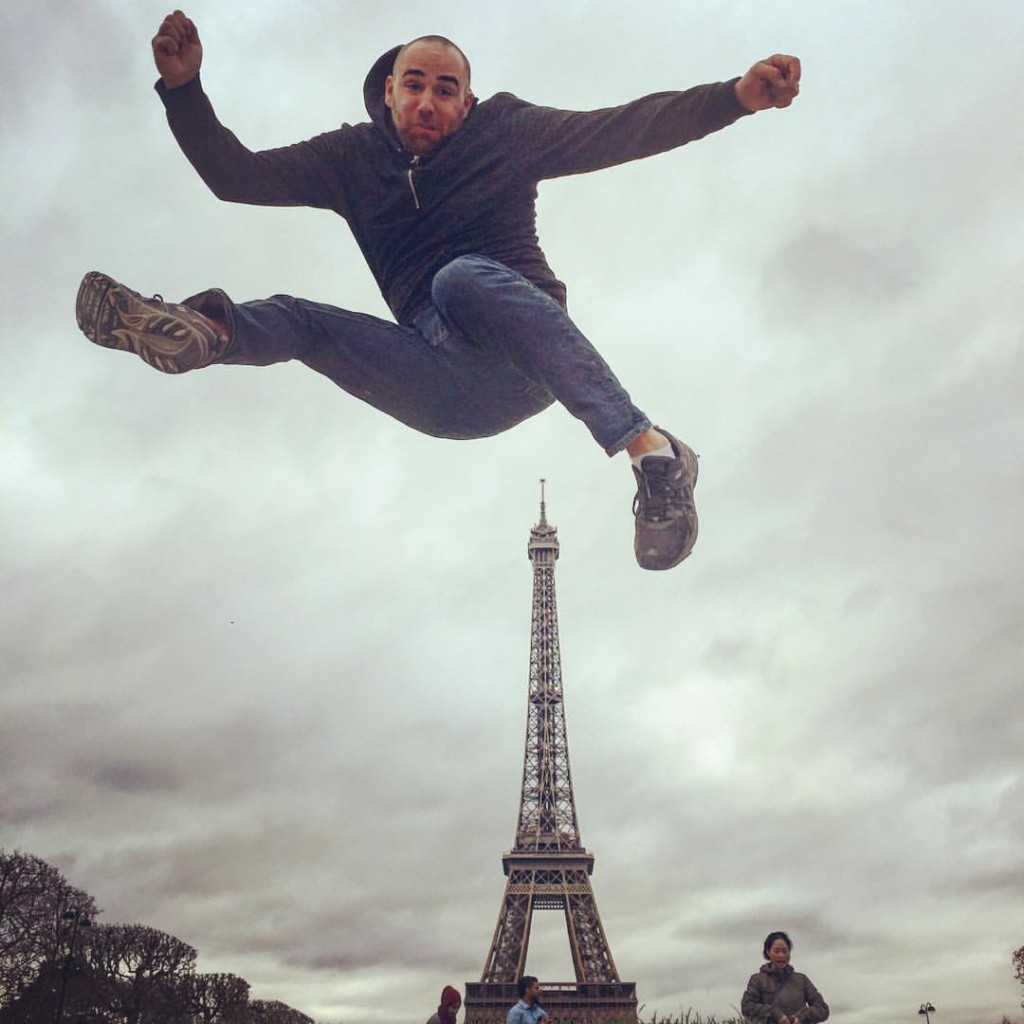 Notre Dame Cathedral
Notre-Dame de Paris, also known as Notre-Dame Cathedral or simply Notre-Dame, is a historic Catholic cathedral on the eastern half of the Ile de la Cité. It is one of the most famous Gothic cathedrals of the Middle Ages and by far the most visually appealing. Visit the cathedral treasury, climb the 380 stairs to Emmanuel Bell, look for gargoyles on the roof, and explore the archaeological crypt. It is free to visit and services are held on weekends. Audio guides are available at the reception desk.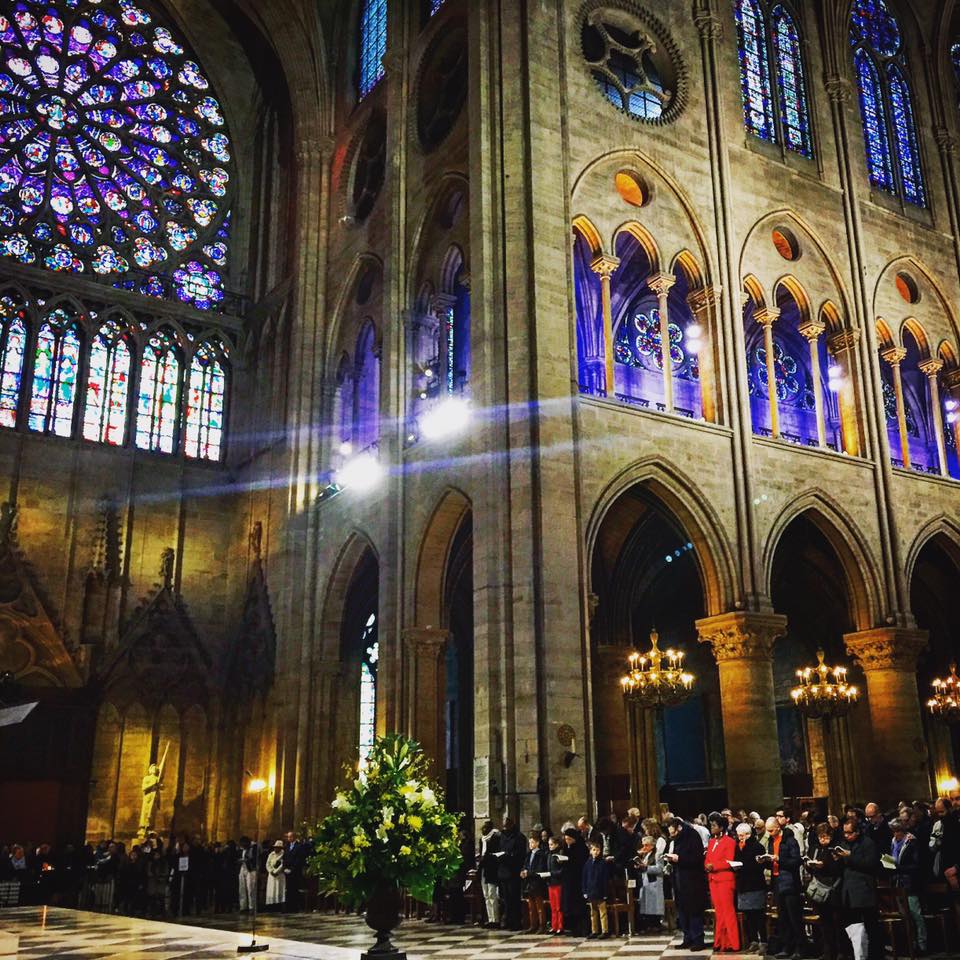 Arc de Triomphe
The Arc de Triomphe de l'Étoile is one of the most famous monuments in Paris. Standing at the very center of the Place Charles de Gaulle at the western end of the Champs-Élysées, the Arc de Triomphe offers a 360 degree view of the city. Visit the Memorial Flame at the base which commemorates the soldiers that fought in the war and climb to the viewing terrace to admire the aerial view of Paris' astonishing geometric design. Show your British passport for a discounted entry.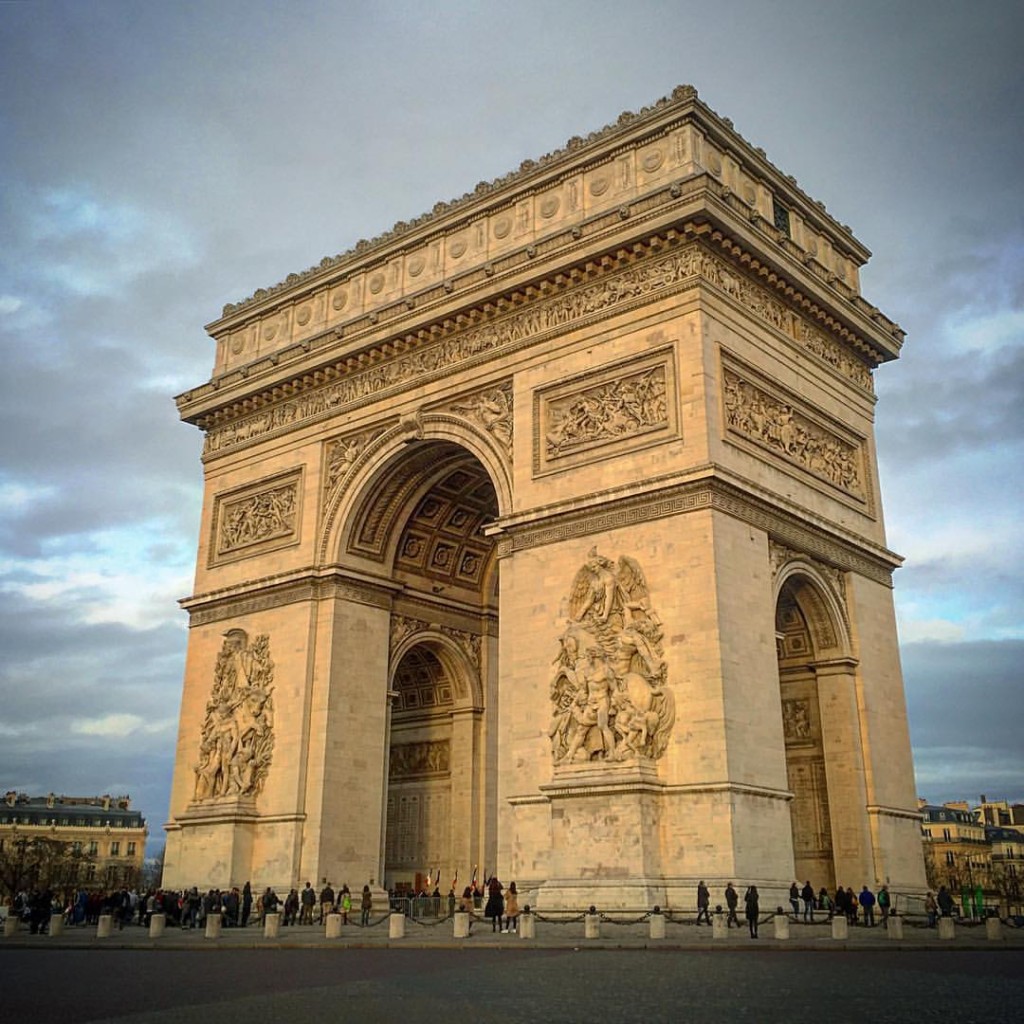 Avenue des Champs-Élysées
The Avenue des Champs-Élysées is a famous boulevard in Paris, stretching 1.9 kilometers long and 70 meters wide, between the Arc de Triomphe and Place de la Concorde. Often described as the "most beautiful avenue in the world", the Champs-Elysees is home to several famous landmarks, including the Arc De Triomphe, the Ferrari building, the largest Louis Vuitton store in the world, and plethora of luxury stores. It is also the location of the Bastille Day military parade and the arrival of the Tour De France.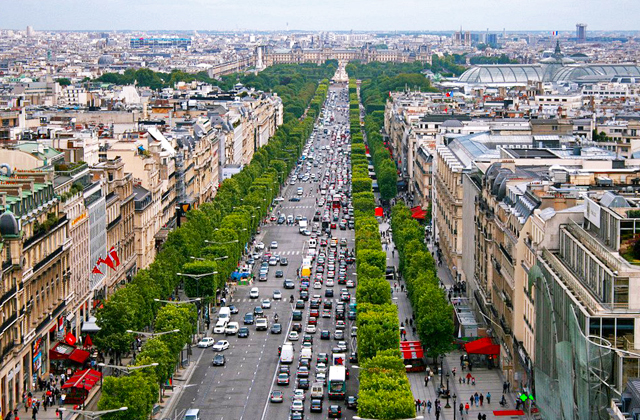 Pont Alexandre III
Pont Alexandre III is a historic monument and one of the most memorable bridges in Paris, known for its 17 meter high pylons topped with bronze winged horses which commemorate the art, science and commerce industry. The arched bridge connects the Champs-Elysee on the Right Bank with the Invalides and Eiffel Tower on the Left Bank across the River Seine where you can enjoy incredible views of the Eiffel Tower and beyond.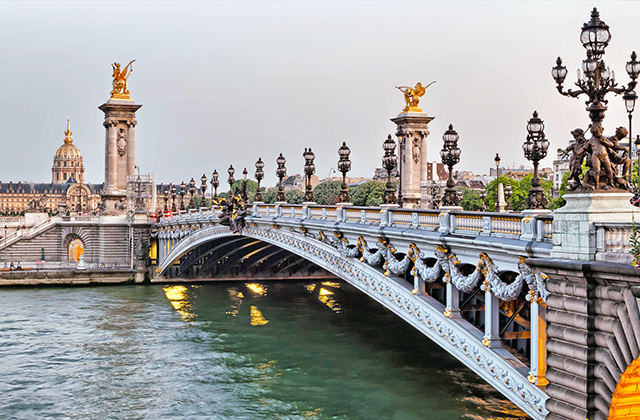 River Seine
The River Seine is a 776 kilometer river that flows through the center of Paris and one of the most important commercial waterways in the north of France. The river is crossed by 32 bridges, including the famous Lock Bridge (Pont des Arts), and you will find all sorts of attractions on the river itself, in the form of floating restaurants and manmade beaches. River cruises are available where you can see all of Paris' most famous landmarks from a different viewpoint.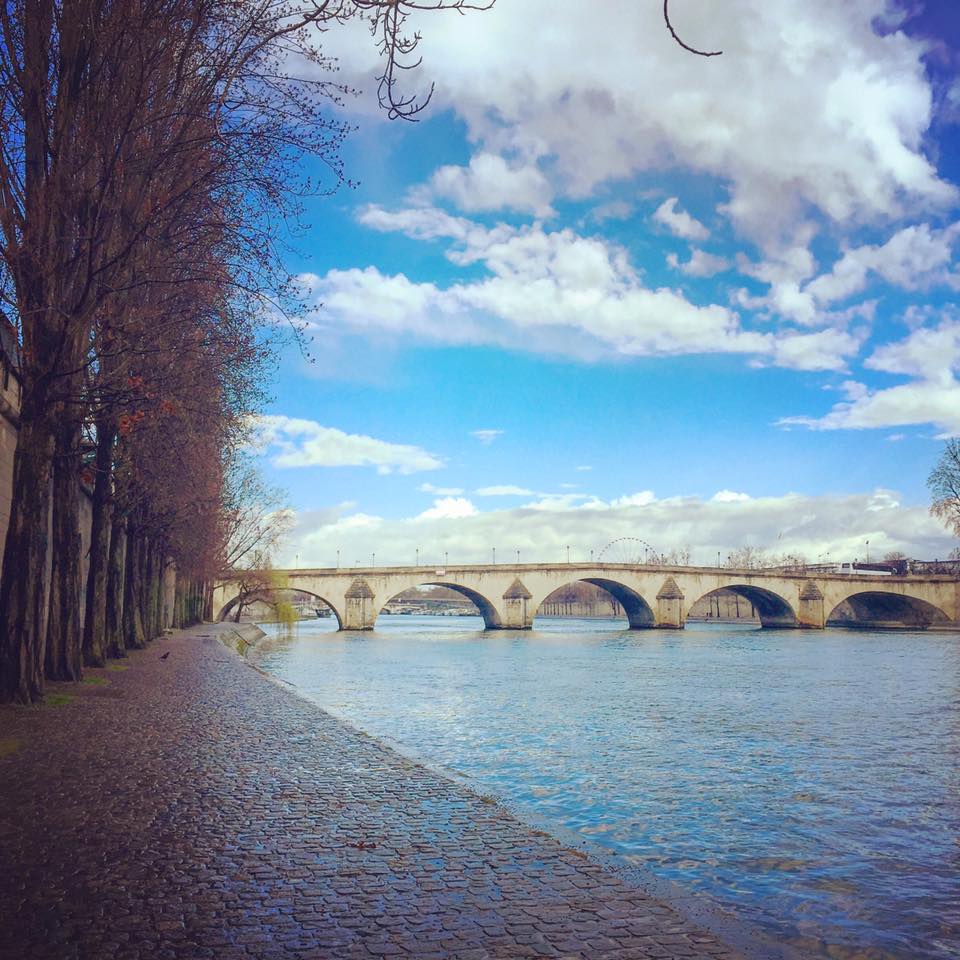 Ile de la Cité
The Ile de la Cité is one of only two remaining natural islands in the River Seine. Situated in the center of Paris, this is the birthplace of Paris and one of the most medieval parts of the city. Famous landmarks include the Notre Dame Cathedral, Palais de Justice, the Conciergerie, and Sainte Chapelle.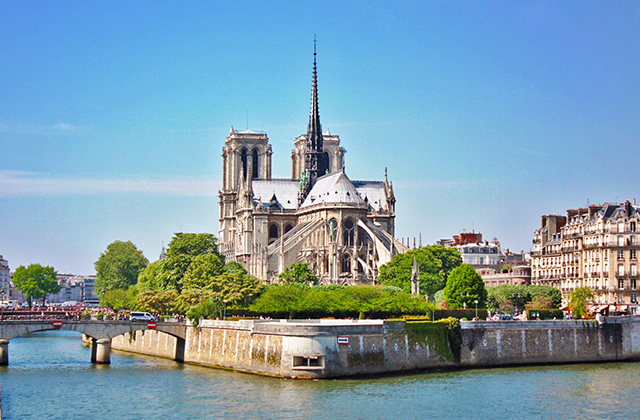 Moulin Rouge Theatre
The Moulin Rouge Theatre is a famous theatre in Paris, easily, distinguished by the familiar red windmill on its roof. This is believed to be the birthplace of the can-can dance.  Visitors can enjoy being entertained by fantastic musical dance shows with talented performers and colorful costumes. Shows vary at different times of the year.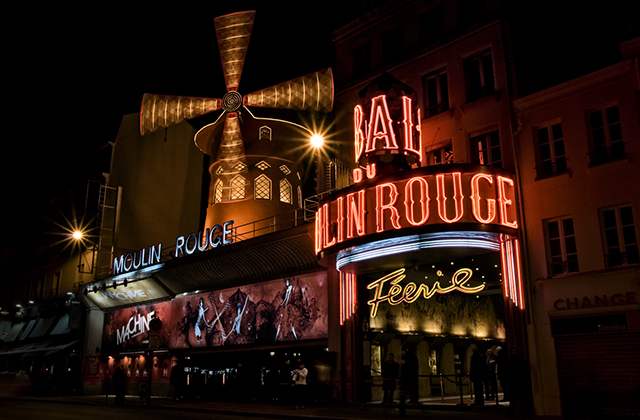 Sacré-Cœur
The Basilica of the Sacred Heart of Paris, more commonly known as Sacré-Cœur, is a beautiful Roman Catholic church situated at the highest point of the city, dedicated to the Sacred Heart of Jesus. Visitors can explore the dome and enjoy the views over the city. Services and confessions are held throughout the week. The view from this church is perhaps the best view mentioned in this Paris travel blog.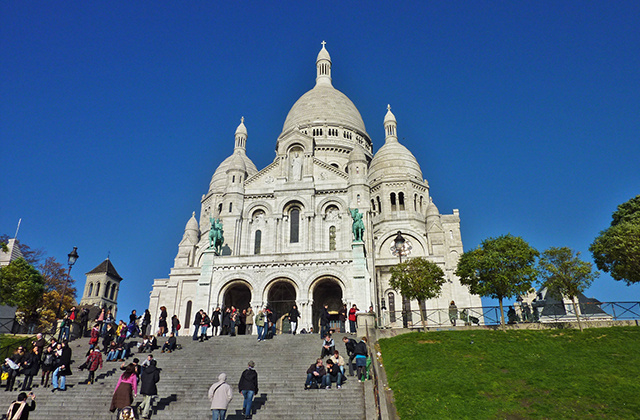 Place de la République
Place de la République is a popular square in Paris. At the center of the square is the  massive bronze statue of Marianne, the personification of the French Republican. She is holding an olive branch in her right hand and resting her left on a tablet engraved with "Droits de l'homme" (human rights). Three statues personifying the values of the French Republic – liberty, equality, and fraternity – surround Marianne. During times of morning, such as after the Je suis Charlie or November 2015 terrorist attacks, the base of the statue will be adorned with messages, pictures, flowers, candles, and flags. The square is surrounded by a number of shops, bars, restaurants, and cafés, which make it an excellent starting point to meet someone or explore.
 
Best Paris Restaurants
This is either the hardest or easiest list I have ever put together. It's hard because there are so many good restaurants in Paris. It's easy because the French value their food so much that it seems nearly impossible to pick a bad restauraunt in Paris. Either way, I ate a lot while in Paris and here are my favorite places to mention for this Paris travel blog.
Bistrot Paul Bert
The French-style bistros developed out of the basement kitchens of Parisian apartments. Tenants paid for both room and board, and landlords supplemented their income by opening up their kitchen to the public. Menus were created around French classics that were simple, could be prepared in quantity, and would keep over time, were served along with wine and coffee. You can now find quaint bistros all over Paris. It's hard to pick a bad bistro in Paris, but they're not all created equal. One bistro that stands out among them is Bistro Paul Bert. From truffled eggs in the morning to foie gras, steak frites, and soufflé in the evening, Paul Bert will not disappoint and will be found at the top of nearly any Paris travel blog. It's essential you make reservations in advance. While Bistro Paul Bert has always been a popular Parisian restaurant for both locals and foreigners, its fame has grown significantly since appearing on Anthony Bourdain and Andrew Zimmern's TV shows. But fear not, it has maintained its authenticity despite its popularity.
O Chateau
O Chateau is one of the best wine bars in Paris. Their friendly staff is a treasure trove of wine knowledge and can guide you through any glass or wine tasting suited for you. You can also sign up for one of their acclaimed wine classes or wine and cheese luncheons. If you'r reading this Paris travel blog and are interested in wine, you have to go here. You're almost guaranteed to have a great time with hundreds of France's best bottles, 40 wines available by the glass, and a staff that's welcoming and eager to help. 
Le Bistrot des Dames
This wine bar and restaurant has become a staple in the Montmartre and Batignolles neighborhoods, and is one of the best dinner spots in Paris. The first room has a colorful and lively retro décor, contrasted with a tranquil inner garden and porch serving as a small haven from the city. The restaurant serves French cuisine with a slight Spanish and Asian influence, and everything is completely homemade with seasonal products.
La Cordonnerie
This seemingly modest French restaurant is one of the best in Paris and is one of the least known names on this Paris travel blog. With modestly priced dishes and wine compared to some of Paris's other best restaurants, this family-owned establishment has been operating the business since 1964. In this small and cozy restaurant, you'll be able to watch the chef beautifully prepare dishes while another family member serves as the waiter. With only a few tables cozily squeezed in, make sure to get reservations. Make sure to make reservations on their website (or Tél : 0142601742) as there are only a few tables. And there's a bar with the same name nearby, so make sure to go to 20 Rue St Roch.
Crémerie-Restaurant Polidor
The Crémerie-Restaurant Polidor is a historic and charming restaurant that has been around since 1845. Its old style décor remains practically untouched for over 100 years and it maintains its classic style of French cooking. Most patrons sit at long, shared tables that provide a more communal atmosphere. While you shouldn't expect this to be your best meal in Paris, it's an excellent place to have a fun and classic French experience – and have a meal that won't kill the budget. This makes Crémerie-Restaurant Polidor is popular among local college students at the nearby University of Paris and Collège de France. Victor Hugo, Ernest Hemingway, Paul Verlaine, and Arthur Rimbaud were also regular customers back in the day. This will be the least expensive restaurants listed on this Paris travel blog.
Paris Tour 
Take a self-guided audio tour with the Paris Tour from my travel app, TripScout! It includes all the sites mentioned in this Paris travel blog (and many more) on an interactive offline map on your phone. You can download the app for iPhone here.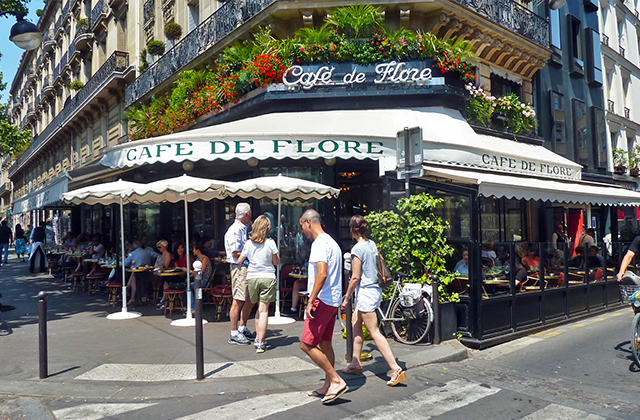 I hope you enjoyed my Paris travel blog! 
This error message is only visible to WordPress admins
Error: No feed found.
Please go to the Instagram Feed settings page to create a feed.
Paris travel blog