goKonrad's Dubai travel blog
Dubai redefines the traditional concept of a desert oasis. Surrounded solely by desert, it's a rich and futuristic playground that provides the biggest and most extravagant, well, everything. My travels through Dubai left me in awe as I observed the endless spectacle of human industriousness, resourcefulness and creativity. There isn't a city in the world that can compare to its developments, especially in the Middle East.
A Brief Overview of Dubai
Originally seen as a misfortune, Dubai was actually "lucky" not to have vast deposits of oil, like most of its regional neighbors. I use the term lucky because significant natural resources can sometimes be a curse to long-term progress, rather than a blessing. Many resource rich countries become so reliant on easy money from their natural assets that they neglect to develop other aspects of their economy and country. Since Dubai couldn't rely on oil, it created an ambitious campaign to make itself an internationally renowned trade and tourism mecca. It allowed companies and individuals to operate with no corporate tax rate for 15 years, no personal income tax, full foreign ownership, full repatriation of capital and profits and no currency restrictions. It financed significant infrastructure developments and even created areas within the city, such as international hotels, that are free from following the same Islamic laws as the rest of the country. The ruling family – which has ruled since 1833 – developed and maintained the philosophy, "What's good for the merchants is good for Dubai."
The result? The small desert city's population grew from under 183,000 in 1975 to over 1.2 million in 2005 with over 80% of the population consisting of expats. It became one of the richest cities in the world and is now home to one of the world's busiest airports. Dubai also planned and constructed the world's tallest building, an indoor ski resort, the largest high-end malls, man-made islands, giant dancing fountains, a "7-star" hotel (yes, out of 5) and an office for what seems like nearly every multinational corporation. This Dubai travel blog will show you all the best things to do on your visit.
Dubai Travel Blog – Things To Do 
Eat Well
What Dubai lacks in authentic and inexpensive local places to eat, they make up for with world class restaurants, international cuisine, and extravagant buffet experiences. It is a rare thing to recommend a hotel restaurant, but in Dubai, most of the best restaurants are located in international hotel (read: in the few places that are allowed to serve alcohol). I found Time Out Dubai's list of best restaurants particularly helpful and a great supplement to this Dubai travel blog.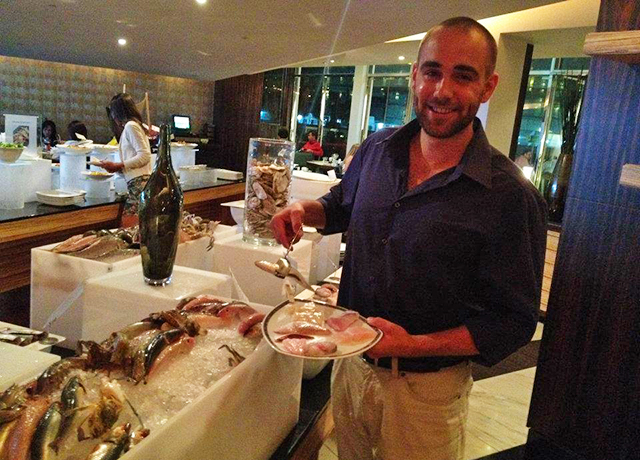 Ski Dubai
Ski Dubai has to be the most unique snowboarding experience in the world and certainly the only cold weather activity you will find in this Dubai travel blog. You get to step outside the scorching heat, put on your hat and gloves, and ski (or snowboard) in a completely indoor ski slope and resort. It boasts an 85-meter high "mountain" with 5 slopes of varying steepness and difficulty. It is located in the Mall of the Emirates, one of the largest shopping malls in the world, located in Dubai. If you don't ski, it's still worth checking out, or participating in some of the other activities: sled and toboggan runs, an icy body slide, climbing towers, giant snowballs, an ice cave, and penguins. All equipment and clothing can be rented there, so do not start thinking about packing winter clothes to Dubai!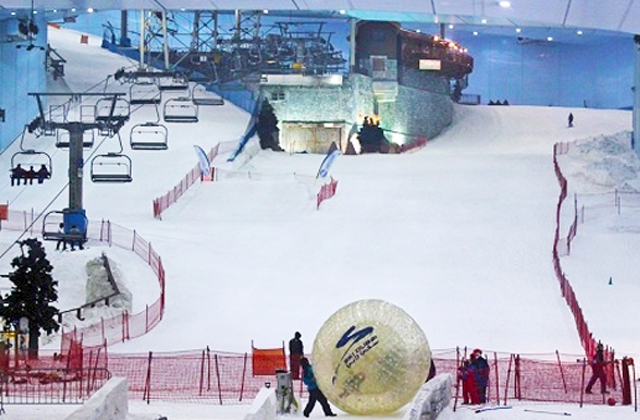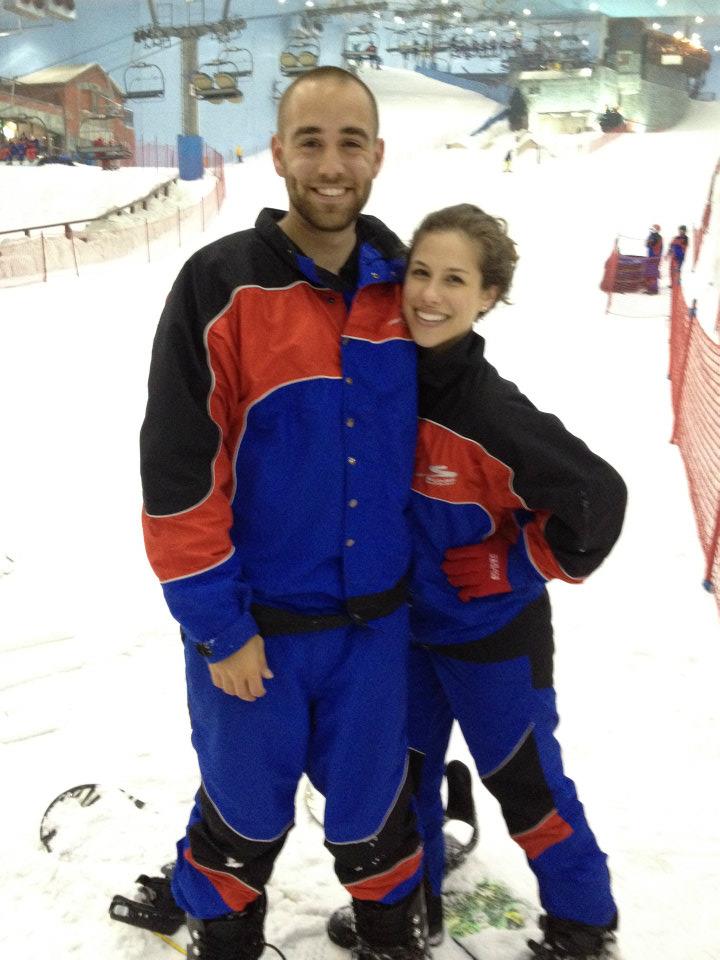 Burj Khalifa
Burj Khalifa is a megatall skyscraper in Dubai, United Arab Emirates. It is the tallest artificial structure in the world, standing at 829.8 m (2,722 ft). The building opened in 2010, as part of the new development called Downtown Dubai. It is the centerpiece of large-scale, mixed-use development. The building broke numerous height records and visitors can get incredible views of the city, ocean, the Palm and the World islands, and desert from the top. Here is a fun fact: the building was originally called Burj Dubai, but during the financial crisis in 2008, Dubai found itself in serious trouble. While much of the world was highly levered, in typical Dubai extravagance, the emirate took leverage to another level in order to fund its expansion. When Dubai real estate prices fell by as much as 50%, the emirate defaulted on its foreign loans. Abu Dhabi came to the rescue with a $10 billion bailout, which coincidentally led to the official name change of Burj Dubai – the world's tallest building – to Burj Khalifa in honor of Abu Dhabi's ruler.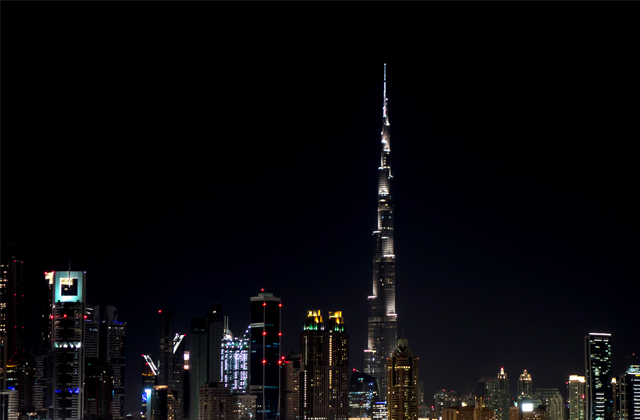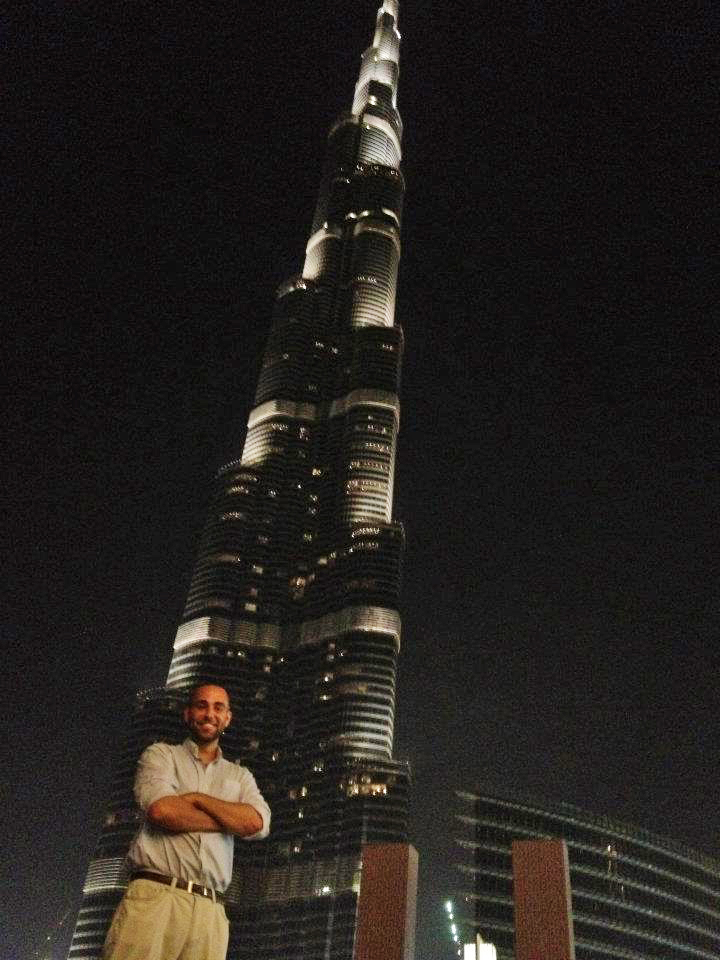 Burj Al Arab
The Burj Al Arab is the fourth largest hotel in the world. It is known as the world's only 7 star hotel and is insanely expensive. Unfortunately, you won't be able to visit the hotel unless you are staying there or make a food or tea reservation (which is also incredibly expensive). However, you can go to a nearby beach (see further down this Dubai travel blog for recommendations) for excellent views of the exterior.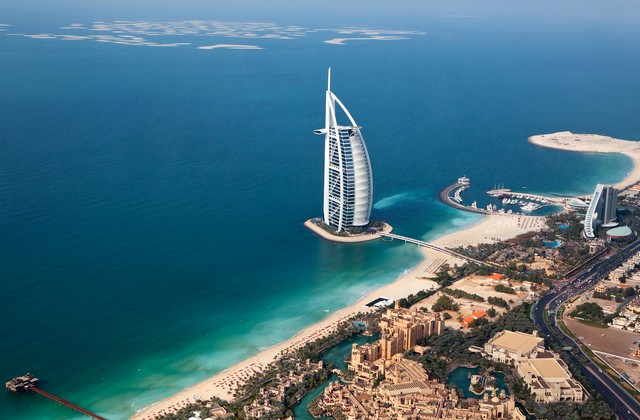 Jumeirah Mosque
The Jumeirah Mosque is a beautiful and popular mosque in Dubai. It is open for visitors six days a week and organized tours are available for non-Muslims. It is one of the most beautiful landmarks in Dubai and is big enough to hold 1,200 worshipers. It was built entirely from white stone in the medieval Fatimid tradition, with towering twin minarets framing a large central dome.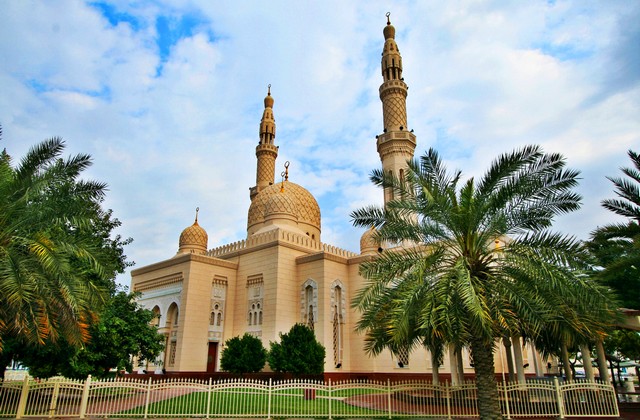 Al Bastakiya
Al Bastakiya is the historic district in Dubai. The construction of the neighborhood dates back to the 1890s. The area is much smaller today as part of it was destroyed to make way for new construction projects, but the remaining area is a cool district to relatively escape Dubai's modernity and wander down some narrow alleys.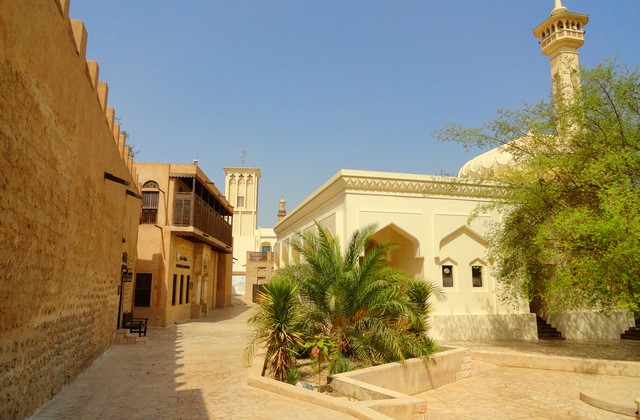 Jumeirah Beach
Jumeira Beach is a white sand beach that is located and named after the Jumeirah district of Dubai. It stretches along the coast south of the city's historic district to the junction with The Palm Jumeirah and terminates between the southern end of the Jumeirah Beach Residence (adjacent to the Dubai Marina district) and the port facilities at Jebel Ali.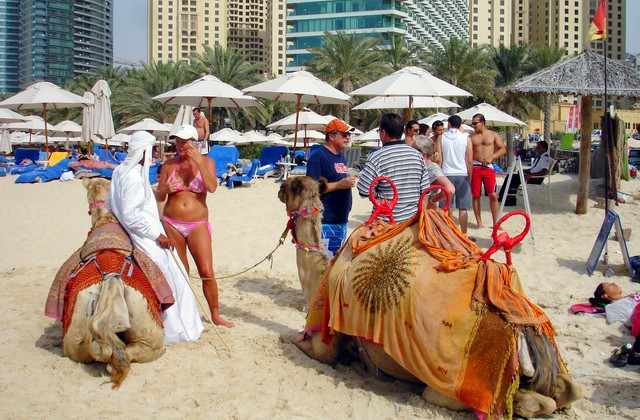 Palm Jumeirah
This man-made, palm-shaped land in the water houses the Atlantis hotel, Aquaventure, beaches, and the Lost World aquarium (inside the Atlantis). There isn't a lot to do, but I included it in this Dubai travel blog because simply driving down this artificial island and spending some time at one of its restaurants or nightclubs is a unique and classic Dubai experience.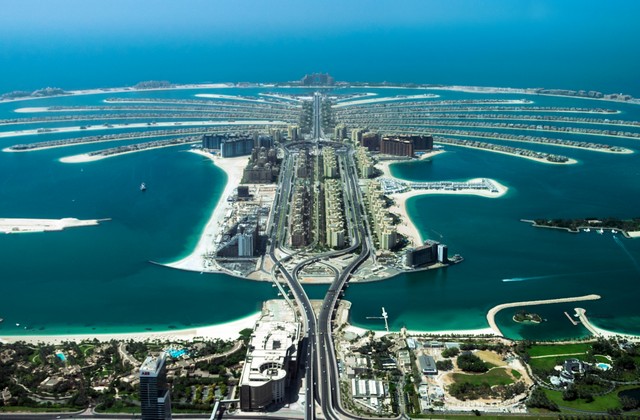 Al Mamzar Public Beach
Most nice beach hotels have dedicated beaches and therefore, restrict the majority of Dubai's sandy beaches. If you're not staying on one of these hotels along the Jumeirah beach strip, the Al Mamzar Public Beach is your best option. It's a public beach near the neighboring emirate of Sharjah. It's a large and beautiful beach, and has just been awarded blue flag beach status, making it one of the most desirable beaches to visit. It has sheltered areas with changing rooms and showers. You can also rent sun loungers, umbrellas, and chalets with barbecue areas for the day. There are also 2 large swimming pools.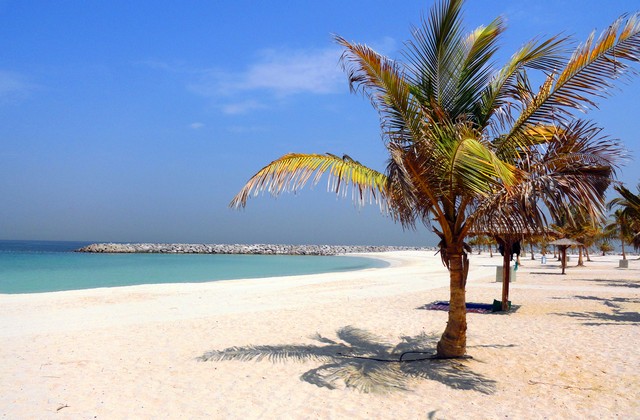 The Dubai Fountain
The Dubai Fountain, directly next to the Burj Khalifa on its 30-acre man-made lake, provides an impressive water show. It is the world's largest choreographed fountain system  and is at the center of the Downtown Dubai development. It was designed by the same company that built the Bellagio Hotel's fountains in Las Vegas. The water shoots water up to 500 ft (152.4 m) and is accompanied by a range of classical to contemporary Arabic and world music.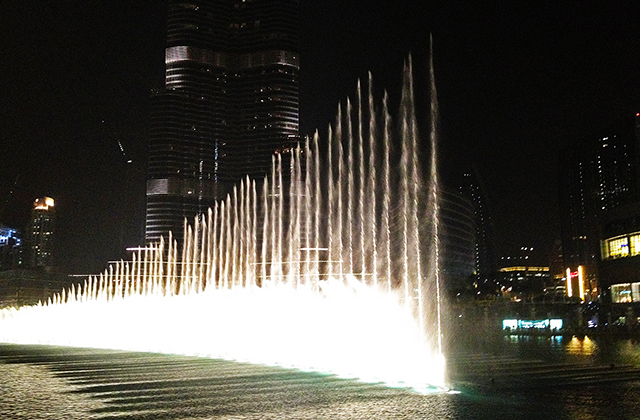 Dubai Mall
I normally would never recommend a shopping mall, but the Dubai Mall is a site to see on its own and therefore makes this Dubai travel blog. Step out of the scorching heat into the world's largest shopping mall (by certain measures). It is part of a 20-billion-dollar downtown complex and is home to 1,200 shops – many of which are top luxury brands.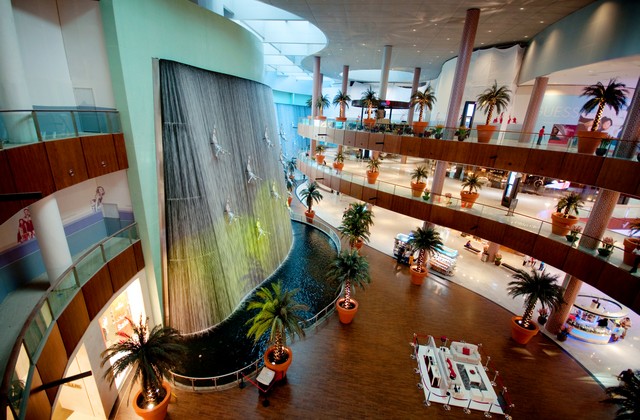 Dubai Museum
The Dubai Museum is the main museum in Dubai. It is located in the Al Fahidi Fort, built in 1787 and is the oldest existing building in Dubai. The museum was opened by the ruler of Dubai in 1971, with the aim of presenting the traditional way of life in the Emirate of Dubai. When entering, one can see the fort constructed and the various displays that go along with it. From the fort, there is a path to the galleries, which display the general culture of the land, especially in the 1800s. It includes local antiquities as well as artifacts from African and Asian countries that traded with Dubai. It also includes several dioramas showing life in the emirate before the advent of oil, in addition to artifacts from recent discoveries as old as 3000 BC.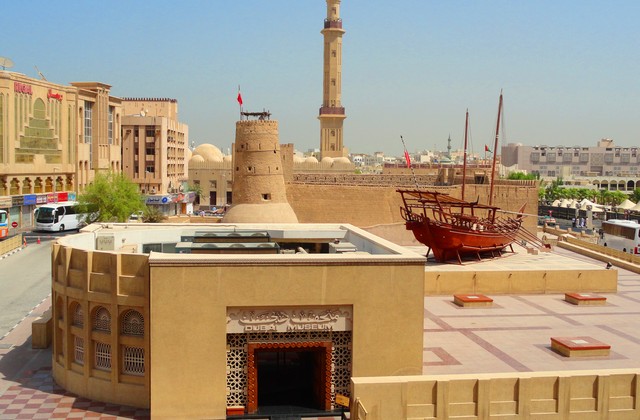 Textile Souk
The Textile Souk is a traditional market that is home to a seemingly endless selection of raw silk, cotton, and embroidered fabrics. It is located in the historic Bur Dubai trading center. It is a restored and renovated traditional bazaar that is perhaps the most scenic market in the city. It was once the most important bazaar in Dubai, but like most old aspects of Dubai, its economic and cultural importance has long faded. There are 3 souks mentioned in this Dubai travel blog, but if you're short on time, this is the one I would most recommend.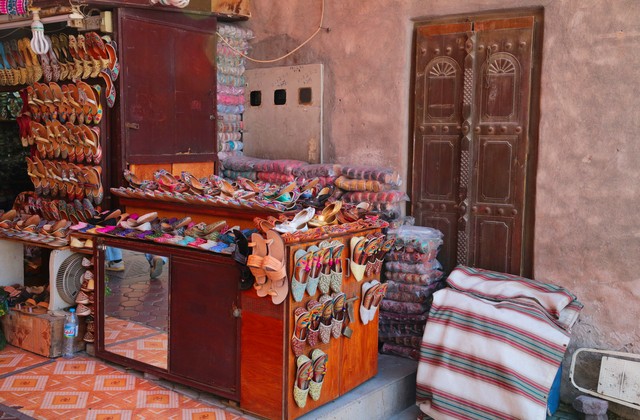 Dubai Spice Souk
Dubai Spice Souk is a traditional market in Dubai. The souk consists of narrow lanes packed with stores. Although slightly more calm and organized than most Middle Eastern souks, this will give you a slightly more traditional experience in Dubai. The stores sell a variety of fragrances, spices, herbs, shisha and other ingredients traditionally used in Arabic food. As always, all prices are quoted very high but are all negotiable, so expect to haggle a lot.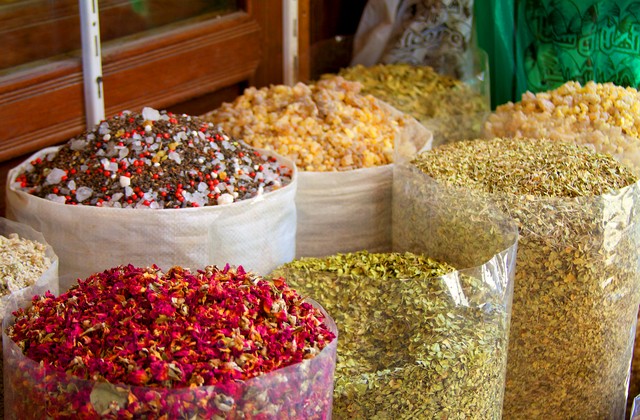 Gold Souk
Dubai's Gold Souk is a traditional market that consists of over 300 jewelry shops. It is estimated to house 10 tons of gold at any given time. It is worth checking out, but if you needed to skip one of the souks mentioned in this Dubai travel blog, this would be my choice.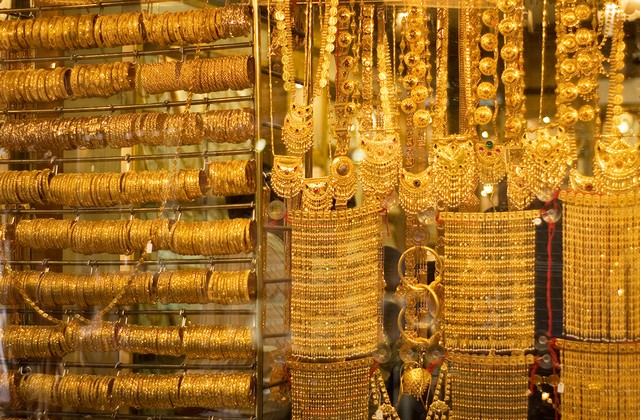 Kite Beach
Kite Beach is a popular spot for kite surfers, water sport enthusiasts, and spectators. There are water sport operators available along the sand where you can rent equipment. The afternoons are the best, as that's when the waves and wind are at their peak. This is a fun and active way to wrap up this Dubai travel blog and your trip to this fascinating city.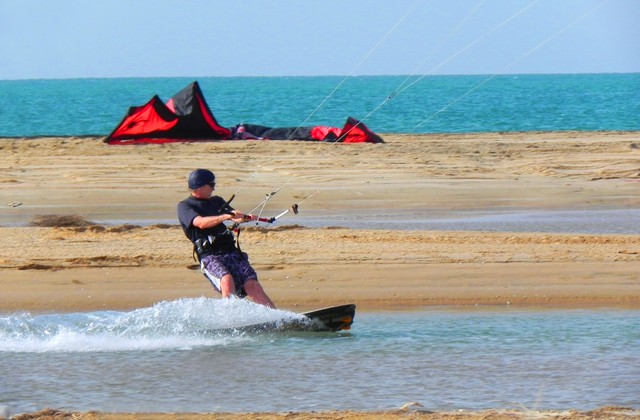 Download TripScout
Take a self-guided tour with my travel app, TripScout! It includes all the site mentioned in this Dubai travel blog (and more) on an interactive offline map on your phone. You can download the app for iPhone here.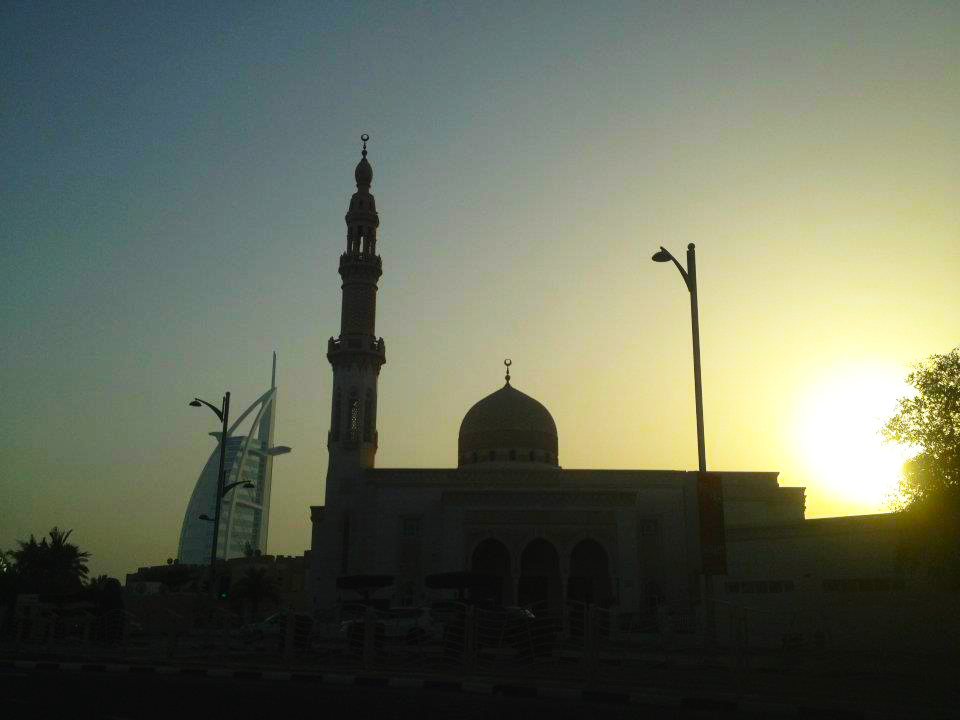 If you are traveling throughout the Middle East, check out some of my other travel blog posts in the region: Istanbul, Cairo, Alexandria, Jerusalem, West Bank, Beirut, Amman, Petra, Doha, Bahrain, and more.
I hope you enjoyed my Dubai travel blog! 
This error message is only visible to WordPress admins
Error: No feed found.
Please go to the Instagram Feed settings page to create a feed.
Dubai travel blog