How to use alternative route travel hacking to save money and see more cities.
Alternative route travel hacking is the easiest and most reliable – yet rarely used – travel hack out there. I have used it to save thousands of dollars on international flights and to visit handfuls of countries that I might not have had the money or time to visit otherwise.
The principle of alternative route travel hacking is that by optimizing individual legs of a flight, the total flight can cost less than if you relied on a travel search engine or airline for your results. This arbitrage is driven by the increase in options for each leg and the lower taxes that airlines have to pay in certain countries. And no, the travel search engines are not nearly smart (or nice) enough to do this travel hacking for you (even if you see an occasional "hacker flight" label).
So let's get tangible on this travel hacking technique. I selected London to Tokyo on a random Wednesday as an illustrative example. The cheapest one-way London to Tokyo flight option on Kayak (which is the site I always recommend starting with) is $767. This seems reasonable for such a long flight, but we can do better in three simple steps. Let the travel hacking process begin.

Travel Hacking Step 1
Search other major airports and international hubs to find cheap flights from various cities to your final destination (here is a list of the busiest airports). Dubai usually comes through for me and sure enough, Dubai has flights to Tokyo that Thursday on China Eastern Air for $333. I searched for Thursday so we could have flexibility on Wednesday to get to Dubai from London.

Travel Hacking Step 2
Search for flights from your departing city to your new connecting city. The cheapest flight option from London to Dubai on Wednesday is on Pegasus Airlines for $238. If this flight was more expensive, we would go back to Step 1 and find another connecting city with cheap flights to optimize for the lowest total price. It's also helpful to visit the websites of local discount airlines directly (e.g., RyanAir in Europe), since they usually aren't listed on travel sites and typically have much cheaper flights. I didn't find any discount airlines that benefited us in this example though, so I moved on, since these two flights had already saved us almost $200.
Travel Hacking Step 3
Double check your itinerary on international travel search engines as there may be additional options to save money. I normally use Skyscanner. The results for London to Dubai actually came back more expensive, so we will stick to our original flight. However, there was a $281 option for the Dubai to Tokyo leg of the flight – $52 cheaper than our original result in Step 1.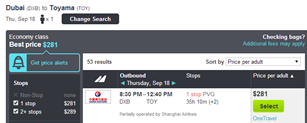 Travel Hacking Success: The $238 one-way ticket to Dubai and the $281 one-way ticket to Tokyo brings the new total price to $519, saving approximately $250 in only a 10 minutes of work!
You can play with additional times and options within this travel hacking technique to accommodate your personal preferences. You can structure it to visit another city or to minimize total layover and travel time. I'd use this itinerary as an opportunity to spend the day in Dubai, but for an extra $25, there was a flight that cut the London to Dubai travel time by more than half. And the original Kayak result in Step 1 provided a much shorter trip from Dubai to Tokyo for the extra $52. Sometimes these concessions are worthwhile, and even if you took both, you would still save $171.
Don't be skeptical. This travel hacking example wasn't a fluke or hand-picked. I have used this travel hack on nearly every international flight and have saved thousands of dollars. I strategically add long layovers to see many new countries when my schedule permits. On one flight, I was able to spend a couple days in 3 separate cities by selecting longer layovers (Poland → Ireland → Spain → UAE → South Africa, instead of just Poland → South Africa) and still saved money on my total flight.
I hope this travel hacking technique helps you travel more and travel cheaper. Use it for your next international flight and please let me know how much money you save or which new countries you visit!
I hope alternative route travel hacking technique helps you see more amazing cities and save money. Please share this article with a friend who you think could benefit. You can also follow me on Instagram or sign up for my free weekly digest about ways to travel the world, build a successful business or career, and make a difference at the same time:
This error message is only visible to WordPress admins
Error: No feed found.
Please go to the Instagram Feed settings page to create a feed.
travel hacking blog post