0 to 1M Update: August 2017
My team and I are working hard to build the best tool for travelers. As frequent travelers, we're building the app we wished existed. We're building it for us. And as a result, for (hopefully) all of you.
We made a lot of progress, but still have a long way to go – both as a product and a business. I've decided to start publicly documenting this journey and it will become the new focus of my blog.
The entrepreneurship reality is never as glamorous as the media – or fellow entrepreneurs – makes it look. It's a grind. It's a battle. It's hopefully, kinda sorta, maybe, sometimes rewarding. Being transparent about this benefits everyone.
I'll show the good and bad, and share what we learn about scaling a business in the travel industry.
Here's the beginning of our journey from 0 to 1M users. Can we get there? I believe so, that's why I want to document it…. but I guess you'll have to follow along and see.
I'll start with a summary recap of our summer, but I will start post regular updates about what we're thinking about and how it's working going forward.
Thanks for being interested in our journey. I'm honored to have you follow along. And honestly, this level of business transparency is new to me. I'd love to hear what you think about it. Please send your thoughts to konrad [at] tripscout.co.
August 2017 Reflections
It was a BIG summer for us.
Since we launched our beta app for iPhone in August 2015 with 2 cities, we have grown consistently and incrementally. Each month, we tried different growth tests (I highly recommend reading the book Traction for this). Then a few things finally hit. As a result, over 50% of our total users came in the last 2 months.
I've noticed that products and ideas usually work like that. Since it's so easy to launch something, it's like the market has a subconscious filter to make sure you stick around for a while before they start to care. Compound interest also takes a little while to start working its magic.
0 to 1M update
We ended August with 27K users. We crossed the 10K mark in May – and then grew by 15% in June, 36% in July, and 62% in August. Some of this growth is due to the summer travel season, but we also started tapping into a few good channels that directly contributed to our growth.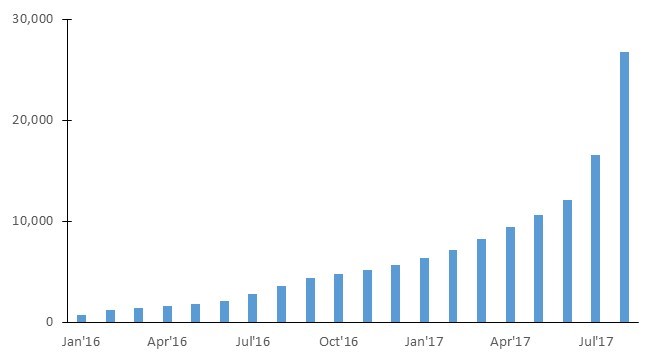 Some major learnings from the summer:
We talked to every user that would talk to us and dozens of travelers we crossed paths with. We learned a lot about how people prepare for trips and use our app. As a result, we are mocking up a lot of trip planning and customization features that we are going to start rolling out in the coming months.
We have an even better understand on how and why the modern traveler travels. I've summarized some of these thoughts in this post: What travel companies need to understand about the Millennial Traveler.
We corrected an early mistake we made about our content: The mistake we made about food tourism
Always be testing. We conducted ongoing pricing and conversion tests which resulted in an Average Revenue Per User (ARPU) increase of over 50%.

Most importantly, we made a lot of improvements to the product:
Launched our Android app.
Reached our 61st city. This summer, we launched guides for Los Angeles, Nashville, Charlotte, Dallas, Phoenix, Miami, Charleston, Copenhagen, Havana, and Tokyo. These were all some of the most heavily requested guides in the app.
Conducted a content overhaul on all our existing cities. After the learnings mentioned above, we didn't believe all our travel guides matched this new realization so we went back to the drawing board, worked with local experts, and updated every single guide that needed it.
Added two significant usability features: Filtering and Directions.
Integrated with Foursquare to add more detailed location data, like hours of operation, cost, website, phone numbers, etc.
Separate from the product, we launched a book about how to be a digital nomad and the beginnings of a travel podcast.
Here were some of the major growth drivers for us:
After over a year of talking with Apple and incorporating their feedback, we were featured in the AppStore! This came on the last day of August, so most of the impact will actually show in September.
Featured in the American Airlines in-flight magazine. Here's a piece of the interview online.
Became a trending app on Product Hunt! Big thanks to Gillian Morris of Hitlist (check out that app for flights!) for hunting us.
Launched an Ambassador Program and signed up some high quality super travelers as our first class.
Partnered with over 50 hostels who will be offering the TripScout travel guide to their guests.
Continued success on Instagram. We now have >300K followers across our different accounts (@tripscoutapp, @schooloftravel, @chicago.travel, @iceland.explore, @paris.explore, etc.)
Our private Facebook group continues to strengthen/grow with lots of great discussion and community.
We started to get some good success with the AppStore's relatively new Search Ads.
A couple travel bloggers wrote about us as well: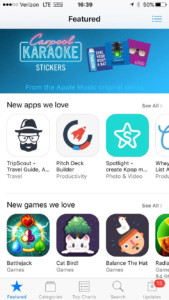 And perhaps most importantly, the donation + crowdfunding campaign we did to provide 40 tablets to Restavek Freedom in Haiti safely arrived! Thanks to everyone's generosity and support.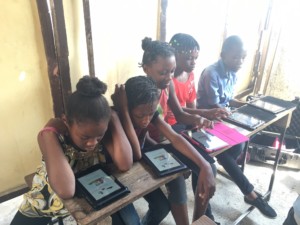 Until next time! Keep exploring…
Hope you enjoyed reading my August 2017 update! For regular updates, follow me on Instagram or sign up for my newsletter.
This error message is only visible to WordPress admins
Error: No feed found.
Please go to the Instagram Feed settings page to create a feed.