0 to 1M Update: September 2017
September 2017 Reflections
I expected September growth to decline slightly from August as the summer travel season slowed down, but some new growth channels and a continued feature by Apple helped us increase our total user base by 64% from the prior month.
In case you missed why I'm sharing these details, please read last month's post for more context.
0 to 1M update
We added over 17K new users this month! More details on where the growth came from below.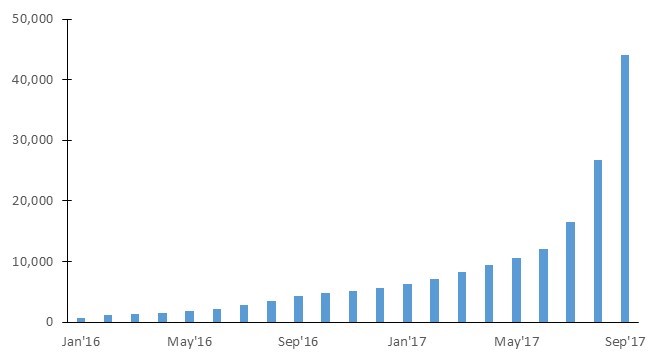 Travel industry observations:
Here are some recent thoughts I had about travel reviews (and the sites that are built on them): Travel Reviews Are Dead – And Here's What To Do About It
The AppStore feature not only provided a huge boost of new users, but it also provided a sustained bump for our search rankings going forward
Product updates:
Published 3 new (and heavily requested) city guides: Bangkok, Seattle, and Toronto. This brings our total number of guides to 64.
Launched Online Mode functionality. We still allow every guide to be downloaded offline, but if this isn't important to you, you now have the ability to navigate the guide online. This allows you to jump into the experience without any download and have infinite zoom anywhere in the world. It also provides the foundation for us to incorporate some new discovery and trip planning features that will require online access.
Added some design flexibility on the City Profile page. We made some quick improvements on the design, but nothing major. The profiles already look better and now we're able to start easily testing how different designs impact our conversion rates.
Growth drivers:
The AppStore feature extended through the first week of the month and helped provide a large boost to our numbers.
Higher search rankings provided an increase in downloads throughout the month.
We continued to see great results from our Ambassador program, marketing partnerships with hostels, and Instagram marketing that we mentioned in last month's August 2017 Update.
My favorite app for finding good flights, Hitlist, started featuring links to our city guides within their city profiles.
We focused more time on influencer outreach. We only focused on building organic relationships and did not do any sponsored posts (we tested sponsored posts in the past and were unable to achieve a positive return on investment for our product). A lot of people ask me how to get press for their business and I think Dmitry Dragilev has some of the best content on the subject (start here). Here were some of my favorite articles written about us in September:
What we're looking for:
We're on the search for a talented freelance designer who has a passion for travel and wants to work on some exciting new product ideas! Please drop me a line at konrad [at] tripscout.co if this describes you.
Until next time! Keep exploring…
Hope you enjoyed reading my September 2017 update! For regular updates, follow me on Instagram or sign up for my newsletter.
This error message is only visible to WordPress admins
Error: No feed found.
Please go to the Instagram Feed settings page to create a feed.