0 to 1M Update: October 2017
October 2017 Reflections
As we settled from a booming summer and September, we went heads down in October to focus on product. We took everything we learned about how users interacted with our tech and content this summer. After hours of debate, we put on our "don't bother me" headphones and cranked on an aggressive roadmap.
0 to 1M update
This intense focus and normal seasonality caused growth to slow relatively in October, but it was worth it to kick-off some longer-term initiatives. Unlike August and September when we averaged nearly 15K new users per month, our user base only grew by 2.6K. We saw nearly identical seasonality in October last year, but we still grew by over 500% year-over-year.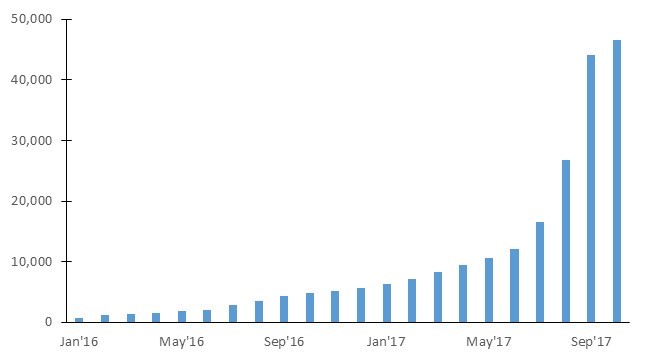 Travel industry observations:
We've noticed an interesting trend in our data. Our guides tend to be purchased at the beginning of a trip or several months in advance. There are not many purchases in between those two extremes.
We interviewed our users, researched seemingly conflicting industry trends, and realized that the following things are true:
Travelers are booking more and more last-minute – often making reservations and finding activities while in-destination. Nearly 40% of bookings are actually happening same day or up to 2 days in advance.
Travelers are booking travel and experiences several months in advance and conducting more online research than ever before. The "average" traveler visits 38 websites before booking and spends more than 20 hours planning for a trip.
Read more of my thoughts in this recent post: The Simultaneous Rise of Last-Minute Travel Planners & Super-Planners
Product updates:
We incorporated all of our content learnings and new philosophies with a major update to our Washington DC guide. We added many more neighborhood hidden gems, added audio interviews with some local chefs/restaurants, and incorporated a handful of new lists, including:

Our top "Off-the-Beaten Path" sites
Do it for the Instagram! DC's best photography spots
The best breweries to experience DC's rising beer scene
Where to squeeze in a DC-style workout

To support the lists mentioned above, we added much more complex category filtering into the app and are applying similar city-specific lists to our other guides.
We did a handful of additional cleanups in the app, but mostly on the backend.
Published 3 new guides: Portland, Montreal, and Cartagena. This brings our total number of guides to 67.
Growth drivers:
As mentioned in prior months, we did a lot of influencer outreach over the past couple months. We only focused on building organic relationships and did not do any sponsored posts. We were able to get extremely valuable feedback from expert travelers and several of them ended up sharing their experience with TripScout on their blog. Here were some of my favorite articles written about us in October:
Over the past year, we've received a lot of mainstream press for TripScout – including the Wall Street Journal, USA Today, Forbes, Entrepreneur, Conde Nast Traveler, Travel+Leisure, and many more. Many people have since asked me how to get press for their business. Besides building a great product that people want to talk about, I think Dmitry Dragilev's blog has some of the best content on the subject (start here).
What we're looking for:
Are you a Super-Planner traveler? Do you have docs and spreadsheets planning out your perfect, personalized itinerary? If so, please email me (konrad at tripscout dot co). We're working on something for you and would love to chat.
Until next time! Keep exploring…
Hope you enjoyed reading my October 2017 update! For regular updates, follow me on Instagram or sign up for my newsletter.